'I Call Us Family': Danielle Schubert Forrest's SOUL Story
April 28, 2016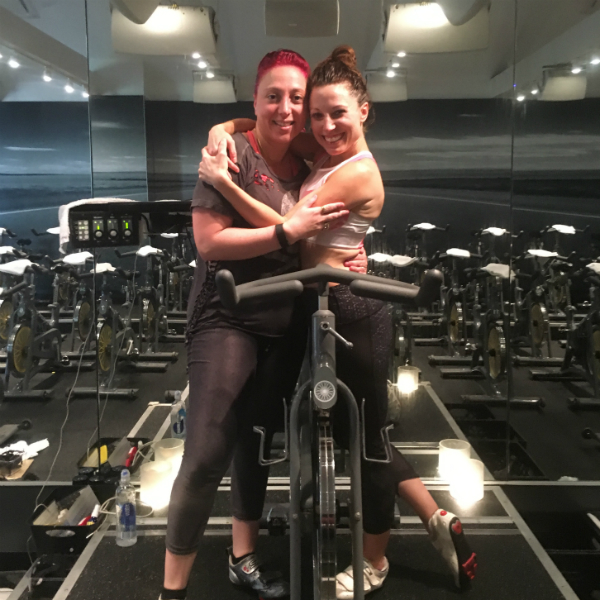 Dear Julie and Elizabeth,
I've never been a morning person, a group fitness girl or a woman who found comfort in a crowded, sweaty room of 60-some strangers. Then again, before finding my tribe of dedicated, driven SoulCycle rockstars, I hadn't found peace.
Growing up, I was taught to believe that athleticism was for the tall, blonde beauties with mile-long legs who swam like fish and ran like deer. I'd watch them bound over hurdles and slice through the pool with an ease I couldn't quite grasp. Maybe it was the fact that I was seriously self-conscious in my own red one-piece or that my legs seemed too short to keep up with the gazelles towering over me. Needless to say, organized sports in high school were not my go-to groups for camaraderie or inspiration. And so exercise sadly fell to the wayside out of the simple fear of judgment and failure.
Instead, I found solace in the beauty of language and how a particular phrase can bathe our day in light or dash us down into darkness. There is great power in words… but the body speaks quiet wisdom that, at times, can only be heard in silence.
I have learned that in times of struggle, stress and loss, we can find beauty and peace in the darkness.
In December of 2014, I reluctantly found myself in
SoulCycle Marin.
The front desk staff greeted me with genuine smiles and supportive words as they ushered me from the lobby into the dark room beyond the heavy, white door into a space I now deem sacred.
Finding yourself when you're lost can be challenging, especially when you don't realize how far off the path you've veered. You see, I hadn't yet come to terms with the muck and stagnant grime I'd allowed to myself to settle in. I only knew how to cope, how to survive — not how to live.
When I was 21, I lost my mom to a devastating battle with cancer — and, I, in turn, lost myself. Joy vanished within me. Driving through life on automatic, I made every effort to seem "okay." But despite my success and excellent rockstar façade, I was shattered. Looking back, I'm rather impressed that my heart even pumped blood because it felt as though the muscle itself had been crushed and lay unmoving within me. I continued living numbly (if I can even call it that) for 10 years until finally, I walked into SoulCycle and everything changed.
The freeing ability to let your body do what it was made for — to move, to celebrate, to live and breathe and love and cry and sing, and to do so in a protected, safe space that nurtures the best in us — is a gift that all of us SoulCycle riders take far beyond the confines of the studio. The soft, soothing beat of the music reminds us that we can be vulnerable yet strong, while the speed and resistance at other moments keeps us present and allows us to take charge of the here and now. We use the challenges we meet in the studio to temper ourselves so that we can confront and conquer challenges in the outside world.
We may all walk into the studio speaking our own truths and living our own lives, but when that door closes and the lights go off, we aren't alone.
We are one.
Call us a cult, a crew, a tribe… call us high on endorphins or cardio addicts. Call us followers of our inspired instructors and collectors of covetable, heart-pounding playlists.
I call us family.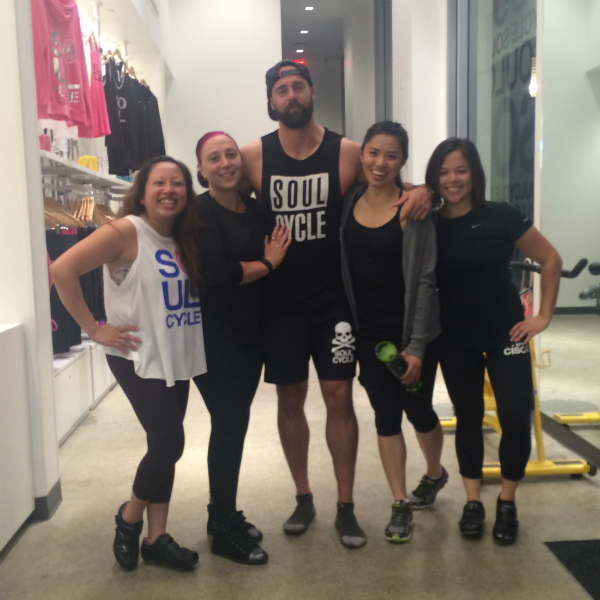 I'm grateful to you all, from the bottom of my heart.
With honor, respect and love to my SoulCycle fam,
XX
Danielle
P.S.
Todd D.
, thanks for lifting me up when I forgot that strength was still within me. And
Heather A.
, your light is so bright, I'm gonna wear sunnies to class just 'cause of your blinding brilliance that lifts me up every single day. We know you have our backs; just don't ever forget that we have yours, too.
Do you have a Soul Story to share? Email blog@soul-cycle.com! Want to ride at SOUL? Grab a series
HERE
then book a bike!
MORE FROM SOUL: