How TONY SMITH Lost 50 Pounds and Found a New Home at SOUL
August 16, 2016
ONY SMITH was stuck in a rut when an instructor said something from the podium that changed his life. Now in a new city, 50 pounds lighter and happier than ever, TONY shares how clipping in helped him find his true home…

I was introduced to SOUL when my friend Emilie gave me a SoulCycle gift certificate for my birthday. After way too much holiday eating (and drinking), I clipped in with Lindy on Union Street in San Francisco on December 27, 2014. After the staff helped me clip in, the amazing woman next to me asked, "Is this your first time?" I said yes and she told me, "you are going to love it!" The rest is history.

Like most other fitness adventures I've had – gym memberships, boot camps, yoga classes – SoulCycle was great at first, but I wondered if that workout high would last. I was going about once a week… until I heard about
Turn It Up 20.
In March of 2015, I challenged myself to take twenty classes in thirty days. I was attending a best friend's 40th birthday party in Mexico at the end of that month, so I figured,
why not try it?
After all, I could afford to lose a few pounds and that SOUL hoodie riders got for completing the challenge was icing on the cake. After all, I lived in SF, where it's cold year-round!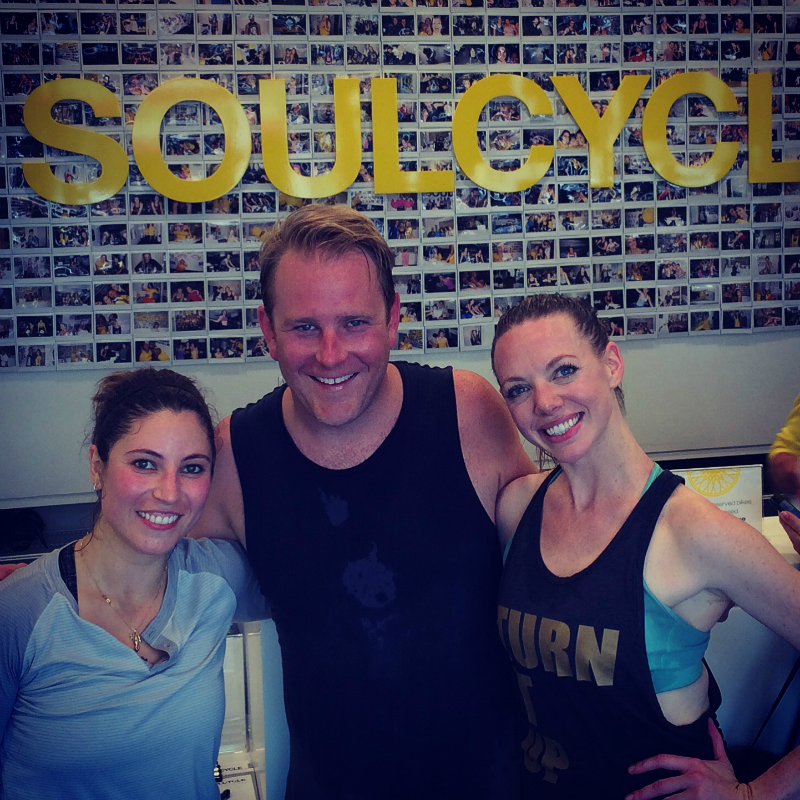 My neighbor Lauren and former Instructor Erin Hall after my 20th class!

I completed the challenge. I also met some amazing instructors. I made best friends with some of the people in that room -- the ones riding next to me and the ones on the podium. I was honored when, about a year after my first class,
Kamelle
gave me the best birthday ride of my life. I was hooked.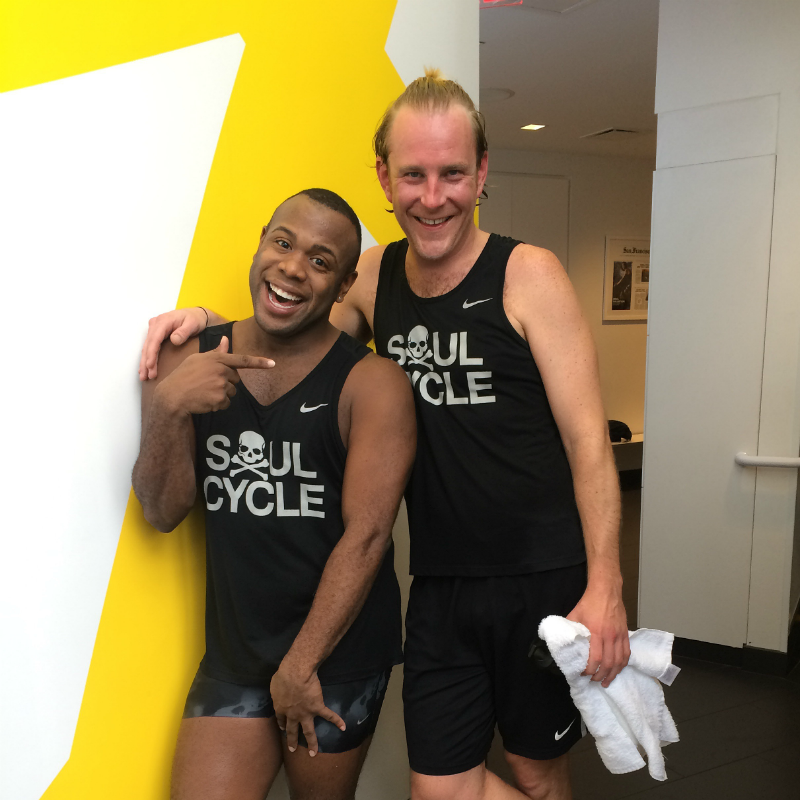 Kamelle Mills and me at my birthday ride.
His timing couldn't have been better. It was June of 2015, and I was really confused about my life in San Francisco. I remember going for a job interview in Miami and thinking, When I get back to SF, I'll go to SOUL to make sure this is what I want. Well, I didn't go to SOUL that morning -- my flight got delayed and I didn't land until 3:00 AM. Maybe that was a sign. I didn't move to Miami.
Around this time, a new instructor,
Rachael Brooke
, moved from NYC and started teaching in some of my favorite time slots. I really liked her. I remember her saying something like,
"If you are comfortable, then you aren't pushing yourself. Maybe it's time to make a change. Maybe it's time to get out of your comfort zone. Turn it up."
With that, I started crying. Right there on a Saturday at 1:00 PM on a bike in
Union Street
, I knew it was time leave San Francisco.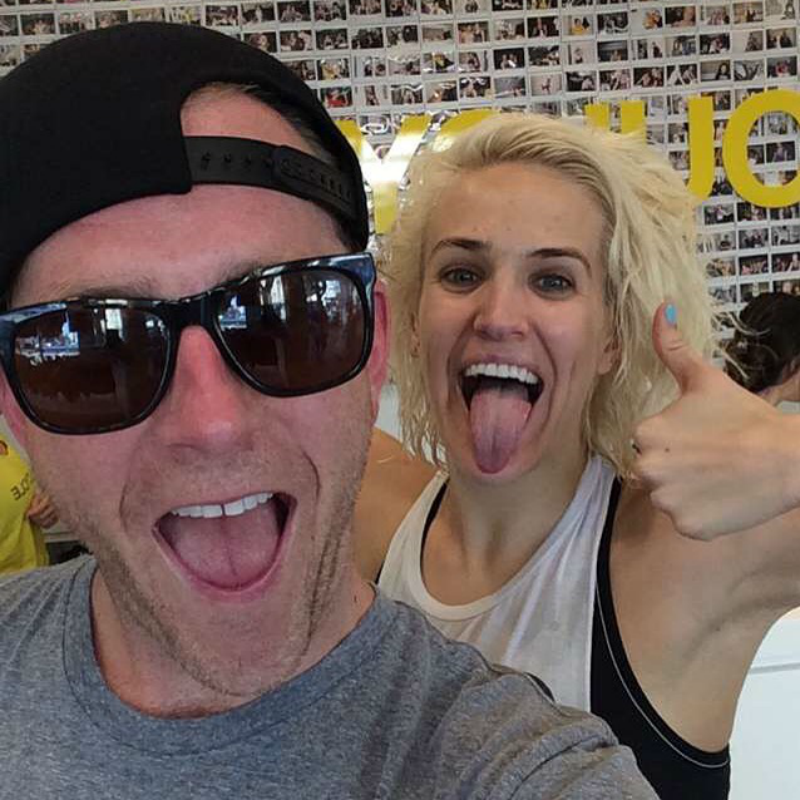 Rachael Brooke and ME for my last class in SF.
I had moved to San Francisco right out of college in 2002. I had amazing friends, some failed relationships and a life I was kind of proud of, but I realized I wasn't proud of the person I had become. It's hard to explain, but I was in a rut. I wasn't challenging myself. It all became clear that day when Rachael Brooke said that simple thing in class… it was time for me to go and start over.
I packed my bags, sold my house and moved to Los Angeles. On day three of living in LA I clipped into a bike in
Pixie's
class. Something really special happened to me in that class. Here I was now, an official Angelino, riding with a bunch of strangers. I could hardly figure out how to get to the studio in traffic… and Pixie looked at her attendance sheet and called me out by name for working hard. It made me feel at home immediately. At the end of class, she put a candle in front of my bike. I cried. I knew I was home. I knew this place, as silly as it sounds, was home. LA was home. SoulCycle was home. It just clicked.
I bought a new place in
West Hollywood
, and wanted something to remind me every day of the powerful words that many instructors have said to me, the friendships I've made at SOUL and the people I now call friends and family. I'm not really great with words… but I can decorate like no other, and that is why I have a very prominent yellow door to the master bathroom in my home. The door reminds me every day of the family that is SoulCycle and how, if you push yourself, you can do it. Anything is possible.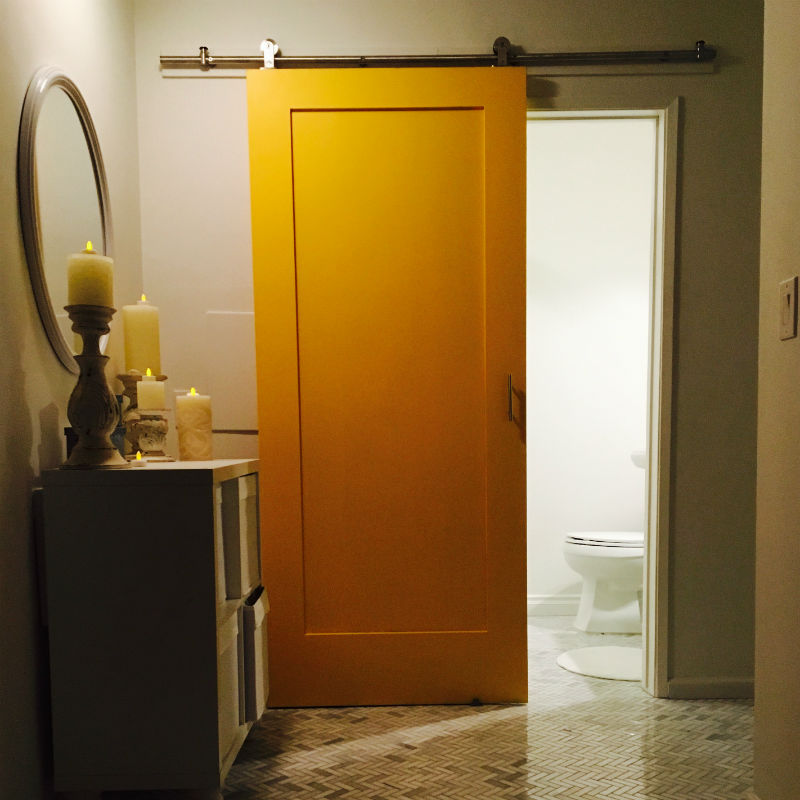 The Door!
Thanks to SOUL and cross training, I've lost five inches off my waist and about 50 pounds with a healthy diet and exercise. I'm in a new city I love and I've never been happier in my life. So, how will you turn it up?
Before and After! (March 2014 and Aug 2016)
Do you have a SOUL Story to share? Email SOULlife@soul-cycle.com! Want to ride at SOUL? Grab a series <a href="https://www.soul-cycle.com/series/"TARGET="_NEW">HERE</a> then book a bike!