A Behind the Scenes Look at How the SOUL Bike Went Global
November 11, 2016
ext week, the pack is saying "guten morgen" to Germany as we bring SOUL to the armed forces in one epic USO Tour. But getting our signature yellow bikes overseas was no easy feat. SoulCycle's Senior Manager of Bike Operations and Logistics, NIK KARBELNIKOFF, share the details of the SOULful journey all the way to the Ramstein Air Force Base...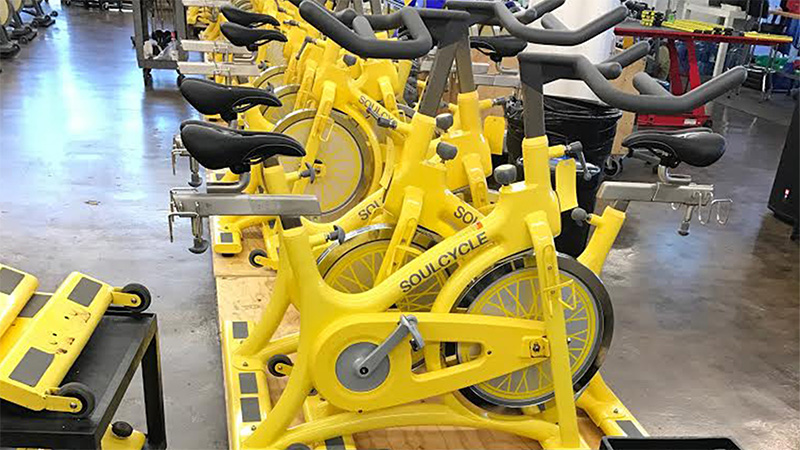 Tell us — just how many SOUL bikes are traveling to Germany?
We shipped 80 yellow SoulCycle bikes.
So, quite a few. How are they getting there — plane, train, automobile?
They were packed into a shipping container and sent via ocean freight to Germany. The container went straight onto a tractor trailer and was driven to the base. The bikes will then be re-packed in the same containers and sent back to the US the exact same way.
Tell us about the shipping process.
It's actually pretty straightforward. We work with a logistics company, who handles all of the packing and loading of the bikes. They also help us get through the somewhat complicated customs paperwork that is needed for their long journey overseas. Sourcing local trucking in Germany would also be impossible without them and is key for getting the cargo from port to the military base. There is a lot of back end work that goes into finding vendors and scheduling everything but they make it "easy" for us.
That sounds like a lot of work. How long does shipping take?
It's about three to four weeks each way.
Are the bikes traveling through any other countries before arriving in Ramstein-Miesenbach, Germany?
As far as I know, it's a direct shipment.
What was your biggest concern in shipping so many bikes so far away?
Minimizing damage was key. For the event setup to go smoothly, the bikes needed to be in great shape when they arrived. We cleaned and tuned each bike before they were packed up and we just hoped they came out the other side just like they went in — great condition.
Once they're being shipped, their care is a little out of your control.
Exactly. Timing was also critical. We needed everything to get there without any hold-ups!
How do you make sure all the bikes are tuned up and ready to ride once they get to Germany?
We did a lot of prep work before putting them into the container in hopes of minimizing mechanical work in Germany. Once the bikes are set up for the event we will test ride them as a team and I will make all the necessary adjustments. We sent a full tool kit and spare parts with the bikes just in case.
It's amazing how much prep work goes into sending the bikes. How many people are needed to manage the bike migration?
It's been a team effort between Special Projects and Bike Operations teams at HQ. Internally, we have four people — including myself — who are overseeing all of the coordination and shipping details. If you include everyone that's helped in some way, the number gets much larger. From the mechanics that prep the bikes, our Special Project team's coordination with the team at the USO, and everyone in-between, it's a really fun project to watch come together.
We're sure it's been really rewarding for all of you.
Yes! Like a lot of things at SOUL, it's a very collaborative effort.
Questions or comments? Email SOULlife@soul-cycle.com! Want to ride? Grab a series HERE and book a bike!