How Taylor Shank Celebrates His Brother's Life Through Music and SOUL
May 24, 2016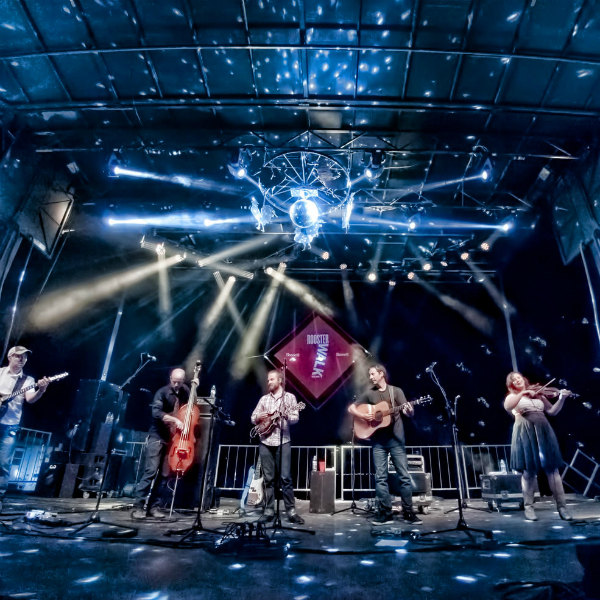 Tell us about Rooster Walk.

Rooster Walk is a family-friendly music and arts festival that began as a tribute to the unexpected passing of my older brother Walker and his childhood friend, Edwin Penn IV, eight years ago. The festival is located on a beautiful 151-acre farm in the rolling foothills of the Blue Ridge Mountains near my hometown of Martinsville, Virginia.
We are so sorry for your loss. What does Rooster Walk benefit?
The proceeds from Rooster Walk go toward a college scholarship fund for Martinsville High School and to an instrument refurbishment program which gives underprivileged students in entry-level music classes the chance to join the school band. Last but not least, after a declining economy in the early 2000s, Martinsville has benefited from Rooster Walk-fueled tourism and is a desirable place for Millennials to leave the city and come enjoy nature and music with their lifelong friends.
That's incredible. How did you get the idea to start Rooster Walk?
I was ultimately making the most of a tragic situation. I was 18 and IN my first year of college when I found out Walker passed. Two months after his death, my brother's childhood friends told me they felt a music festival would be the perfect tribute towards my brother and Edwin. Instead of mourning loss, the festival would unite life through celebration, music, art and nature. Though Walker and Edwin might not physically be with us, their legacy lives on in a powerful and beautiful way that everyone can enjoy. This event could not have happened without that strong sense of community Martinsville's social fabric is known for.
How many years have you been working with the event?
I have been involved since its inception in 2009 with only 600 attendees and one stage. Eight years later, I am the evening emcee -- working backstage with the artists and announcing bands at five stages to over 5,000 attendees!
Amazing! Is it difficult being so involved in an event while living out of state?
Working in LA, Miami and New York has presented definite challenges, but the team is so supportive and everything is run so seamlessly that it doesn't even feel like I've been away.
Has SoulCycle inspired you in regards to Rooster Walk?
Yes. A few years ago, before I ever thought I'd be an instructor, I checked out the shiny new LA studio in Beverly Hills. I had never been before and randomly took a class. The instructor was Janet and she said she was in town for a funeral. I remember her saying, "you can do this for you or you can do this for them. Whatever you do, do your best and make it count." I then realized I should go balls to the wall in my involvement with Rooster Walk -- it was my favorite thing (music festivals) at my favorite place (my hometown) with my favorite people (friends and family) for my favorite cause (celebrating my brother's life).
It seems like Janet was truly speaking to you, then!
The sense of community at SOUL is parallel to Rooster Walk -- people coming together through the beauty of music to nourish the soul, happy to be a part of something bigger than themselves. Much like SoulCycle, Rooster Walk's foundation is the community; without the community, there'd be no festival!
So when is this year's Rooster Walk? What can we expect from the event?
We hold it on Memorial Day weekend every year — May 26-29. This year, it's at Pop's Farm in Martinsville, Virginia.
In addition to tons of great bands, there's art, crafts, food, beer, children's activities, on-site camping, disc golf, a river float trip, a 5K, healing arts and my personal favorite: a four-course brunch!!!!
How can people get tickets if they're interested in attending?
Check the website for tickets
HERE!
We've got options from single days to VIP RV camping -- whatever floats your boat! There's a lot to explore on the website —- bands through Spotify, a gallery of last year's fest, merchandise and so much more.
What motto keeps you motivated?
The motto of Rooster Walk is "Appreciate the present." In my class, I say the only thing permanent in life is time, so make sure you make every second count. I know Walker would.
Anything else you'd like to add?
I extend a huge thank you to the incredible communities of support and love from both Martinsville and SoulCycle. Most people lose a family member and that's it. My brother's legacy lives on far beyond anything I ever fathomed eight years ago and I am directly involved! I grew up looking up to Walker as an athlete and a public speaker, and now I'm a SoulCycle Instructor who travels the country and hosts music festivals. I'm proud to be Virginian, I'm proud to be a Shank and I'm proud to be Walker's little brother. It's taken me awhile, but now I can say I think my brother would be proud of me too.
Do you have a Soul Story to share? Email blog@soul-cycle.com! Want to ride at SOUL? Grab a series
HERE
then book a bike!
MORE FROM SOUL
Photo credit: Roger Gupta