How SoulCycle Helped Nikki Delventhal Grow Stronger
September 8, 2015
For years, NIKKI DELVENTHAL struggled with an eating disorder and low self-esteem, which made her feel isolated despite having careers in the spotlight. But at SoulCycle, she found connection to a community that empowered her. Now an instructor in NYC, she shares her story…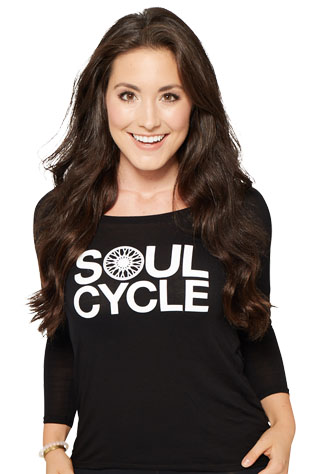 Points in my life that appeared to be the happiest and most glamorous were also some of the lowest. I hid behind an image and attitude, and when I got home I would break down and cry.
Body image and eating disorders have been my biggest struggles in life, leaving me feeling alone, out of control, and just so, so sad.
Food became an addiction. Finding a means to stay in shape and "camera" or "field" ready was my highest priority, no matter how bad I felt on the inside. I thought that as long as I looked a certain way on the outside and lived a certain life, that was all that mattered. I thought I would be happy if I was able to maintain this image/look.
Sure, I have moments and memories that just cannot be beat: cheering in front of 80,000 people, being featured on the walls of my favorite stores, and appearing on national television, creating lifelong bonds with my cheer sisters and reality TV ladies who are now some of my closest and truest friends. But for the most part, deep down, I was unhappy and spiraling to what felt like rock bottom, drowning in thousands of calories and tears.
I've made a career placing myself in the media. I started off my marathon of careers as a hairstylist, frequently working with celebrity clientele. I was always searching for the next best thing to "make me happy," hence my many career switches.
Next I was a professional dancer and cheerleader for the NFL. (GO, JETS!) I was GLOWING — I felt so happy on the field. But behind the scenes, I was constantly reminded that I was the "heaviest professional cheerleader in the country," and weekly weigh-ins began to eat me alive.
I eventually hung up the pom poms to take my modeling job full-time, once I signed with a top ten modeling agency in its fitness division. At the time, I also decided to wing it on Miss Connecticut USA, landing first runner-up. And while I absolutely loved promoting a positive, realistic body image to the audience, I was also under extreme pressure to uphold a certain look.
After a few years, truly happy with my career, I sought more control of my body image issues. I had to take a step back to realize that I not only needed to be an inspiring image, but I also needed to seek out a bigger voice.
Don't get me wrong: I believe life is one big party and I'm all about having fun. Once I even accepted a place as a contestant on ABC's The Bachelor. Surprisingly I made it as far as six weeks (perhaps the farthest any bachelor contestant has gone without saying more than three full sentences, my strategy to maintain a solid reputation). Somehow, I flew under the producers' radar before they figured it out and kicked me off on week 6. I kid you not, at one point my name was shown as Samantha on our "Women Tell All" episode – my name is Nikki.
Over the past of couple years, I have learned the meaning of true happiness and to stay mindful and present. Appreciate your body, your mind and your soul. I've learned that nothing is worth abusing yourself, and that when you receive opportunities, it's because you are enough, you are capable. You don't have to be something else, you are you, your best you! You are already there, now!
I was always setting myself up for what I needed to be and not living in the present moment. I would forfeit jobs because I didn't think I was thin enough. I was ready. We are all ready. You are already who you need to be. Don't worry about the future, or the past all that matters is now.
I've found that self-awareness invokes a path toward living with intention. Don't forget to ask yourself how you are feeling NOW. In reminding my riders, I'm also reminding myself to stay present.
Now when I perform, I do so happy and excited to be in my own skin. I now look at food as fuel, not a means of coping with problems. I still struggle, but now I have the tools and support system to keep me happy and healthy.
SoulCycle has been one of the most empowering tools in my journey to recovery. The opposite of addiction is connection. I found a community of authentically inspiring individuals at SoulCycle.
Grab a series HERE and book a bike!
Questions or comments? Email blog@soul-cycle.com!
MORE FROM SOUL