How SoulCycle Helped BOB BRADER Quit Smoking
April 25, 2016
I had to find a way to quit smoking and — like most smokers trying to quit — I had to find something that would help ease some of the stress. A friend of mine recommended SoulCycle and I have to admit that the idea of taking a cycling class never appealed to me. I was looking for a good cardio workout to help with the stress and never thought that I could get it from just riding a stationary bike, but I decided to give it a try.

At my first ride, I am shown to my bike, taught how to set it up and snap my rented shoes onto the pedals. The music starts blaring and the instructor is having us do things like push-ups on the handlebars, crunches and all sorts of core-building exercises. It is a total body workout. She also yells out encouraging statements like, "Go at your own pace." "You are getting stronger." and "Live your life like you ride your bike." We also have some time where we are just riding to the beat of the music and during that time, my mind drifts back to my old bike.

I hadn't thought about that bike in years. It was a yellow five-speed with a black banana seat and huge handlebars that made me feel like I was riding a motorcycle. I had a small radio attached in between the handlebars with a lot of tape and a long, thin orange pole attached to the back with a flag that had the Road Runner on it. I loved that bike. I left that first class smiling and thinking about riding around the back streets of Whitehall, Pennsylvania.

It was a pretty intense workout and I decided to keep going. It was positive and made me feel stronger and able to face being smoke-free. The more I went to SoulCycle, the more I pushed myself, trying to get as much out of the workout as I could. I was enjoying the intensity of it.

And then, during one class, I was pedaling pretty hard when the instructor,
Olivia
, called out one of those encouraging statements. Only this time, she said: "Forget about everything outside this room. No one can hurt you while you're riding your bike."

And with that, I am no longer in this room; I am that little boy riding my bike as hard and as fast as I can. Riding through the pain of having an abusive father, tearing through the streets, working though the anger and depression, many times having to pedal standing because of the bruises on my body. This is my release, this is my escape, and she is right; no one can hurt me while I am riding my bike. This is my freedom; while I am on this bike I can work out all of those pent-up emotions and truly feel alive. I am not just riding to get away from him; I am riding to overcome him.

When my mind finally brings me back to class, I realize I'm crying. Thankfully, nobody notices because I sweat like crazy during these classes. However, I am not sad; these are tears of joy. When I used to look back on that little boy, I would feel sorry for him, but today I realize how resourceful he was, how he could have turned that anger and bitterness on other people or on himself, but instead, he chose to ride it off on his bike, the bike that he loves, the bike that made him feel free. I look back at him and I am proud of him. And I also start to feel proud of myself for, at least right now, being able to leave the cigarettes behind.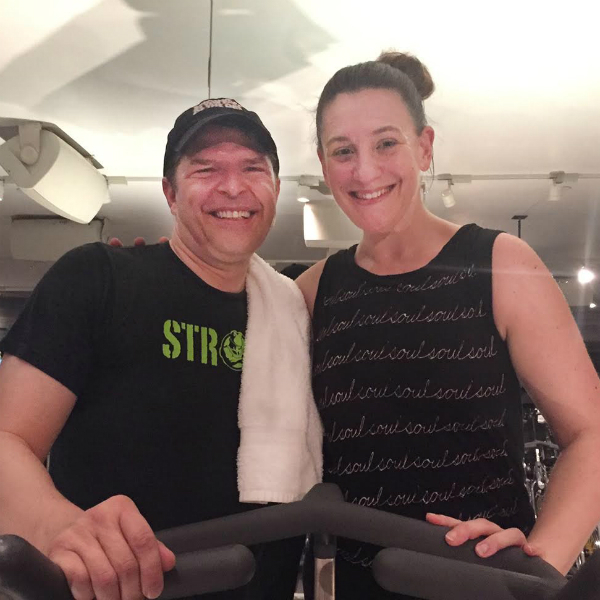 I would love to say a huge thank you to all of the amazing people at SoulCycle East 63rd Street. The staff and instructors are incredible, friendly, knowledgeable and supportive. To Alyssa, Katie, Olivia, Kendra, Halle, Love, Noah, Corey and everyone that makes E. 63rd Street the incredible place it is: Thank you for providing me with a place to not just work out in, but to feel comfortable in as well. You are all phenomenal!!
WATCH: Trailer for Bob Brader's Play 'Smoker

'
Adapted from the monologue Smoker by Bob Brader Copyright © 2015. To learn more, visit 
SmokerThePlay.com .
Do you have a Soul Story to share? Email blog@soul-cycle.com! Want to ride at SOUL? Grab a series
HERE
then book a bike!
MORE FROM SOUL: