How SoulCycle Gave DJ Arielle Kamin Confidence and Strength
January 27, 2016
The first time I ever got on a bike was in 2013. Prior to that I hadn't found any forms of exercise I liked. I was on a couple of sports teams in high school but after graduating, I'd pretty much given up on any form of physical activity. I was visiting my sister in Manhattan at the time and she encouraged me to join her for a SoulCycle class. I was convinced I'd hate it but begrudgingly, I agreed.
That first ride definitely changed my life; I was hooked. The SoulCycle experience was unlike any I'd had before — the competitive nature of high school athletics that had so turned me off had been replaced by a loving and nurturing environment, and as a DJ I loved the music and body connection.
I'd push myself to go to class as often as possible, no matter my work schedule or finances. After every class, I felt amazing and couldn't stop talking about SoulCycle. (I still can't!) I would ramble to my mother about how amazing the class was and I'd beg all of my friends to come with me to class, so that they too could experience this high. SoulCycle even gave me the confidence to challenge myself in new ways.
In 2013, I signed up for Tough Mudder with some colleagues. I was nervous, but with my newfound strength I was confident I could perform. On the day of the race none of my colleagues showed, but I didn't let it stop me. I was so self-motivated — a skill I'd learned on the bike - that I completed the entire race with the support of just myself.
After about a year, and a total career shift I had to take a break from SoulCycle due to scheduling constraints. Trying to find health in other ways, I'd put myself on restrictive diets, where I felt fatigued and unhealthy. I went off the diets and resolved to find health in other ways.
Fast forward to 2015 and I had just moved to Manhattan with an easier schedule and I was ready to find my SOUL again. I'd started going to classes again here and there but my real motivation came from my high school friend and newly minted SoulCycle instructor, Joyce Franco Grazi (below, left).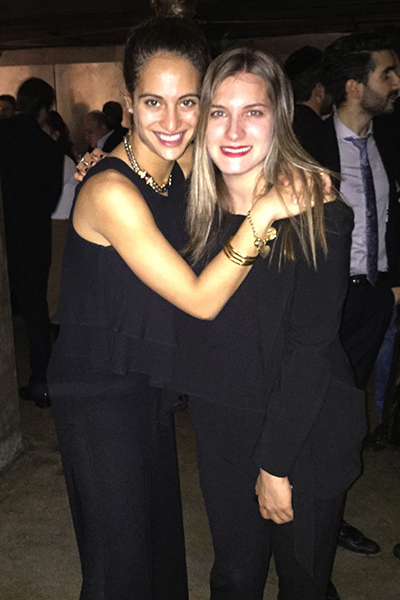 In October 2015, I went to one of Joyce's classes on a Sunday evening. I couldn't believe that she was the one teaching the class! This was far better than going to any other class. Nothing compared. She had everything. Great music, top notch choreography, charisma, and definitely a challenging workout. Her energy on the bike was amazing. Unfortunately, I couldn't make it through the class that day because I was so out of shape.
But then came 2016. New Year, new me. Again I told myself I want to get back into SoulCycle. I told Joyce I was coming to her 8:30 AM class on New Year's Day. She obviously didn't believe me because it's New Year's day! (I made sure not to party hard the night before). She was so happy to see me! In her class I pushed myself like I never did before. I pushed myself so hard that day I even did my first double!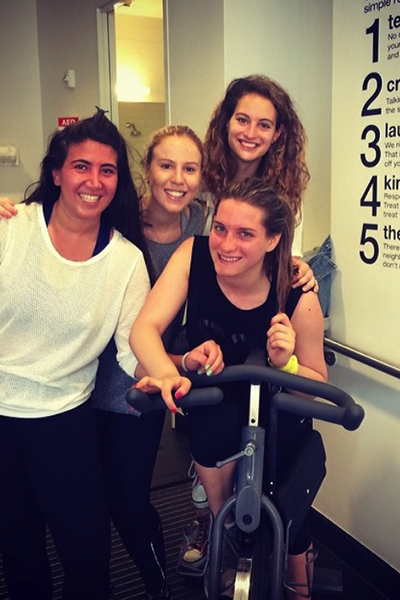 Since then I've been going to her class four to five times a week. From her 6:00 AM classes in the West Village to her 6:30 PM classes on the Upper West Side to her classes in Brooklyn Heights, I've been there. The more I go, the more I respect her as a person and a teacher. Each time I go to her class, I can't believe that it is MY friend on the podium teaching. She's really inspired me by showing me how hard she worked on and off the bike for class. The best part of this experience is that she's given me confidence to ride in the front row which is a big deal for me — and obviously — to keep up with her challenging class. I don't think I will ever be able to ride any other bike unless it's front row.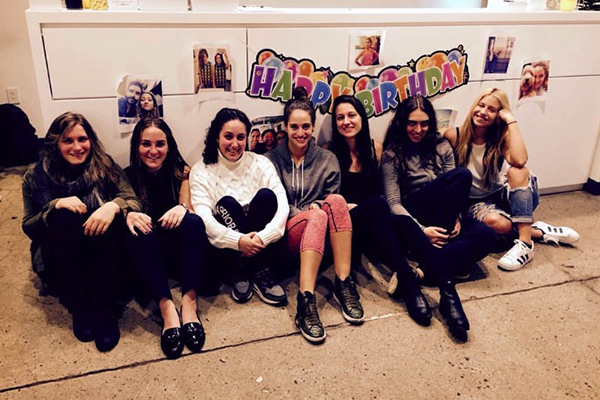 I believe SoulCycle is a great community where everyone understands each other. They understand the great feeling of riding in class physically and mentally, therefore everyone has a common interest that is SoulCycle. The more classes I take, the more I want the people around me to experience what I feel, from colleagues to friends to family. SoulCycle is different than any other indoor cycling class and any other exercise.
It's hard to put into words but just the feeling of euphoria you feel every time you enter that candlelit room. The moves on the bike make it very fun and challenging, and riding to the beat is my type of workout because I love music. I think everyone should give SoulCycle a try and find the teacher and connection that's right for you. You won't regret it.
Do you have a Soul Story to share? Email blog@soul-cycle.com! Want to ride? To book a bike, grab a series HERE then book a bike!
MORE FROM SOUL