How SOUL Helped One Rider Accept Her 'Fullest Self'
May 1, 2017
MANDA OBERSKI first came to SoulCycle after undergoing surgery and physical therapy. Now, 100 classes later, she's opened up about living with Type 1 Diabetes and plans to ride her bike across the country next month. Here's her story...

I first came to SOUL after surgery. Two years ago, I had reconstructive knee surgery on my left knee — my fourth surgery on three different limbs over the past five years. Frustrated with having to learn how to walk — again — I decided to try something new.
Physical therapy was really helpful! But after a certain point, I was healed enough and had to continue to recover on my own. I have never been good at sticking to a workout regimen, but I knew I needed to make this happen. I figured I would try something different so I started riding at SOUL.
From there, I fell in love — I recently celebrated my 100th ride and I've built my strength through tap backs and push-ups — all the way to the front row. It was a slow process — rebuilding muscle takes time. I started far in the back and went at my own pace. But the community was incredibly supportive and welcoming, and the power — from entering the studio to when the lights go off and the music comes on — was so motivating. Eventually I was able to rebuild my strength.
During these past 100 classes, I've used SOUL to realize even more of my strength. I have Type 1 Diabetes, and when you're going through any physical trauma or recovery, it affects your blood sugar. I've never been forward about the effects or impacts of my Type 1, but SOUL helped me open up.
I wear a continuous glucose monitor (CGM) to help monitor my blood sugar. The CGM is a small sensor attached to my skin that sends my blood sugar levels over Bluetooth to my phone. When I first started wearing the monitor, I wore clothes to cover it because I was embarrassed about being so visibly different. I'd try to hide the monitor on my stomach or hip; I'd pull my tights way up over it and fuss with baggy tops to keep it hidden. But that just wasn't worth it.
These days, I wear my CGM on my upper arm — an obvious placement both in and out of class. SOUL was the first time I've ever been so open about this part of myself. I realized hiding it wasn't helping me, it was hiding part of who I was. Realizing and accepting this has made me stronger. The
SOUL CSTR
community knows diabetes is part of me, and that's been life-changing.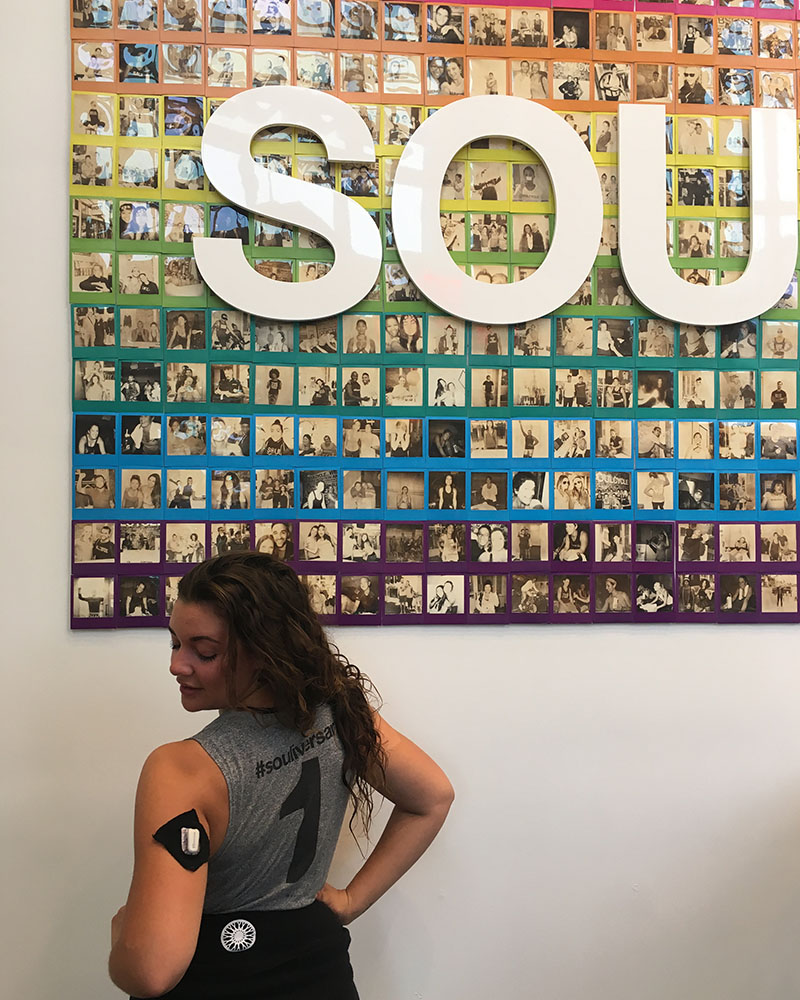 This summer, I'm testing my newfound strength across the country. Traveling with Team Bike Beyond, a team of 22 other Type 1 Diabetics, I'm a Diabetes Ambassador for Beyond Type 1. Our Team Bike Beyond will cycle from New York to San Francisco to show the world what living beyond Type 1 looks like, while stopping to educate and advocate for diabetes advancements in different cities along the way.
The entire trip this summer will be 4,284 miles. So far, I've has done most of my training to prepare for the trip at the CSTR Studio. I would not be able bike across the country without SOUL. Physically, emotionally, mentally — SOUL is preparing my entire journey. I know I've had this strength in me the whole time, but the power I feel from the studio — and the strength I've gained from accepting my fullest self — that's what's driving me to bike across the country. I wanted to find my strength, and I have.