How SOUL Helped KATE CRAFT Through the Fight of Her Life
October 20, 2015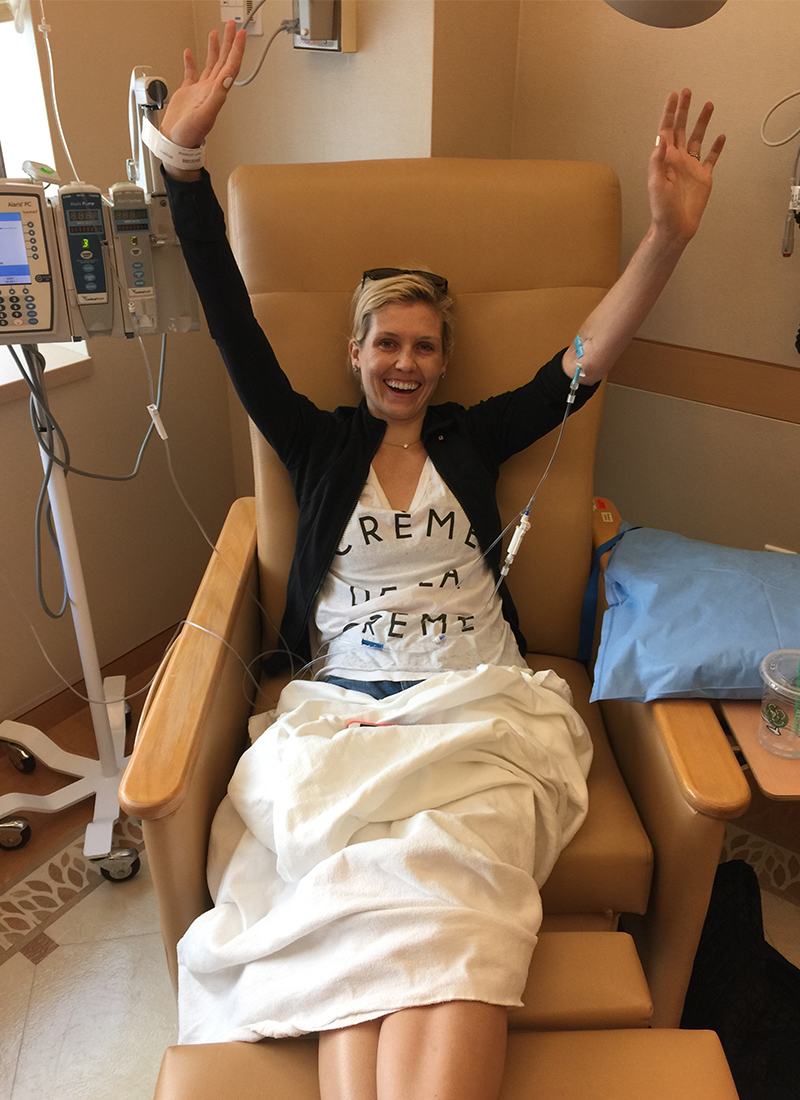 I have been an athlete my whole life — taught to compete, to fight and to never give up.
Last summer, at the age of 28, I was diagnosed with invasive breast cancer. This meant that I needed the works — surgery, chemotherapy, radiation and ongoing hormonal therapies to make sure whatever lingering cancer cells were properly murdered, and then some. It would be a year of hospital visits, and a year of intense fatigue and nasty side effects from treatment.
My first day of chemo was my own personal doomsday — I walked in feeling healthy, but knew I would leave feeling sick.
Despite feeling like crap, I wasn't willing to let treatment break me. The next day, I went to SoulCycle with one of my girlfriends. It proved to be one of the tougher classes I've ever taken — but I left class feeling proud, and I felt strong. SoulCycle helped me realize that not only was I going to win this battle, but I could also do the things that made me ME while fighting — like going to SoulCycle.
The high didn't last long — I crashed for the next five days (like, didn't get out of bed), but those 45 minutes on the bike were enough to know that I won the first round.
By the time round two of chemo came around (three weeks later), my family had an official chemo pre-game plan in place. The plan hinged around getting me on a bike, no matter how crappy I felt.
The routine:
7:00 AM: Family SoulCycle ride
8:00 AM: Shower and eat breakfast while my mom and sister crushed the dry ice I needed for my cold caps (whole different story)
10:00 AM to 4:00 PM: Cancer center
5:00 PM: The following week: Nausea
In my subsequent five courses of chemo, this routine became something I (almost) looked forward to — it helped me walk into chemo as a winner, as a fighter, and as an athlete. This was a huge part of my battle. Every time I got on that bike, I silently gave myself a point against cancer.
For anyone who has ever faced a life-threatening condition, you know how lonely it can feel. It was in SoulCycle that I found a source of community and inspiration.
One early morning class, I spotted a beautiful, bald woman with sharpie marks all across her chest. Now that I was in the "know" about breast cancer, I immediately recognized a woman who had recently finished her chemotherapy and was just starting radiation.
I introduced myself after class and barely got my name out before the tears came streaming down — I was so impressed, so in awe of her. She was a couple months ahead of me in a very similar treatment. She was bald and badass, totally unafraid, and full of kindness. This woman, and so many others like her, have made me feel proud to be among them. The breast cancer club isn't one anyone would sign up for, but I am grateful to have so many amazing women with whom I can share such a meaningful and emotional connection.
I finally made it; fast-forward a little over a year from my diagnosis and I have a cute (short!) haircut, I am feeling more like myself everyday, and my scans are all clear. It proved to be the fight of my life, but I am so lucky to be able to say that I gained more than I lost. And now I'm launching
Project Battlebox
, which offers highly curated gift boxes for women facing chemotherapy — they are intended to be a beautiful and thoughtful gesture, while also supplying her with super relevant and safe products for her situation. This was such a huge part of my experience — finding products that helped curb the nasty side effects, while still being all-natural and making me feel like I was 'treating myself' to something lovely. Through much trial + error, I compiled a collection of products I really love and believe helped me through treatment. I would like to share this with other women facing a similar experience.
I still ride all the time and I smile every time I think of all the badass women out there riding their way through treatment.

Learn more about Project Battlebox HERE and on Instagram. Do you have a Soul Story to share? Email SOULlife@soul-cycle.com! Want to ride? Click HERE to grab a series and book a bike.
MORE FROM SOUL