How SOUL Helped ALI GALANTE Shed 66 Pounds and Strengthen Her Bond With Her Husband
August 12, 2016
fter giving birth to her third child, ALI GALANTE struggled to lose the baby weight. But when she and her husband Robbie started tapping it back at FIDI, she lost 66 pounds – and gained bonding time with her husband. Now, she shares her story….

Fitness and a healthy lifestyle have always played an important role in my life.

However, having three children in five years severely hindered my ability to work out like I used to. As life became stressful, I began to work out less and make unhealthy food choices. As a result, I was unable to lose the baby weight from my last pregnancy… and actually saw a weight gain.
After giving birth to my youngest daughter, my weight hit an all-time high and I topped the scales at 186 pounds! I knew I had to do something, as my weight was affecting my mood and how I felt about myself.
I began to work with a personal trainer and run outdoors with Robbie while pushing the kids in jogging strollers. While I did lose weight, I knew I needed to do more cardio.
My husband and I live down by the Financial District, and
SoulCycle FiDi
had recently opened up on Maiden Lane. I decided to give it a try… and so began my "SOUL" journey. I had always taken and enjoyed cycling classes at the gym. However, from the minute I walked into Soulcycle FiDi, I knew it was different.
Because you ride as a pack and feed off each other's energy, I felt that I needed to give 100 percent to the workout. That pack mentality held me accountable for my ride. For 45 minutes, I didn't have the stress of life, work and three kids weighing on my mind. All I had to think about was riding to the rhythm and getting lost in the music.
When Robbie asked me what I wanted to do for my birthday this past winter, I told him that rather than going to dinner, I wanted him to join me for a SoulCycle class. Robbie had never taken indoor cycling before and was hesitant but, just like me, was hooked after the first ride.
SoulCycle is special for Robbie and me, as we get to share something that we are both passionate about. Riding together has brought us closer than ever, in both our marriage and personal lives. We encourage each other, often talking about how we can improve our rides and holding each other accountable to our goals. Robbie and I like to say, "The family that "SOULs" together, stays together!" It's gotten to the point that when a song we like comes on the radio, we often talk about how we would ride to the song if we were at SOUL!
Through SoulCycle classes and running, I have been able to shed my baby weight and much more, dropping down to 120 pounds! Robbie and I are in the best shape of our lives. We feel great and have tons of energy! I have gained definition in my arms thanks to the five-pound weights and have "abs," both of which I never had prior to taking a SoulCycle class! Our progress would not have been possible without the help of some amazing instructors at FIDI.
Robbie and I both fell in love with
Chris Cohen's class.
I stumbled upon him this past fall when he was subbing a class I had signed up for. From that first ride, I became a devoted follower and later brought Robbie along for the ride! Thanks to my parents (who watch the kids), Robbie and I are able to ride Chris's class together. Chris's classes are definitely the highlight of our week!
We are also huge fans of
Anna's class
. Her class is fast-paced, challenging and really gets your endorphins kicking! Chris and Anna really encourage you to get out of your comfort zone and push your body to new limits because, as Anna likes to say in class, "Easy doesn't change you!" As soon as "noon on Monday" rolls around, I make sure to be ready to book our bikes (7 and 8, respectively) with Chris and Anna for the week!
While we have tried other studios, Soul FIDI is our go-to studio. All of the staff there is amazing! They are always so helpful, friendly and really make you feel like part of a community! Whenever we have the kids in tow (which is often), they give them stickers, tattoos, dance and play with them.
Because we have three kids and getting a babysitter for us to work out together can get pricey, we often play "tag." Robbie will ride the 4:30 class and I will meet him at the studio with the kids so we can make the switch so I can ride the 5:30.
My oldest, Anthony, keeps asking me when he can ride too because he wants to take Chris and Anna's class just like mommy and daddy. When my girls visit the studio, they like to look at the clothes, point out all of the SOUL shirts mommy has and then ask if they can get the same shirts too! They are the next generation of "SOUL" in the making!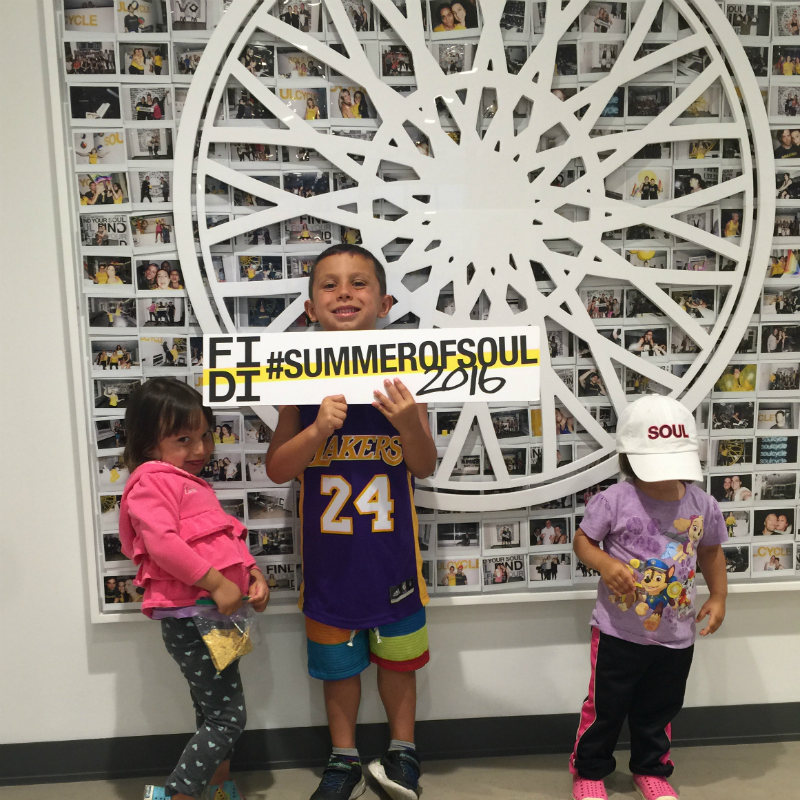 Maybe in a few years, the whole Galante family will be riding at Soul FIDI but, for now, it's just me and Robbie rocking it out on bikes 7 and 8!
Do you have a SOUL Story to share? Email SOULlife@soul-cycle.com! Want to ride at SOUL? Grab a series HERE then book a bike!
Photography by
Ali Galante