How One Rockstar Learned to Love Working Out at SOUL
November 18, 2016
AMUEL KO was a workout-phobe before he clipped in for his first class. Now this Boston rockstar has 100 rides in the books and has erased stress from his life. Here's his SOUL journey...
On November 13, 2015, one of my closest friends took me to SoulCycle. I fell in love with it during my first ride, and I knew I would get hooked. I also knew that I would be inviting my friends and talking about SoulCycle incessantly. 100 rides and about 60 friend invites later, I still do, and I can't get over how much I (still) love SoulCycle.
When I first stepped into the dark room, I was intimidated. It was so dark and even though music was playing in the background, I remember it being so quiet. I was early (I'm early to everything), and there were a few people rolling out their legs and looking at me. I'm sure they could tell it was my first ride, as one of the staff members set up my bike for me. And I'm also sure that some part of them wanted to show off, as this is what I also feel when I see new riders. I looked to my friend and feigned a smile. The smell of the grapefruit candles was slightly overwhelming, and I was nervous. My body was rushing with adrenaline, and my heart beat quickly as excitement, fear, anxiety and ecstasy arose within me. But the sound of the spinning wheels silenced everything and quickly put me to ease as we entered the first song.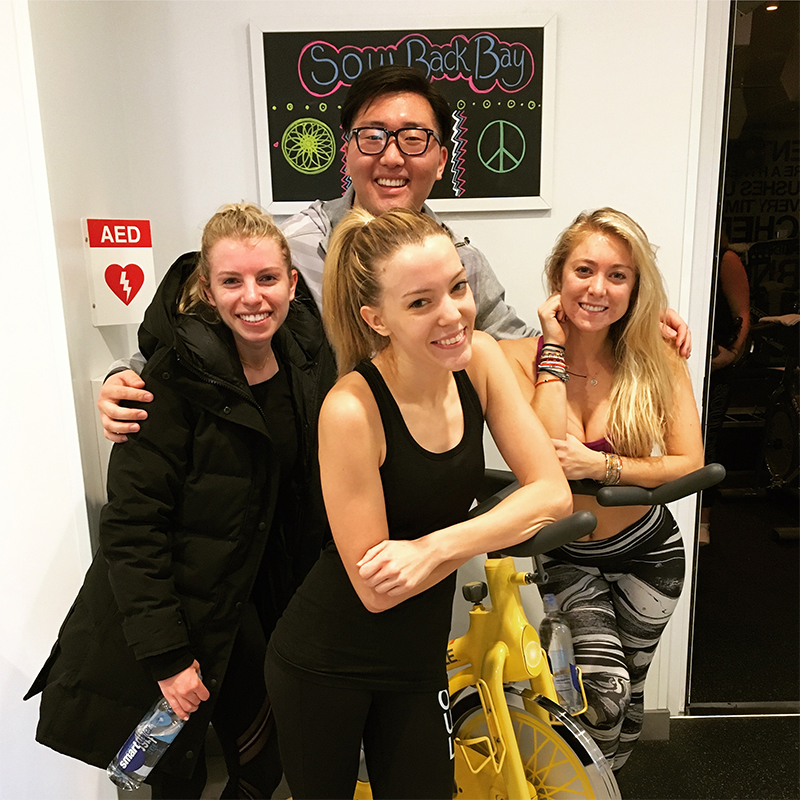 I struggled immensely my first ride. The first song, which is usually the warm-up song, had me exhausted. And I couldn't keep up with the rhythm in the legs and choreography for the rest of the ride. But I had a great time, and I wanted to get better. I left the studio that day wanting to ride in the front row, because the front row riders looked so amazing, almost monstrous.
Every aspect of SoulCycle had me enchanted. I couldn't help but note all of the positive things about SoulCycle: the facilities, positive subliminal messages, the staff, the music, the sweat, the instructors, the bikes, the apparel, the community, the dark room, the motivational speeches, the mindfulness incorporated into the exercise, everything.
Thinking back, my form was horrible. My shoulders and grip were tight, my knees were beyond the resistance knob and my core/butt was way too far from the seat. (I actually don't think my settings were correct for my first few rides. I only realized this during my first ride with Erin. I think I first rode with her my fourth ride? She came up to me, asked about my settings, and adjusted them for me. Since then I memorized, four dots up, number eight, and three holes up for the handlebar). During some rides, especially when I do doubles, my body can't take it, and my form reverts to its bad habits, but I'm able to see much improvement. And I'm grateful that I am hooked on something so positive and enriching.
And there's something indescribable about every SoulCycle ride. It's very much like religion and the transformative religious experience, and I find the greatest similarity in my inability to explain either. There are moments that I can apprehend "that thing" or as religious people would call it, "the divine," yet I will never be able to comprehend everything about SoulCycle. So here are few things I appreciate about SoulCycle.
It changes your body. I never (consistently) worked out before in my 25 years of life. I just don't like to sweat, to be short of breath, to play team sports, or to go to the gym. But after many SoulCycle rides, I can feel changes in my body. I'm definitely more active and positive. And now I have muscles! I literally thought my only muscles were my heart and tongue. And now I watch what I eat. I don't really watch how much I eat, but I'm sure if I did, I would have lost a significantly greater amount of weight.
Another change I've noticed is in my attitude and thought process. At SoulCycle, no matter how long you've been riding, the instructors will compliment you on how well you did. This has shown me the importance of focusing on the process and not the results. And by listening to what the instructors say and putting it to practice, I have gone from the third row, to the second (bike 23) and now the first!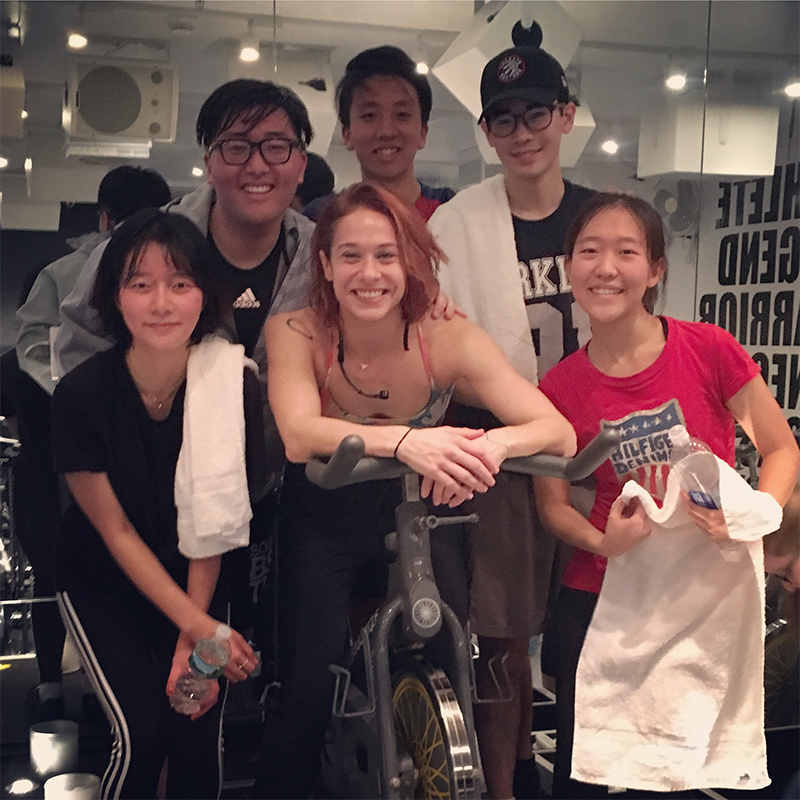 My home studio is the
Back Bay studio
. I also ride frequently at the
Beacon Hill studio
, and I have ridden at the
Chestnut Hill studio
. The instructors and SOUL community keep me coming back. I have yet to force myself to go to SoulCycle. I'm clear about the things I like and the things I don't, and if there are things that I don't like that I don't have to do, I don't do them. But the SOUL experience is a truly exhilarating one, and the staff that works the extra mile (literally, no one at SoulCycle I know just "works" there) and the rapport I've been able to develop with the instructors have latched me indefinitely onto SoulCycle. Also, all the people you meet at SoulCycle, for some reason, are really kind, engaging and polite. There's a certain openness to meeting people at SoulCycle which is hard to find in the cities. I usually don't start conversations with random people, but SoulCycle has been slowly changing this in me.
My first instructor ever was
Sara
and she holds a very special place in my heart. After my amazing first experience with her, I wanted to try different instructors, but for the longest time, I rode only with Sara. However, after I started getting into the hang of SoulCycle, I noticed how blindsided I had been and began riding with
Erin
and
Dani
, who kill me every class. Today, I usually ride with Sara,
Maddy
, Erin, Dani and
Johnny
.
Regardless of with whom I ride, one of my favorite parts of class is the 10 second window before class actually starts when I get to yell, "I love you _____" in hopes of setting an enjoyable atmosphere for everyone and of expressing my appreciation for SoulCycle.
Life can be tough — it throws lemons, papayas and any and every other thing at you. It is my philosophy that if one has yet to come to this realization, he or she is either naive and self-deceiving, or will come to the realization (unless he or she decides to live like a child for the rest of his or her life). During my dark days, I have always had SoulCycle to look forward to - all the more on my bright ones.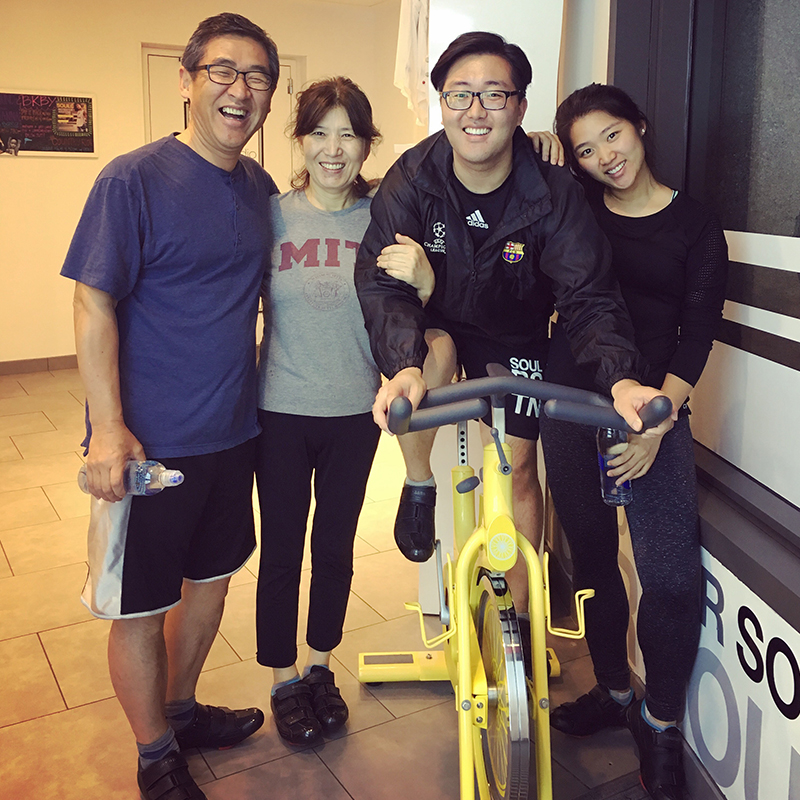 SoulCycle has also shaped my body in that I get "itchy" if I rest for too long, and it has shaped my mind in manifesting the effects of focusing on the process and not the results. Oh, and I relieve all of my stress every time I leave the studio. I can't even remember the last time I was stressed anymore.
Any time I have a memorable ride, I either journal it or post about it on my Instagram or Facebook. But my most recent memorable ride was a ride I "hosted." I invited 20 friends to ride with me and also celebrate my birthday and 100th ride. Occasionally, I came across a few instructors who let people ride on the podium for special events. And I was so jealous. And during this ride, I was invited to ride on the podium for the last song.
It is my most unforgettable ride. Whenever I'm feeling down, I imagine that time — me, dancing on the bike and killing it in front of the whole, full studio, with people cheering me on — and a smile reaches across my face.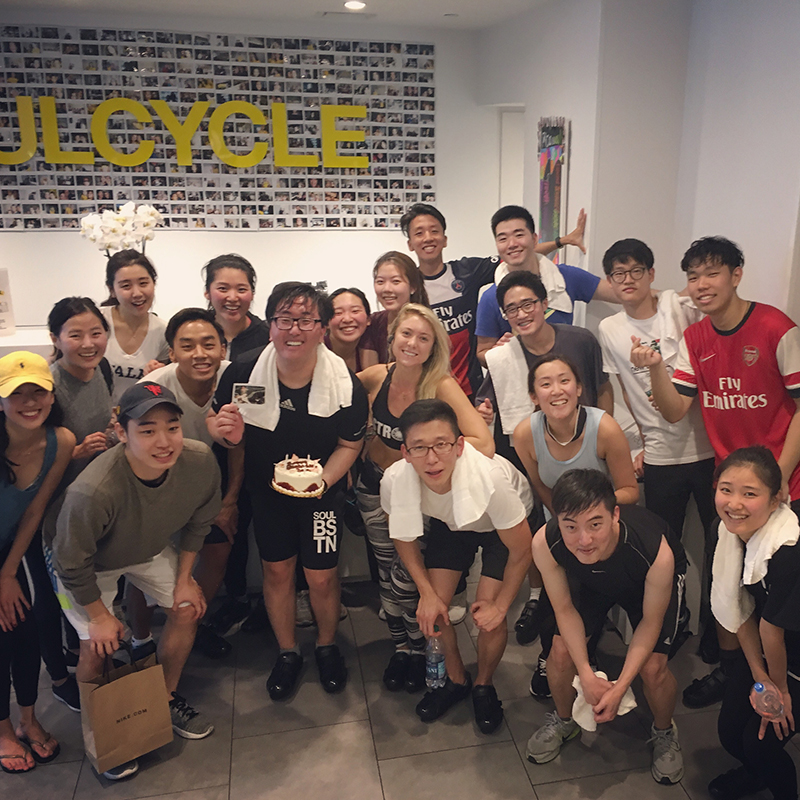 And I am happy to announce that my U.S. SoulCycle tour is slowly, but surely, coming into fruition! Out of my love for SoulCycle, I decided that I would tour every US city that has a SoulCycle. Now that I'm making my own living, I don't currently have the financial means to do it all at once, but I will track my whole adventure. Hopefully I can keep up with the many SoulCycles that are being founded. I'm still looking for a name/Instagram hashtag for the event, and would love recommendations. In January, I'll be going to Chicago, and in May, I'll be going to LA. And because of their proximity, I will, sometime before Chicago or between Chicago and LA, visit Philly, DC, and New York. So I'm sure I will see you on a bike!
Do you have a Soul Story to share? Email SOULlife@soul-cycle.com! Want to ride? Click HERE to grab a series and book a bike!