How One Rider Discovered Her Place to Be at SOUL
May 3, 2017
s she prepares to clip in for her 400th ride, Pasadena rockstar REGITZE LADEKARL opens up about how she tapped into the athlete inside her and what keeps her coming back.
In a few weeks my 400th ride is coming up, round about the same time as my 2½ year anniversary in PDNA. Lately, I have given a lot of thought of why I keep coming back. What is it I find in that dark room on a bike that goes nowhere and everywhere at the same time?
I am not a sporty person. I never have been. My dad used to say that the only sport I would ever be good at was pole sitting — not pole dancing, but the short-lived Danish fad of putting people up on poles in the water for days where the last one awake wins. I wore my zero attendance in PE in high school as an honor badge, taking solace in the fact that at least I would not be picked last if I did not show up. Any serious attempt at getting healthier through athletic activities did not kick in until after I turned 40, and team sports were certainly not on my radar.
It took me a couple of months to catch on, but when I rode my first class in November 2014, I was hooked. Back then I could not articulate what it was and, honestly, I did not care. I just knew that even though I sucked at the choreography and my lungs were trying to escape my body, I had to come back, because this was my place to be.
Now I am better at distilling exactly what it is that draws me in.
It is the presence required. The workout is so hard that I cannot be anywhere else but in that room. I cannot let my thoughts wander. I cannot worry about what I look like - it would not help anyway. I cannot do my own thing because my energy - and everybody else's - is contagious and I owe it to my tribe and myself to spread the best of the best around. Every class is a small vacation from the noise and chitchat and constant distractions in my mind. SOUL is like meditating at an extreme heart rate; whenever I stray, I have to come back to my breath. Disciplining my mind and body spills into the rest of my day and week. It gives me focus and stamina.
It is the music! I listen to and love all kinds of music: Bruno Mars, Stevie Nicks and Rage Against The Machine, Prince, Bowie and Rihanna. The beat carries me through. It tells me exactly what to do. I love every theme ride and getting lost in some obscure mashup of Ginuwine and Kings of Leon and singing along to Biebster and Bey - as much as my labored breathing will allow. I love the different styles of the amazing instructors and getting to know their signature songs. I cannot help but walk out happy.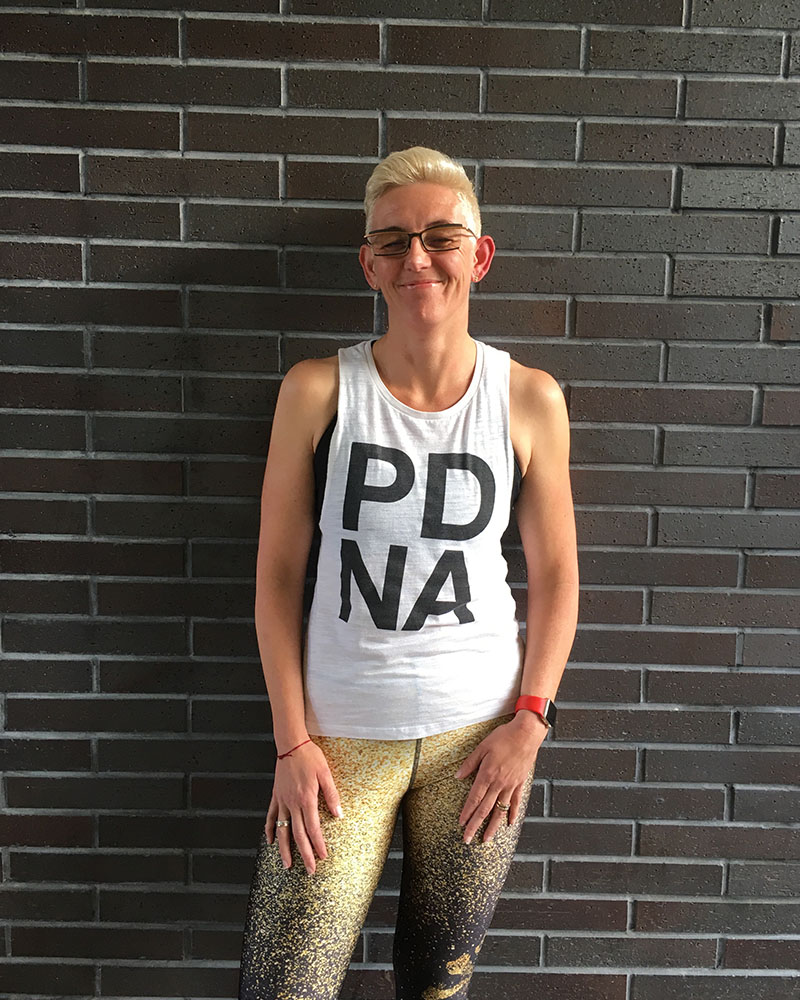 It is definitely the community. I hope everyone feels this way about their studio, because there is nothing better than being greeted by name and a hug from the staff, the instructors and my fellow riders. Most of the time I go by myself, but I am never alone in there. There can be seven or 50 people in the room; someone always has my back and I theirs. Never, ever have I felt anything, but welcome, and that means the world.
And then of course it is the strength I have built. I am in the best shape of my life. I have energy, I sleep well, I pass every health check with flying colors and I have a nice six pack! Few women my age can say that, and I am proud of it, because I know I did the work.
I am well aware how it must sound to an outsider that I talk about riding a stationary bike like this, but of all the things I could be addicted to, SoulCycle is galaxies from the worst. I just love it, so here is to 400 more!
Big hugs and thank you, SoulCycle.
Do you have a SOUL Story to share? Email SOULlife@soul-cycle.com! Want to ride? Grab a series HERE and book a bike.