How One Instructor Gave Back This Holiday Season
December 27, 2016
n order to spread holiday joy, Bay Area instructor CASEY HIRSCH led a charity ride to benefit Toys for Tots, a non-for-profit organization that delivers toys to children in need. She shares what inspired her to rock the podium for the kids this holiday season, why the organization is important to her and more...
What makes the Toys for Tots charity so special?
As a child, Christmas was the most special time of year. My parents made a point to always make me feel like I was cared for — even when they were just starting out with a little money, they would get creative. My dad would be an "Elf Helper" and would set up elf traps, so Christmas morning, when my siblings and I woke up, there would always be an obstacle in the way of our presents.
That's so fun!
This year, I wanted to pay it forward and make sure children near and far had something to open Christmas morning.
Tell us about the ride. How did people reserve bikes and gather toys for the kids?
The ride was set up by me. I let riders know that they could email the Palo Alto studio to reserve a bike. The payment for the bike would be a gift any price amount for any age.
What was it like to get the pack involved in such a special organization?
Toys for Tots is such a simple idea, yet so helpful. It is very important to me to take time out of every holiday season to help others, and putting together this ride and seeing the support and outpouring of gifts was truly a Christmas miracle.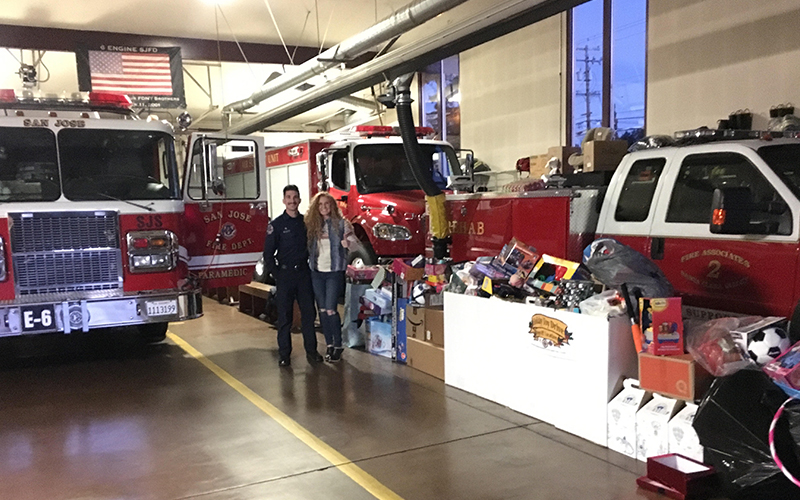 How did you get the gifts to the kids?
The toys were brought to my brother's fire station and from there they were distributed to families.
We're sure so many kids are so grateful for the gifts the pack provided!
We actually doubled the amount of gifts I anticipated donating. SoulCycle is an amazing way to raise money for certain charities. Let's do more during our time to help thy neighbor! Peace, love and SOUL!