How Mom Inspired Me
May 10, 2014
SOUL Instructors STACEY GRIFFITH, CONOR KELLY, TRAMMELL LOGAN, HEATHER PEGGS and GABRIELLE WISE share thoughts about their moms and how they shaped who they are today…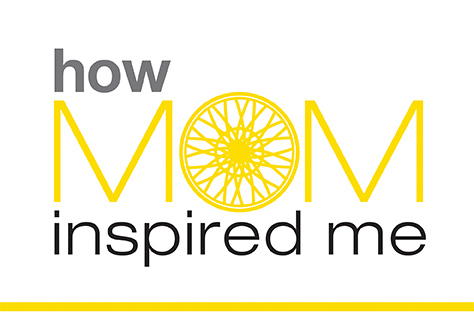 STACEY GRIFFITH
HAPPY MOTHERS DAY, MOM XOXO
To the nicest human being I have ever known... you taught me to be compassionate to all people, you taught me what it means to love, you taught me what it means to make someone happy, you taught me how to give unconditionally, you taught me how to respect people, you taught me how to take care of my skin..my hair.. you taught me about "presentation."
I would not be the person I am today without the unconditional love of my mom. She was my best friend through all of the ups and downs of my life. She believed in me when no one else did, she worked hard to support the two of us ALL BY HERSELF for years on end… tirelessly showing up in an all-MALE-dominated Silicon Valley world just to make ends meet so we could have a great life.
I am forever grateful for my mom today, and every day.... I LOVE YOU MOM !!!!!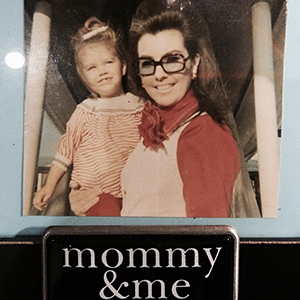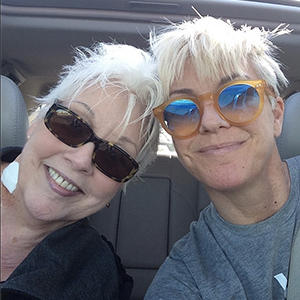 CONOR KELLY
My mother has inspired me since I was a little boy. I have always looked up to her as a child, and even more now as an adult. She is one of the hardest working women I have ever met, but she has always found time for family and friends. She has always reached out to my friends to do anything she can to help elevate their careers, or get them in touch with people in their career fields that she knows through her 30+ years in business.
Without ever questioning me, she has stood behind me and supported my ideas, dreams, goals, and career choices. She has instilled in both my sister and me a hard work ethic, and a moral compass always pointing in the direction of compassion.
When I took my first SoulCycle class, I called her right away after finishing class, and told her, "I am going to need to borrow your credit card info so I can buy a 30-pack of classes. I promise I will repay you! But Mom, I think I just fell in love with something and found my calling in life!" Without even arguing with me, she gave me the info and said something to the extent of, "if it is something that is healthy for you, and makes you feel great inside and out, how could I ever say no?"
That is the type of woman my mother is, supportive, kind, compassionate, and hard working... and now a full blown SoulCycle addict herself. Starting from the back row, now riding front row with the pack! To everyone at SoulCycle, her co-workers, and family and friends she is know as Clauds. But to me she is always and forever Mom.
She is the reason I am the man I am today, and for that I am so grateful.
LOVE YOU MOM!
Photo by Ellie Tonev Photography
TRAMMELL LOGAN
My mom, Carol Logan, has and will always be my biggest inspiration. My mom is a single parent of eight, and knowing my brothers and sisters, I have absolutely NO idea how she survived. My family is pretty wild and crazy, and it leaves me to question how crazy my mom and her siblings were back in the day.... I wonder.
Throughout the years, I have witnessed my mom endure many hardships and overcome many life-changing obstacles. A life-threatening case of pneumonia, brain and heart surgery. All things that could easily discourage someone with little faith. The most difficult challenge was the passing of my younger sister, Tenesha Logan. Due to serious health issues, Tenesha passed away at the age of 7. That was by far the most difficult time for all of us, especially my mom.
Now, here is where my mom became my biggest inspiration. During the first three months of Tenesha's life, doctors questioned if she would live to see the age of 1. This was heartbreaking news for my mom and the rest of us. Things were looking really bad, but my mom never lost hope. After countless visits to multiple doctors and long hours of research, my mom developed a strong sense of faith. Instead of running around and receiving the same results, she decided to make the best of my sister's predetermined short life. She brought her home and got to work.
With much love and attention, a beautiful, happy, and extremely sassy little girl was blossoming in no time. Tenesha, also known as Sha, had the most outstanding smile. Her smile would stop you in your tracks, and if you didn't stop, she would definitely tell you about yourself. That girl held her tongue for not one soul. It kind of sucked for me because she was pretty bossy! Although she was younger than I was, she had her ways that always seemed to get me into trouble. Her confidence and bright personality strengthened our family in many ways.
Sha's countless hospital visits definitely took a toll on her at times, but my mom never showed signs of weakness. Her strength helped Tenesha through every visit and every difficult time she experienced. No matter how confused Tenesha was, my mom always made her feel as if there was absolutely nothing to worry about and that she would be just fine. This strength enabled Sha to live the life of a "regular" child. She attended public school and had tons of friends. She went to parties, had parties, and danced around like a happy kid does. We actually forgot that she was even sick. I believe she lived a better life than most.
Suddenly, after 5 and a half years of a happy childhood, things began to drastically take a turn for the worse. Hospital visits turned into week long stays. Two doctors turned into a team of many. We started losing our baby girl right before our eyes. Around her 6th birthday, Sha lost sight in her left eye, which was followed by loss of sensation in her left arm, eventually leaving her left side paralyzed. This was it. Doctors had no answers for us. We were devastated and confused. We had absolutely no idea what to do. We were at a point of no return. Once again, my mom found a way to shield us all, including Sha, from the traumatic events that were occurring. My mom made it her job to make sure Sha left this earth knowing that she had a strong support system. She decided to quit her job and attend to her every need. With my mom sleeping side by side with her every single night, I watched their bond grow stronger than anything I've ever witnessed. Sha went to bed with a smile every single night.
At the age of 7, Tenesha's physical being left us. Her suffering was now over. Yes, it was an extremely difficult time for us all, but I can honestly say it was the best learning experience and confirmation. We now know that no matter how unbearable our trials and tribulations may appear, we have a support system that WILL overcome it all. We are a family that will always be there for one another.
This is all thanks to the strongest person in the world, my mom, Carol Logan. At a time of sorrow, my mom grew wiser. During a time where we all felt weak, my mom grew stronger. At a time of "defeat," my mom grew victorious. Such strength and faith still leaves me speechless. My mom is my hero!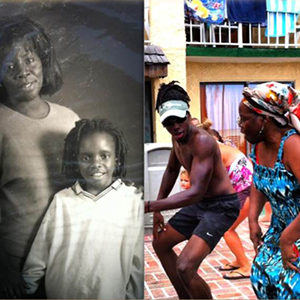 HEATHER PEGGS
My mom inspires me everyday. She gave up so much of her life so that I could have a better one.
My mom saved my life five years ago when she moved to L.A. to help me get clean and sober. If it wasn't for her moving in with me and re-teaching me how to live, I wouldn't be here today. I love my mom so much! She lives in Fort Wayne, Indiana now — and I miss her every day! Love you, Mom!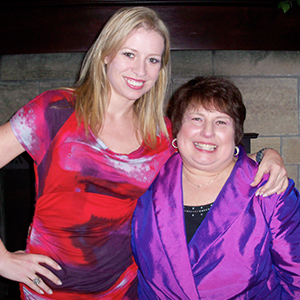 GABRIELLE WISE
My mom has always been an inspiration. For as long as I can remember, she has been there for me. My biggest cheerleader, a shoulder to cry on and everything in between. Always volunteering at school, carpooling my friends and later in life, the one I could call if I needed a ride home... no questions asked. What I also remember from growing up was her ability to find time to do the things she loved. Interior designing, running mini-marathons with her friends, playing paddle tennis and traveling with my father. At the age of 53, she went to Israel to play tennis for the USA in the Maccabiah Games and won both a gold and bronze medal for her division. She still supports me to this day. Spending time with my kids and taking every SoulCycle class I teach!
The best gifts my mom has given me have not come in packages. The ability to believe in myself and be independent. The belief that it is okay to try and fail because it is the trying that counts. That age is just a number and not a definition of who we are. I walked into my first SoulCycle class at the age of 40 and she at 65. When I decided to audition to become an instructor I was able to say to my own children, "I'm just going to try because you never know..."
I am, without question, a better mom, sister, wife and friend because of her. She is and always will be my inspiration. I love you, Mommy!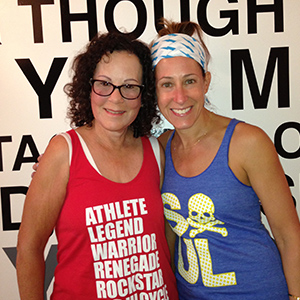 Happy Mother's Day! Questions or comments? Email blog@soul-cycle.com!