How KRISTA WILLIAMS of The Hundred Blog Found Her Partner-in-Crime at SOUL
September 5, 2016
hen KRISTA WILLIAMS auditioned to be a SOUL instructor, she never imagined she'd find her best friend. She shares how not making the cut turned out to be a blessing because it connected her to BFF instructor LINDSEY SIMCIK…

One year ago, I donned my flashiest SOUL gear, walked into SoulCycle's
West Village
studio and auditioned to become an instructor.
SoulCycle logo capris? Check. SoulCycle logo bra? Check. Full face of makeup? Check, check.
I was dying to be a SoulCycle Instructor. I felt like it was my calling to lead the pack like I guide my readers on
The Hundred Blog.
More than anything, I wanted to create playlists and to connect with riders. My dream was to live in the SOUL studio. I was obsessed with my goal. I toned up. I connected with as many people as possible and rode in every class I could to prepare myself
Prior to my audition, I asked for advice from everyone in the studio. If you worked at the front desk or had a SoulCycle logo on your capris in the subway, I was talking asking you questions about my upcoming performance.
In each of the conversations, there was a common theme:
Be yourself.
Choose songs you love.
But, I thought, I need more. There has to be a secret sauce! So, I reached out to a friend in NYC to see if she knew anyone who could help me.
She connected me with Los Angeles-based Instructor
Lindsey Simcik
. Lindsey sweetly offered up her time to video chat with me before my audition, even though we had never met before.
Although I didn't know it then, I was about to talk to my feature bestie.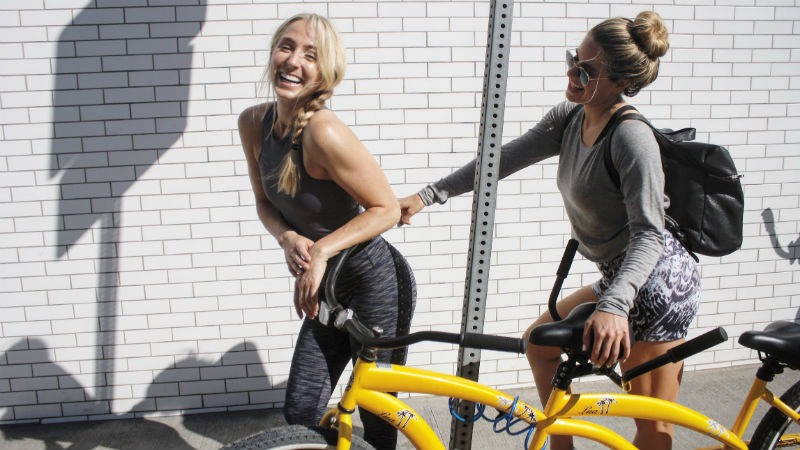 On the call, she was super helpful, warm and open. I felt supported and heard, and I went to my audition feeling calm and confident.
A few days later, I got an email saying that I wasn't going to go through the instructor training program. I was super bummed – crushed. I acted like it was a breakup and did all the post breakup things you do. I ate ice cream. I phoned a friend. I even took a break from taking SOUL classes.
Time passed, and I grew to accept that being an instructor wasn't in the cards for me. My upcoming move to Los Angeles took the bulk of my attention. In the next few months, I would sell all my things and move with my boyfriend to a bungalow by the beach in Venice.
I remembered that Lindsey lived in Los Angeles, teaching at SOUL studios in Santa Monica, Newport and Brentwood. I wanted to meet the person who had once been so kind to me. What started out as a few rides led to full conversations before and after class. We started to find other ways to hang out together.
I really got to know how funny, aware and open she was by
interviewing her for The Hundred Blog
. I felt like I had found someone who was on my level. It was like I had an equal, a partner who wanted the same things out of life as me. Things that SoulCycle believes in too, like:
•Finding your passion.
•Living your best life.
•Respecting your body and being good to it.
•Living in alignment to your values.
•Loving as much as you can.
Lindsey has inspired me to really commit to my dreams and align myself to what I want. She fully supports me in my journey toward living my best life. She's a giver and she's a good listener. What more can I say? When it's right, it's right.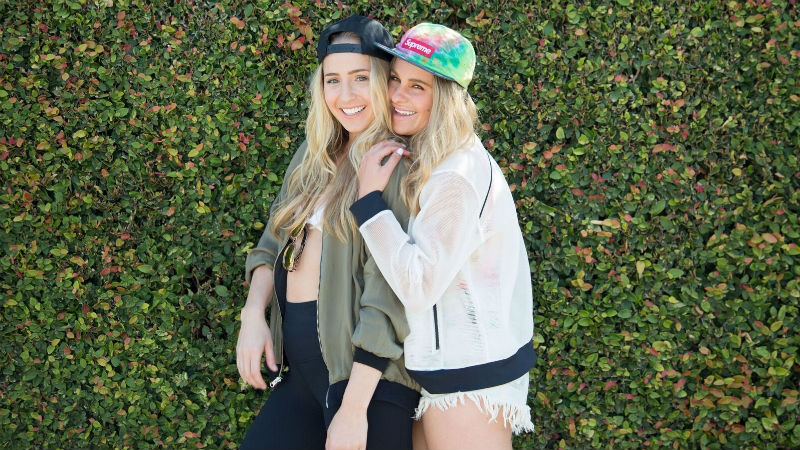 When we're not sweating together, we're recording episodes of our podcast,
Almost 30
. I now look back at that audition and am grateful for the experience, as it led me to Lindsey. SoulCycle has remained a constant blessing for us both and the SOUL community has given us both so much – and each other.
Between us and SoulCycle, there's SOUL much love.
To learn more about Krista, visit The Hundred Blog. Do you have a SOUL Story to share? Email SOULlife@soul-cycle.com! Want to ride at SOUL? Grab a series HERE then book a bike!

Photography by
Krista Williams