How Ian Used Failure To Follow His Dreams
June 4, 2015
"Lean into a mistake and use it as an opportunity for strength and growth," says Bay Area instructor IAN MCANDREW. On his two-year anniversary of moving to San Francisco for SOUL, he opens up about his greatest failure — and how it made him stronger…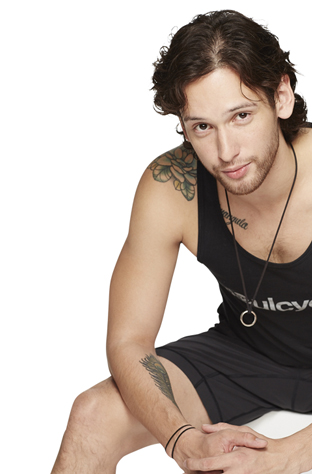 Failure is a scary word. It has turned into something we fear. Something that we do not want to do nor let happen to us. However, sometimes it is our greatest failure that teaches us the most. My greatest failure was dropping out of college. Ironically, this is when I learned the most.
To be clear… I dropped out of not one, but two schools. Sorry, Mom and Dad.
I dropped out of theater school first to pursue my theater career. I enrolled in college to keep Mom and Dad happy and then I was auditioning too much and skipping classes, so I dropped out of that one after a month. I made a deal with my parents that I would work full-time if I was going to not be in school. I'd pay rent and everything and never ask them for a dime if I was going to do this. After a minute, it sunk in. I was going to be the college dropout.
While all of my friends were in school full-time, I was working in New York City. I worked a bunch of random different jobs. I was a barista in a cafe in the Village. I worked coat check at a nightclub in Chelsea. I worked front desk at a gym. I even was the inflatable Quiznos cup mascot in Midtown and stood on the corner and handed out coupons. I finally got some steady gigs as a server and bartender at some pretty great restaurants. I learned what I could about the business and, not to toot my own horn, but I was damn good at it.
The lesson I was learning was that if you're not going to have a well-rounded education from school, then you have to find a specialty. Something you are great at that maybe not a lot of people are pursuant of. I was a great bartender. I studied wine and cocktails and beer and everything you needed to know about it. But it didn't make me happy. While I was great at it, and made pretty solid money doing it, I didn't see myself doing it my whole life. And I had no education or specialty to fall back on.
Luckily, after a while, I found SoulCycle. I fell in love with teaching and knew that this is what I wanted. I may not be the best fitness instructor in the world, but I LOVE what I do. And I started to discover that life was my teacher. Some people had college, I had life. I learned from every one of my odd jobs. Being a barista taught me to move fast no matter how early in the morning it was. Working coat check taught me how to organize things quickly and create systems. Working front desk at a gym helped me appreciate all of the hard work that the front desk staff at SoulCycle does and how to create a work environment that is focused on teamwork and positivity. I'm able to approach new people and feel comfortable talking to them because I had to do it in a cup costume before. And working in the restaurants honed in all of these skills. I learned to multi-task, study a specialty, train and teach staff, work as a team, and engage people. And no matter what happens up on the podium, no matter how crazy or dumb I may look, I'm not in an inflatable cup costume. So I can't be THAT embarrassed by it (even if I've fallen off the bike… twice.)
After teaching in NYC at SoulCycle for just over a month, Soul Co-Founder Julie Rice and instructor Lauren Bruker convinced me to move to San Francisco. They knew before I did that this was the next step in my journey. That this is where I needed to be. And after looking back, if I had stayed in school… if I didn't take the road less traveled, I would not be where I am now. I wouldn't be in SF. I wouldn't have this job that I have passion for and this life that I am grateful for.
The 'failure' of dropping out of school turned into the success of creating a life that I am proud of. And if I ever doubt that, I just remember that my goal in life was to make my parents proud. If I dropped out of school, I was gonna make damn sure that my parents would be as proud of me everyday as any parent is when they are watching their child walk for graduation. And with the life that I love, I have made them proud.
Without our failures, we would not have successes. We have to be willing to embrace them, not run from them. Lean into a mistake and use it as an opportunity for strength and growth. Accept it as part of the journey. Because at the end of the day you never know if that one failure or that one mistake is the one that will catapult you towards a destination you never thought possible.
Catch classes with Ian at SoulCycle at SoulCycle Marin and SoulCycle Union Street! Questions or comments? Email blog@soul-cycle.com!