How I Got My Mojo Back: Martha Fitzpatrick's SOUL Story
June 22, 2016
fter losing her husband of 51 years to leukemia, MARTHA FITZPATRICK found solace, support and strength while tapping it back in Pasadena. This spring she took Turn It Up 20 to the next level and rocked 40 classes in 30 days. Now this inspiring 72-year-old rockstar shares her journey...



My Soul Journey began on January 16, 2015. As of May 18, 2016, I've completed a virtual Turn It Up 40, in addition to the official Turn It Up 20. Right now I'm fast approaching 200 rides. The progression from there to here was anything but straightforward, however. How it all happened:

My daughter first brought me to SoulCycle Pasadena. She thought I might be interested in a charity ride one of her friends was organizing to raise money for brain cancer research. A worthy cause, and I was game. I also wanted to see what the SOUL buzz was about, but wasn't keen on going there solo, so together we signed up for a "practice" ride.
The staff was warm, welcoming, helpful with orientation and bike set-up, and all went swimmingly — until the actual class got underway. Ride to the beat of the music? Keep up with those wacky moves everyone else did so easily? It wasn't possible for this "Little Old Lady from Pasadena" (no, I've never heard that song on any instructor's playlist). But the benefit itself, led by Lisa M., was a festive happening. Somewhat encouraged, I went back to SoulCycle a few more times.
Then, in March 2015, my husband of 51 years was diagnosed with acute leukemia, and in July, he passed away. We were fortunate to have had the gifts of time to be together with family and friends, and an extraordinary support network. But those were very sad months. I was overwhelmed, uncertain about everything,
Cliché though it is, life goes on, one day at a time. Late last summer, my granddaughter mentioned that she had been to a Chris C. class, and he had talked about how SoulCycle helped him grieve for his father. Could it do the same for me? I went online and read
Chris's story
, and soon after, returned to the dark, candlelit studio.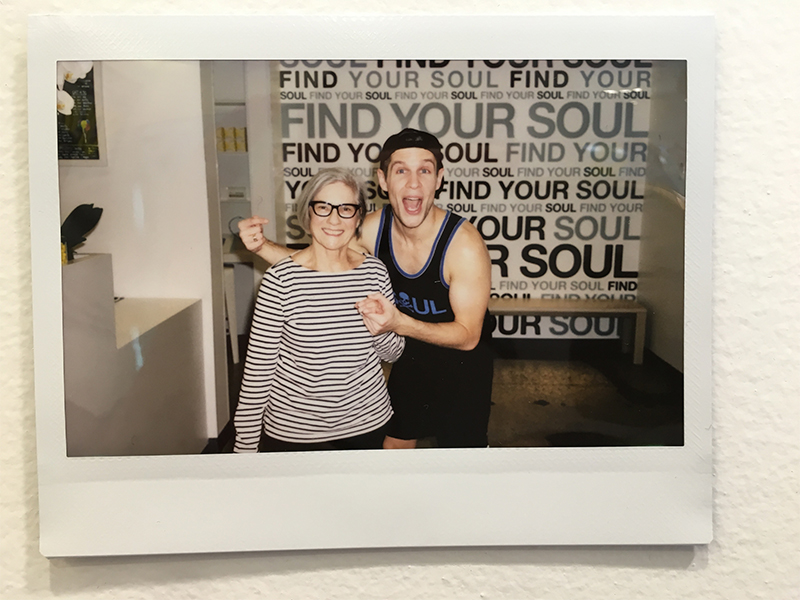 Autumn and winter: I was a sporadic attendee. I sat in the back (aiming to be anonymous, or preferably, invisible), and cried. During the holiday season my visits fell off drastically. I felt a pull back to Planet Inertia. A friend suggested: shake things up, ride more, and you'll build momentum. I began the New Year doing just that, going several times a week, then almost every day, sometimes twice a day. I moved to the sidebar. I fell under the SOUL spell.
From my first ride, I had seen lots of people I knew, and now I was meeting many more. I enjoyed socializing after class. I binge-read Soul blog posts. From my conversations and reading, I began to see SoulCycle as a first-class life coach. It had guided many through loss, adversity, all sorts of challenges. Now it had become my healing place, too.
The podium was an unfailing force of positivity. Each class, high on endorphins and camaraderie, I lapped up wisdom from the teachers while I tapped it back. A tiny sampling: Chris: you are enough — the trick is believing it. Danielle: let go of some of those judgments about yourself. Lisa: we motivate, inspire, and support each other. Molly: do you know how lucky we are to be in this room?
Announcing Turn It Up 20: April 19 to May 18, 2016. Some kind of quasi-nutty compulsion took over and eleven days later, done. I'm not exactly sure why I thought I might not finish in 30 days. I was there all the time anyway. After 20, it was back to business as usual, one ride (or maybe two) a day. I wasn't keeping track. When Jenna and Brad told me just before the deadline that I was only two rides away from completing an unofficial Turn It Up 40, I booked the classes. Why not?
Ride number 40 was the epitome of my SoulCycle experience, a big party, in Danielle's class, with my favorite people (all there in my mind, even if some weren't actually present). Five fabulous Souls from the front desk joined me on the sidebar. During those 45 minutes, I thought of all the places I'd travelled to, in my head and my heart, on a bike that went nowhere. I felt every emotion of the past year, but it was joy that kept bubbling up.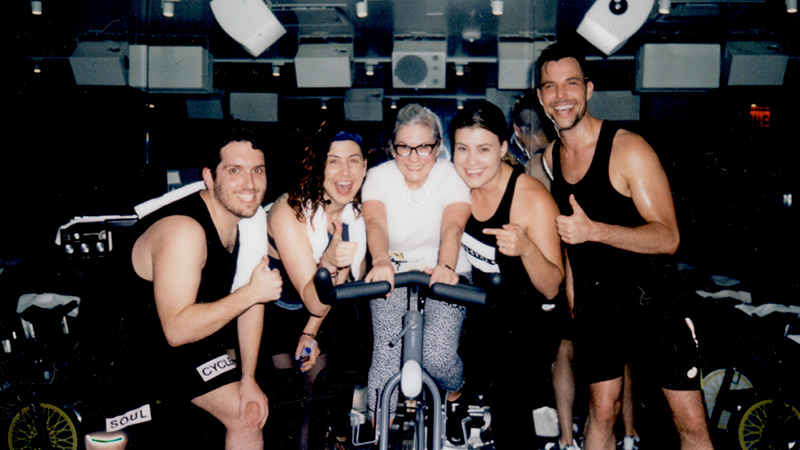 Fast-forward to the present: On the outside, not much has changed. I'm still a septuagenarian with grey hair and wrinkles, but healthier, a bit lighter, and a lot stronger. On the inside, I feel young. Sometimes I even get the giddy sensation that I'm a little kid merrily jumping rope in the schoolyard, and after recess, I'll ace that spelling test.
Yes, I do know how lucky I am to be in that room. I'm grateful. And the mojo that you, PDNA, helped recapture? It's my power of hope. Life does go on.
Questions or comments? Email blog@soul-cycle.com! Want to ride? Click HERE to grab a series then book a bike!
MORE FROM SOUL