How Breast Cancer Changed Krista's Life
October 1, 2015
Instructor KRISTA BONURA was just 13 when she lost her mom to breast cancer, a tragedy that shattered her world. Now in honor of Breast Cancer Awareness Month, she shares the brave and beautiful story of overcoming her fear of the disease, facing her own cancer scare, and giving back by visiting patients with her dog as part of the Caring Canines program at Memorial Sloan Kettering Cancer Center, where her mom was treated…
I once met a woman who was deathly afraid of flying. At the time, four years ago, we were at a wedding in Jamaica. I proceeded to ask her what she did to allow herself the freedom of getting on a plane. She replied, "I went to school to get my pilot's license. I became a pilot."
Three years later this story has inspired me to confront one of my greatest fears. For 15 years I could not enter a hospital without distain on my face nor could I apply myself to any charity-driven cause for Cancer. Yes, that word gets a capital "C" because that took me awhile to say.
When I was just five years old, my family of four turned into a family of three after my father George Bonura had passed away. A very giving man, he died of hepatitis contracted from Vietnam. When you're five and you see your mother is saddened from such a tragic loss, all you want to do is console her and do whatever you can to make her smile.
My mother, Rose Bonura, was always an amazing advocate for whatever my brother and I wanted to do. Completely creative, quirky, and a born-and-raised Brooklynite, she loved life. After winning her battle with thyroid cancer, she ultimately succumbed to breast cancer and the world lost another beautiful soul.
By the age of 13, I had buried both my parents.
I do believe in my heart that although they are physically gone, my parents are with me every day. Some days I laugh at what jargon comes out of my mouth when I'm teaching because I could picture my mother in the back row cheering or whooping.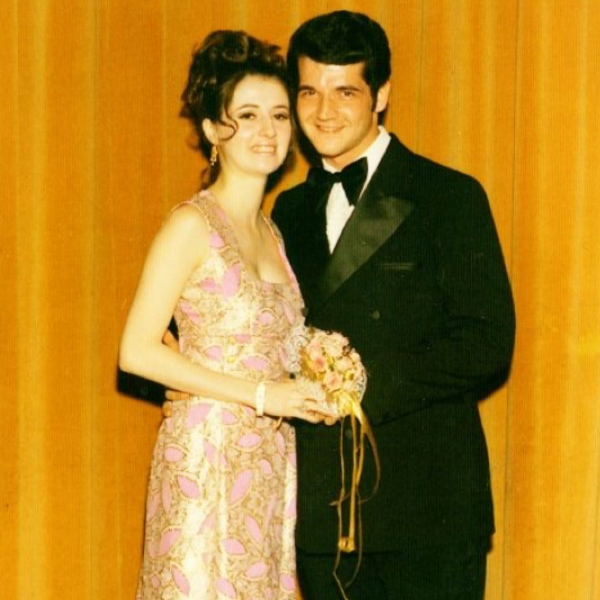 Krista's parents, Rose and George Bonura, in the 1970s
These three years of teaching at SoulCycle, I have never found more emotional and mental stability than now. Today I am able to celebrate clarity in the now. We all have our ups and our downs but finding a way to vibrate somewhere between the two is a constant dance.
This past May, my gynecologist found a cyst on my breast and recommended I receive the BRCA test (genetic testing for the breast cancer gene) due to my family history and the recent find. While the suggestion that I receive the test scared me beyond words, I came back to my breath and realized in that moment you can only do so much and just be.
Thankfully, my results were negative and I just have to maintain an ultrasound every six months to keep an eye on it. These cysts are very normal for women my age. It's up to us to maintain our awareness of the situation and keep getting annual checks.
After maintaining ground and peace of mind … a little over a year ago, I adopted my dog, Bette Davis. She is the furry love of my life!
For the longest time I wanted to volunteer somewhere in the city but nothing resonated much like the Caring Canines Therapy Team at Memorial Sloan Kettering Cancer Center. It is a program where trained teams bring their dogs to visit with cancer patients and provide time to relieve stress and anxiety in their lives.
When this opportunity to volunteer popped up, I knew a lot of emotions would too. Thirteen years ago I accompanied my mother to her radiation and chemotherapy treatments at that same place, MSKCC. Could I handle this? Would Bette want to do it? Could I keep myself from crying? This was the type of place I dreaded for years before now. But something about Bette Davis and me working together just seemed so right.
It has taken a little over a year to train Bette and me to get certified to be a therapy team. I couldn't be happier with every step of this rewarding journey. Even after failing the first test and realizing Bette needed more time with medical devices (such as wheelchairs and walkers), we are now part of the MSK Caring Canines Therapy team that started just last month in September 2015.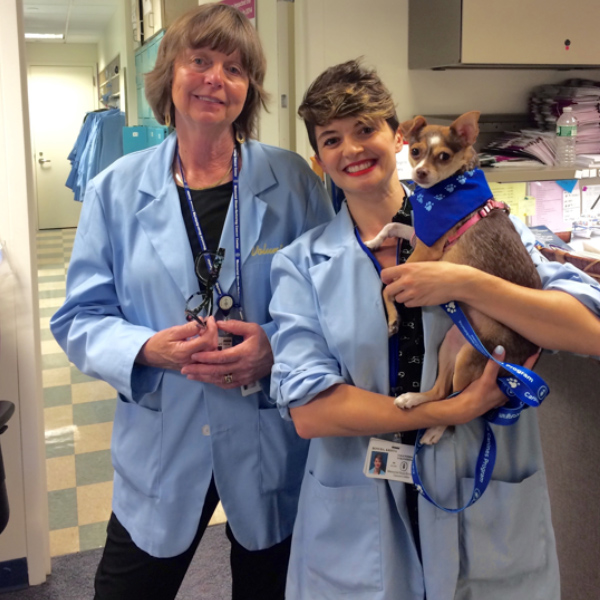 Krista and her dog Bette Davis with Jane Kopelman, head of the Caring Canines volunteer program at Memorial Sloan Kettering Cancer Center
I see inspiration from riders every single day. What we do on the bikes is not only physical but also emotional. It's a constant conversation with our fears, strengths, and opportunities for the now. Thank you, SoulCycle for allowing me to see that gift more clearly, step toward my fear, and right into the hospital. You helped me take flight and keep it moving.
Bette Davis and I visit MSK every other Thursday and when we go, we see about five to eight patients during our visit. The visit has nothing to do with me, nor the past that I have experienced nor the beautiful people I have lost. In that moment with Bette Davis, a cancer patient is able to feel alive and not judged. Much like riding our SoulCycle bikes, animal interaction is proven to decrease anxiety, stress and depression. Bette and I are there to foster a moment for someone that might bring a smile, easier breathing and the thought that they too have a part in this world, in the now.
In honor of Breast Cancer awareness month, I ask that you not only get acquainted and
check your breasts
(see our how-to guide
HERE
) but also realize that you are an advocate for your own health. Just by standing tall and being aware of yourself and your story, you are able to be there and inspire someone else.
A small declaration of love to my family: Thank you, Aunt Gayle, Uncle John, James, Julianne, Andrea, Lauren, Robert, Chris, and Annamarie. Reminding me that family doesn't have to be blood. I love you with all my heart. My immediate family of two turned into a family of eight and the rest is history.
KRISTA leads the pack at SoulCycle West 77th Street, SoulCycle 92nd Street and SoulCycle Short Hills.
For more information on the Caring Canines program, click HERE.
SoulCycle is honoring Breast Cancer Awareness Month all October long. Do you have a story to share? Email blog@soul-cycle.com!
MORE FROM SOUL