Gymnast JORDYN WIEBER On Life After The Olympics
August 24, 2016
ierce Five member JORDYN WIEBER may have retired from elite gymnastics, but she's not slowing down. She sat down with SOUL to share what it felt like to experience the Olympics as a fan this year, what she's up to now and what gymnastics and SOUL have in common…

You were the 2011 women's all-around World champion and a member of the 2012 U.S. Olympic gold-medal winning "Fierce Five." How did it feel to experience the Olympics as a fan rather than competitor?
It was a bittersweet experience. Part of me wished I could be out there competing. It brought back so many memories of performing some of my best routines and achieving my goals.
That said, experiencing the Olympics as a fan this year made me realize how big of a deal the Olympics really is! When I was out there competing, I was so focused that I didn't realize that millions of people were watching, cheering and supporting at home. It's pretty cool to see it from the other side! While it's hard to watch my teammates and not be out there with them, another part of me is enjoying life post-gymnastics. I get to experience so many things that I never could because of my busy training schedule.
What's been your favorite part of watching it?
It has been incredible to see Simone Biles make history in our sport. She won four gold medals and proved to everyone that she is the greatest gymnast in the world! Not only has she changed everyone's expectations about what is possible in our sport, but she genuinely has fun while doing it.
Gymnastics is often perceived as a highly individualistic sport. How did competing alongside your teammates representing Team USA impact your performance, if at all?
This is the interesting part about gymnastics. You can't just pass the ball or tag a teammate out. When you step on that competition floor, it's just you. What mattered for the Fierce Five was that bond and connection between us. I truly believe that we won the gold medal in London because we were so bonded as a team. We fed off of each other's energy and encouraged each other along the way. One of the biggest takeaways I have from my Olympic journey was that I can accomplish so much more with my team than I can individually. That's what led me to college gymnastics, which is almost entirely team-oriented. I absolutely love being a part of a team.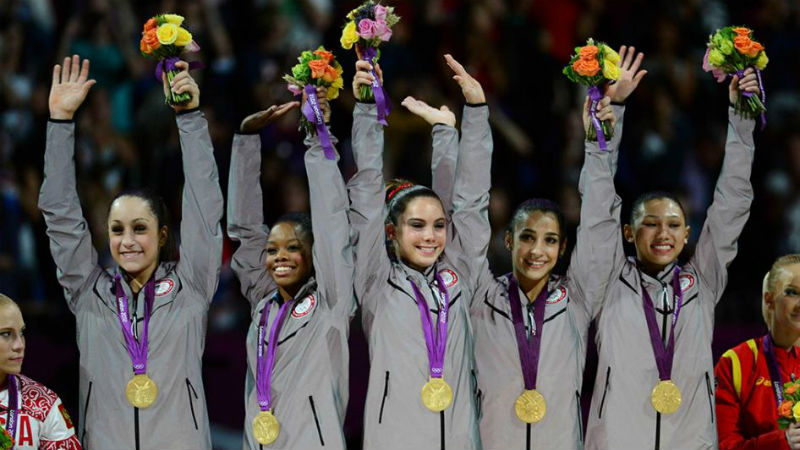 You announced your retirement from elite gymnastics in March. How has your life changed since then?
Stepping away from the sport was one of the hardest things I've ever done, but it has been the best decision for me! I moved from my hometown in Lansing, Michigan to Los Angeles to attend UCLA. I now get to do some of the fun things I missed out on while I was training for 30 hours a week. I can go to concerts, go on vacations, hang out with my friends more and focus on school.
Stepping away also helped me realize that I needed new goals. I now have the freedom to explore new opportunities and focus on what those new goals are. I had to find new ways to stay fit and workout, which ultimately led me to SoulCycle.
Now you're a manager for the UCLA women's gymnastics team. What do you love about working with the team?
Being a manager for the UCLA gymnastics team has been an incredible experience. Even though I went professional at age 15 and gave up my NCAA eligibility to compete, I still wanted to be a part of college gymnastics. I've had the opportunity to be a part of something bigger than myself and contribute to a team of hard-working, unique, beautiful girls who are some of my best friends!
I've learned so much from the team and the coaching staff, especially our head coach, Valorie Kondos-Field. She has taught me so many life lessons and helped me grow into a more mature athlete and person. Now that I'm entering my senior year, I will be the Volunteer Assistant Coach for the team! I'm excited to try my hand at coaching and hopefully be an even stronger leader for the team.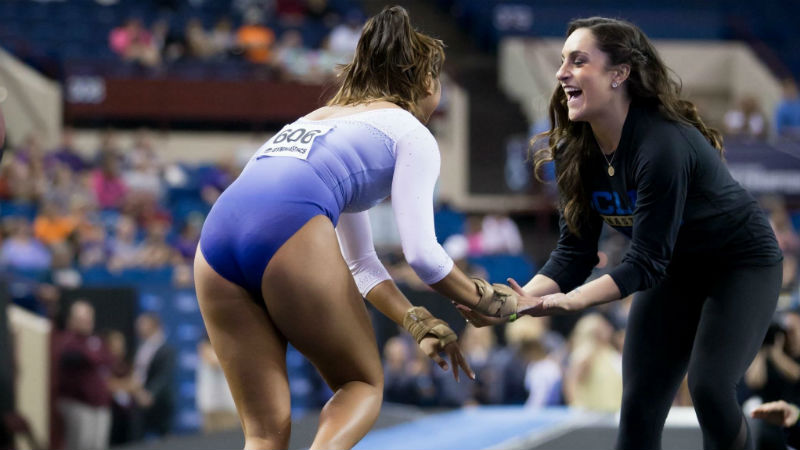 You're a psychology major at UCLA. What motivated you to go into psychology?
I've always loved psychology, but my interest started with my experience in gymnastics. I always say that gymnastics is 30% physical and 70% about your mental game. I worked on my mental game every single day, training my mind to handle pressure situations and being able to hit a routine when it counted most. I loved the way I could use my mind to improve my performance. After dealing with injuries and disappointments, I realized that I wanted to help other athletes and inspire them to reach their goals and overcome their own obstacles. Now, I want to go even further and be a motivational speaker and leadership coach for athletic teams and businesses.
What first brought you to SoulCycle? What was your first ride like?
My friend invited me to go to SoulCycle for the first time. Having done other cycling classes before, I walked in feeling confident. I was originally seated in the second row, but when I saw an open bike in the front row, I quickly hopped off and relocated. The instructor informed me that first-time riders usually don't ride in the front row, and if I wanted that bike, I had to stay on the right foot and ride to the beat. She told me, "in the front row, you are setting the tone for the rest of the class." Right then, I knew I was going to love SoulCycle. I love anything that challenges me and puts pressure on me to perform well. I loved the music, the vibe in the room, the inspirational words from the instructor and the feeling of community while I rode. I left feeling tired and sweaty, but with a smile on my face!
What do SOUL and gymnastics have in common, if anything?
Gymnastics was always my passion. It gave me confidence and taught me a lot about myself because it was challenging. After I stopped training for gymnastics, I needed something that was equally as challenging and that pushed me to be the best I could be. Getting into SoulCycle was a great transition for me because it was a new type of workout that gives me the same sense of community that gymnastics did. Every time I go to class, the other riders are my teammates and we are in it together. SoulCycle is one of my new passions and it feeds my soul, just like gymnastics did.
What's the best advice you've received?
During a SoulCycle class taught by one of my favorite instructors, Pixie, she said: "You have to know yourself before you can get stronger." This piece of advice has stuck with me. The more I learn about myself, the stronger I get and the more I grow. I love encouraging others to develop their own self-awareness and grow in their own lives.
Do you have a SOUL Story to share? Email SOULlife@soul-cycle.com! Want to ride at SOUL? Grab a series HERE then book a bike!