From First Ride to Total Rockstar: Kelly Meanley's Soul Story
January 8, 2016
With her wedding on the horizon, KELLY MEANLEY wanted to get out of her workout slump and try a class at SoulCycle. Now she shares a candid account of her very first ride and opens up about why tapping it back has made her more motivated than ever…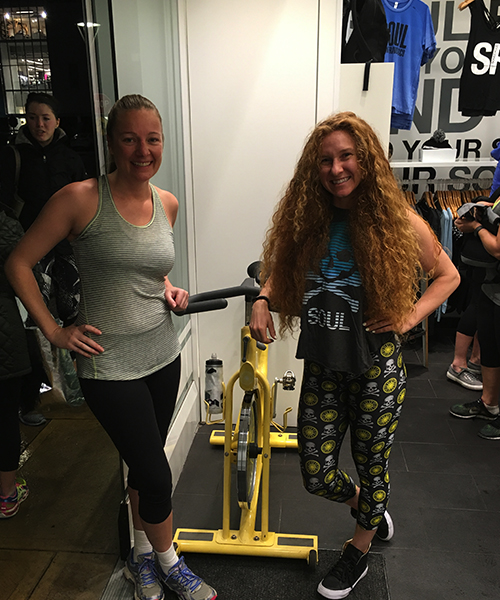 Today, I SoulCycled. And I'm doing it again on Wednesday. And every Monday and Wednesday thereafter. It's my new thing. Yep, I drank the Kool-Aid. I joined the cult. I'm one of "those" people now.
I've been in a workout slump. With my wedding less than four months away (eek!) I needed something to kick my arse into gear. I'm fortunate to have a gym two blocks from my house but I get bored with the gym. I'll be all gung-ho for a week or two and then my gusto fizzles out. When I have no gusto, I don't work out. And when I don't work out, I don't maintain a healthy diet. And when I don't work out and maintain a healthy diet, I don't feel like my best self, physically or mentally.
Jill and Joanne David introduced me to SoulCycle last October. (Thank you, ladies!) I'd heard them talk about it at work, silently watching them recruit people here and there, until one week I spoke up and said, "I want to try." I'm introverted and tend to shy away from trying new things (and have too many regrets as a result). I was nervous about my first class but what did I have to lose? I had everything to gain.
So I went to my first class. Jill warned me in advance that it can be a little hectic between classes as one lets out and the next one gets ready to go in. The coed "locker room" — a narrow hallway lined on both sides with floor to ceiling lockers, hardly wide enough for two people to pass at the same time — bustles with activity. At the far end of the hallway, music booms from a dark doorway that leads to an unknown abyss.
I enter the small, dark room and locate my assigned bike. Everyone around me is twisting knobs on theirs, adjusting the seat and handlebars to their liking. They're already pros. I fumble with the knobs on my bike, stealing furtive glances to my left and right as I attempt in vain to adjust my bike to my liking. But I've never done this before so I don't know what my liking is. Where are Jill and Joanne?! I'm all alone. But not. The room is small. The space is cramped. Someone's butt is in my face. I give up on the knobs and mount my bike.
The next challenge is "clipping in." I must match the things that are fastened to the bottom of my shoes — the things that make it difficult to walk because they're protruding from the balls of my feet — ever so precisely into the strange pedal-like things on the bike. It only took me a dozen tries but I was able to clip in, with two very satisfying clicks as my toes found their place, without having to raise my hand for help and call attention to my noobness. I hear a symphony of clicks as my neighbors clip in too. Legs start moving. The music gets louder. The instructor mics up and we're off.
Awesome. I got this.
Wait, what? You want me to what? Stand UP and ride? Like, for the whole time? Right… A minute passes and I want to sit down. Another minute passes and I'm drenched in sweat. I hate it. I love it! No, eff this. I hate it and I'm never doing it again. I look around in disbelief of the other riders, riding their hearts out in perfect unison to the beat of the music. One of the facets of SoulCycle is being able to ride with the beat. It's doable when the beat is slow, but I still don't know—and perhaps never will—how people stay on beat when it picks up. And bounce, and crunch, and tap (your butt on the seat) and move hands from the outer bar (third) to the middle bar (second) to the inner bar (first). All in very rapid succession. Legs pumping the entire time.
UP for four counts. DOWN for four counts.
UP for four counts. DOWN for four counts.
UP for two counts. DOWN for two counts.
UP for two counts. DOWN for two counts.
UP for one count. DOWN for one count.
UP for one count. DOWN for one count.
AGAIN. But faster now. Pick up the pace!
Turn that knob one big turn to the right (this increases the resistance).
Turn it AGAIN!
Shoulders DOWN! Don't lean on your handlebars!
Okay, BOUNCE. Get BIG!
For 45 minutes. I'm probably making this sound too much like being barked at by a drill sergeant. It's not. It's actually really nice having someone lead the class, provide direction and keep you motivated. I've only had two instructors thus far and they both have a great sense of humor. And they say things that make you feel inspired. We all have bad days, but SoulCycle is a place where you can leave the crap at the door and just do you. There's no talking, no cell phones and — if you take Kamelle's class — NO BS. Meaning, you give it your all. Meet
KAMELLE
.
CASEY
is rad, too (that hair!):
Toward the end of class, we get to sit. But only because it's time for arms. Each bike has a little rack for weights under the seat. Grab those weights — keep those legs moving, but at a slower pace now — and hope you remembered to swap out those 5-pounders the previous person left for 2-pounders or else you're gonna be sorry. Really sorry. I didn't know 2-pounders could make your arms burn but (oooeeee!) do they. Arms last a few minutes and when that part's over you know there are only two songs left. Hallelujah. Home stretch. Annnnnd we're done! In order to release yourself from your bike you have to kick your heels out violently. It doesn't always work and noobs often have to abandon their shoes, leaving them hanging from the pedals in which they're still clipped. We exit to the locker room / hallway where the next class awaits, pushing past them with our sweaty bodies and elevated spirits.
I've never once regretted trying something new. I might not always like what I try enough to do it again, but I've never regretted getting out of my shell and giving it a go. I've also never regretted a workout. Yes, finding the motivation to exert energy at the end of a long day can be hard. Really hard. I've gone home, put on my sweats, vegged out on the couch and Candy Crushed it until bedtime more times than I'd like to admit. But SoulCycle has stirred a sleeping beast, and that beast is feelin' — and diggin' — the vibe. It's fun. It's different. It's challenging. And I can't wait to go back.
Do you have a Soul Story to share? Email blog@soul-cycle.com! Want to ride at SOUL? To book a bike, grab a series HERE then book a bike!
MORE FROM SOUL