Erika Talks About Dancing On and Off the Bike
February 23, 2015
We often say that riding at SoulCycle is just like dancing. Whether you're tapping it back on a bike or busting a move on the floor, each experience complements and supports the other. Instructor ERIKA SHANNON talks about why — and shares her strategies for strengthening both practices…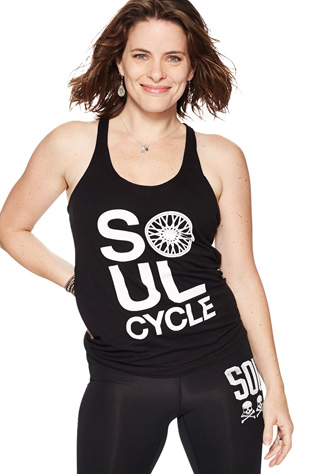 You've probably seen it. Moscow-based Sergei Polunin, in all his tattooed rebel-ballet glory, soaring and leaping through an open-air vestibule in David LaChapelle's short film set to Hozier's "Take Me to Church."
You've also probably seen the insanely talented Maddie Ziegler (of "Dance Moms" fame) as the face of Sia's "Chandelier" video. Dance, it seems, is everywhere in the mainstream. And people are talking about it. A lot.
Why does dance affect us so as a culture? And why are dancing and SoulCycle such a natural fit? Because movement is directly wired to the heart. And at SoulCycle, where we truly do dance on the bike, it's no different. Yes, we may be clipped in instead of turning out, but there are more similarities that you'd think at first glance:
Both dancing and riding feel the best when you have body awareness. Simply riding on the same leg as your neighbors not only makes you feel amazing, but also think about your action — what leg am I on? What am I doing? Am I pulling up or pushing down? Am I dropping my shoulders? Am I breathing freely and deeply? Dancing, like riding, begins as glorified walking, with simple steps — right, left, right.
Both require patience and perseverance. I'll never forget the first time I got on the bike. A dancer all my life, I thought it would be easy to keep the beat and look amazing as I did it. I have never been more wrong! As I pedaled through my first class with Janet in TriBeCa, I struggled, I sat down, and yes, I cried. I cried with frustration because I was learning I had so much farther to go, and I cried with elation because I hadn't felt so alive in my body in months.
Puffy-eyed and sweat soaked, I left the studio and knew my journey with soul had just begun. Riding, like dancing, is not an instant skill. You just have to keep showing up. You just have to keep training. And one day, you'll find yourself FINALLY nailing a double turn, or running out of the saddle with a huge smile on your face (and if you're like me, you'll probably cry again!).
Technique is the foundation, but the EXPERIENCE is magic. In both dancing and riding, it's WORK to execute the steps, the pushes, the choreography. But once the work is done and the foundation is laid, you add the lights, the music, and the costumes (and yes I'm talking about Soul gear here!). And suddenly you find that what was merely a series of movements before has morphed into a declaration of strength, an expression of unadulterated joy.
Sounds great, right? So how do we go from merely riding to the beat and learning how to tap it back to feeling like an artist on the bike? Let's look at what we love about great dancers, and break down how we can emulate that feeling in the studio:
KNOW YOUR SET-UP.
Dancers know their bodies so well. They know what kind of warmups to do, how to get to optimum performance mode. For us, this is about setting yourself up for success before class starts. Get there early to sign in and set up your bike. Make sure you have eaten and consumed a bottle of water, and bring more water into the room. If you have questions about your bike settings, ask a staff member to check them for you. Practice clipping in and out as you wait for class to start. Take a look at your bike and play with your resistance knob. Take a little jog to feel the bike move before we begin. Secure your ponytail… aaaaand GO.
USE YOUR RESISTANCE.
Dancers who push their limits are the most exciting to watch, right? We can do the same at Soul: Be bold in your choices when it comes to using your resistance; it's the key to growing stronger and SO much more exciting than playing it safe. Know that choosing to be uncomfortable on purpose is a brave choice, and it will be over before you know it. Yelling "woohoo!!!!" also helps.
LISTEN AND FEEL.
The greatest artists on stage move not only with technical precision, but also with heartfelt emotion. Each SoulCycle class is carefully curated just for you to experience a breakthrough on both physical and emotional levels. Listen. Let the music take you somewhere. Hear the builds, anticipate the release. Use your resistance to amplify the feeling of the song… add a little more for a sexy or contemplative beat, then feel the pleasure of lightening up for the journey home. I said it before and I'll say it again… movement is wired to the heart. Let us pluck your strings a little.
The bottom line is this: We are all dancers: on stage, on the podium, or simply walking down the street. Movement in any form is a win-win. Let's enjoy the dance!
Catch classes with Erika at Soul East 63rd Street, Soul East 83rd Street, Soul Short Hills and SoulCycle West 77th Street! Questions or comments? Email blog@soul-cycle.com!