Emily Turner's Marathon Motivation
October 31, 2015
Instructor EMILY TURNER is running her third New York City Marathon this weekend! Before heading to the starting line, she shared how she prepped for the race, which foods give her energy, what tips she has for people who want to give 26.2 a shot, and more…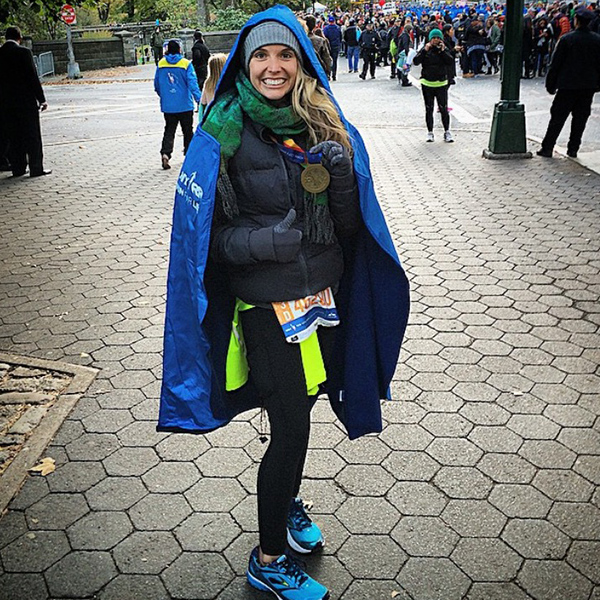 This is your third NYC marathon — does it feel different than the others?
It is! I'm so excited. I think having the experience of running twice before, I'm going into Sunday much calmer and confident than the times before. I now know what it takes, and I'm just ready to give it a go again. I told my class the other day that my first marathon was the best day of my life. Then my second marathon replaced that and became my best day. Now, I'm just hoping that Sunday will become my new best day.
What has kept you motivated while training?
On one of my long runs, as I was cruising up 5th Avenue heading to Central Park, I came up with a mantra "3 marathons before 30." Whenever I wanted to slow down or began to doubt myself, I would close my eyes and just repeat that to myself until I felt confident again. I kept that goal in my mind all the way through training. I truly believe that the marathon is not just a physical race, but a mental one as well. The mind is what will be running the show on Sunday — I just pray my body keeps up!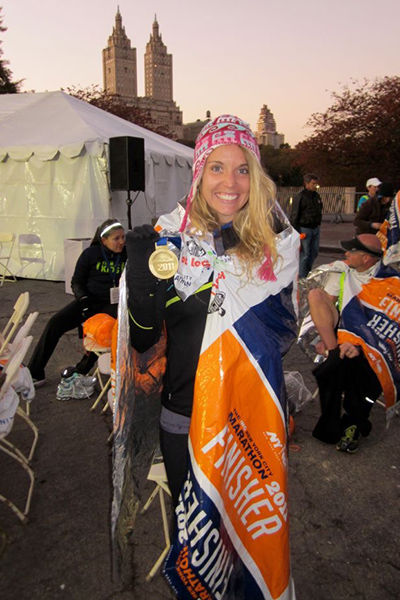 So how do you mentally prepare for race day?
I do a lot of yoga to keep my body balanced from teaching and training, and it plays a big role in my "pre-game" ritual. Morning of, I will have my green tea and eggs, do a little yoga, and spend some time just getting grounded and calm. I like to have all of my gear and race day essential set out the night before, so when I get up, I can just focus on getting my body and mind in the right place.
What are your tips for people running their first marathon?
Soak. It. In. The NYC Marathon is one of the most amazing races. The streets are lined with literally millions of people. There is music all along the course. Signs with words of encouragement and humor. So definitely just enjoy the journey. Oh, and make sure to write your name on you shirt. People will cheer you on by name and when you get into the 20+ mile zone, you're gonna want that!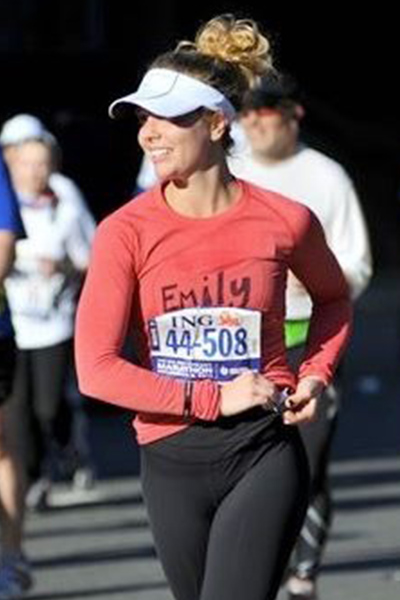 What surprised you the most about doing it the first time?
I ran the first eight miles with my dad. It was one of the most special experiences in my entire life. We couldn't even believe how much fun we were having. You think 26.2, oh man this is gonna be a bitch, and it can be at times, but overall the experience was just so joyful. I'm eternally grateful to the people of NYC for coming out and cheering us on!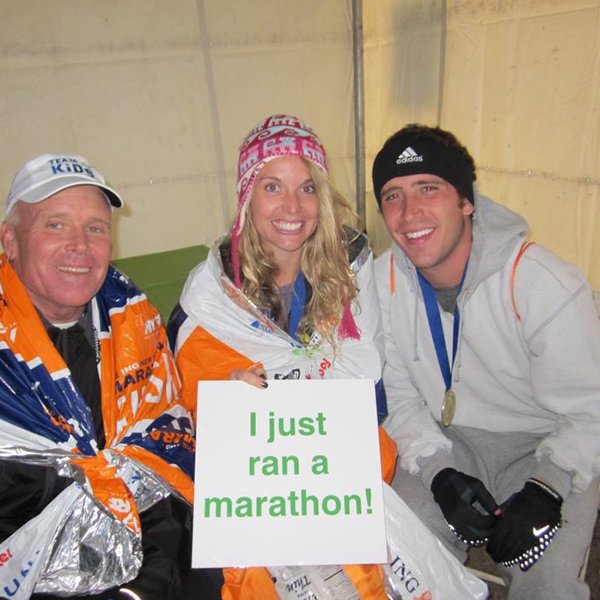 Any obstacles you've had to overcome during training or racing?
Teaching 13 classes a week plus training clients and my training schedule, I have to be super cautious with my body. I am a huge believer in the power of rest and recovery to avoid injury. When I'm training for a race, my priority becomes foam rolling, Epsom salt baths, yoga, nutrition and getting enough sleep. I also wouldn't be able to do this with out my amazing physical therapists Corinne and Dee. They are legit angels that keep my body in check. It is so important to have an artillery of recovery tools in order to stay active for the long haul (and yes, staying for the 3-minute stretch at the end of class should be a part of it!)
What will you eat and drink along the way?
I alternate between Gatorade and water at the aide stations. I will also take a couple packets of Gu with me, but will likely only take 1 of them (they kinda make me nauseous) but I love Health Warrior Chia bars. They are small and packed with tons of nutrients, so I will likely eat two or three of those along the way. It'll be a matter of really listening to my body tomorrow.
What is your marathon gear of choice, including sneakers?
lululemon and Brooks Ghost sneakers. I like lulu's running tights because they are super supportive, moisture wicking and have tons of pockets for all of my nutrition, chap stick, etc. I've been running in Brooks forever and they are nice and supportive but not so much that I can't feel the ground.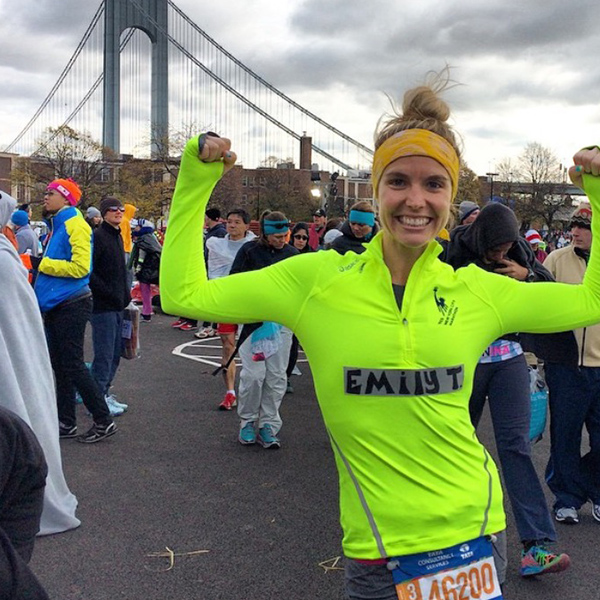 Favorite part about running the NYC marathon?
Queensboro Bridge. Hands down. It's the only place on the course where there are no spectators. All you can hear is the pitter patter of sneakers and everyone breathing. You can feel the exhaustion of the first 16 miles setting in, but the excitement of entering Manhattan actually gives me chills just thinking about it. When you come around the corner and onto 1st Avenue, the wall of sound from people cheering is beyond anything I've ever felt. It's just so amazing.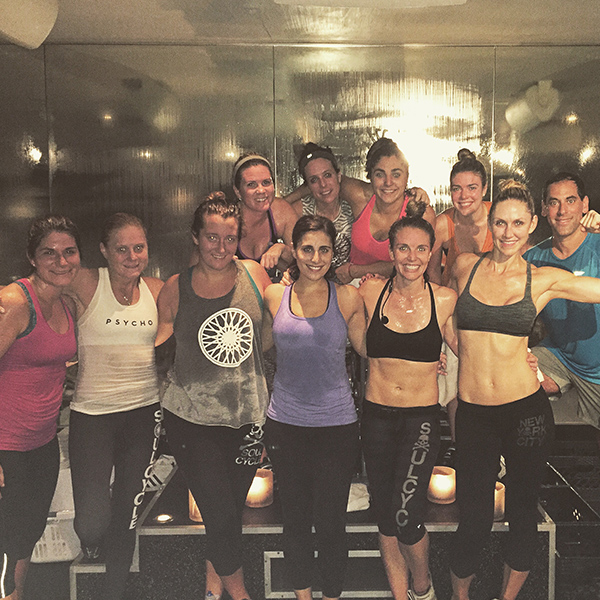 How has the SOUL community supported you?
More than I can even put into words. I honestly don't think there is anyway I could do this without SoulCycle. The camaraderie that comes from each class and conversation is just simply all I need to be inspired. I have a lot of riders who are running as well so it's just so special to get to experience this with all of them. One of my riders, Melissa, is running her eighth with the Achilles team as a guide for a blind runner. Brooke is completing her third and first NYC marathon. Marie and Matt are running for the first time. I could go on and on, but the bottom line is that each word of encouragement, turn of resistance, cheer at the end of class, and more is the fuel to my fire. So thank you SoulCycle for being my team. I truly couldn't do this without you.
MORE FROM SOUL