Daily Soul: Sydney
October 15, 2013
Sometimes following your heart requires hairpin turns, but the road almost always leads to happiness. NYC instructor SYDNEY MILLER shares a quote that helped refocus her future and find fulfillment. Channel her courage to reach your own goal.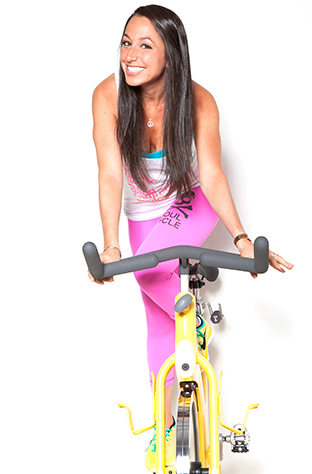 "Don't just live life going through the motions. Find what you're passionate about and do more of it."

My whole life I have always had a plan, and I have taken the next best step to get what I thought I wanted. In college, I wanted to be a big advertising executive so I went through the business school at Emory University, moved to NYC and pursued a career in advertising. After spending a year and a half trying to prove myself at an ad agency, I knew something was missing and it wasn't what I wanted. I moved on to other jobs over the following year and a half, and although I gave 100 percent to each, something still wasn't clicking.
I had believed I would be passionate about advertising, but I was wrong. Some of my colleagues were thriving, but I, on the other hand, was waking up dreading going to work, and then coming home miserable that I had to do it again the next day. The only thing that I consistently looked forward to was my SoulCycle classes. At one point in time, I would go to class in the morning before work and then again at night after work as my reward for the drudgery in between.
It was finally around my 25th birthday last year that I had an epiphany. I had been a perfectionist my whole life, from having the perfect ponytail in kindergarten to getting the perfect job, but even after landing great jobs and striving to do my best, there was a missing ingredient: PASSION. A lightbulb went off in my head that said, Hey, you are passionate about SoulCycle... why not take a complete leap of faith and audition to be an instructor? Of course this was followed by another voice in my head, saying, basically, You're crazy. You are petrified of public speaking and have absolutely no background in fitness... don't embarrass yourself.
But I ignored my internal doubter and jumped off the cliff anyway. You can't force passion. You don't know where you'll find it, but when you do, I say, do more of it! Advertising was tough because I had no emotional connection with what I was selling. At SoulCycle, I believe in what I am doing, and what I am doing reinforces my belief in myself.
In my classes, I feed off the energy of the pack and its passion pushes me to keep going. I always encourage my riders to feel the music and soak up the energy in the room, so that each stroke, each pushup, each climb, is propelled by an inner spark.
Questions or comments? Email blog@soul-cycle.com!