Daily Soul: Lisa M.
September 4, 2014
Instructor LISA MOLOSHOK, who teaches at Soul Beverly Hills, Soul Malibu and Soul Pasadena, shares a mantra that helped change the course of her life…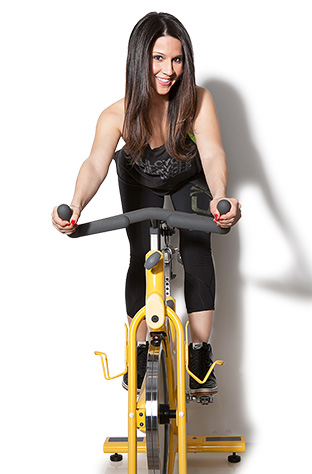 "Strength and happiness are choices. You have to choose them — and you have to fight for them."
In approximately two months I will be celebrating my two-year Soul-iversary: a day that epically changed my life and I will never forget. Without getting into the nitty gritty, it was this time two years ago where I was just a shell of my current self.
Recognizing that I was in no way the silly, playful (perhaps just a smidgen immature... ) person I once was, I knew I had to make changes for my own well-being. While, so much easier said than done, I ultimately I had two choices: I could stay in bed, stay this shell of myself, sleep the day away, call in sick to work or I could actively make a decision, for myself, to attempt something great. Even if that GREAT was making a point to eat well that day, to go about my daily responsibilities or just get myself to try "that SoulCycle place" on that fateful Thursday in October.
Well, my first class quickly became my second class and so on and so forth… and it was in these classes where I personally experienced what I now talk about in my classes every day. Whatever I did in that room, however hard I worked on that bike — it was mine to take home. Was I working for my fitness? 100 percent. But I was also working for something more: my courage, my strength and most importantly, my happiness. I say it in class, I say it in life and I will say it here — Courage, Happiness and Strength: each is a CHOICE. You prove that every day in those sweaty rooms. They're there, they're yours — now it's up to you to use them once you leave.
As a rider I am forever indebted to those I rode with who helped me find that choice. Now, as an instructor, I look back on my audition last year when I said, "If I can do for even ONE rider what all of these amazing instructors helped me find, I will have absolutely done my job." There is a reason why I'm "tough." And there is a reason why I push you — it's because I am also on that bike SUPPORTING YOU. It's easy to give up on the struggle. Trust me: I KNOW. But strength does not come from getting what you want. Your struggles are what strengthen you. Not giving up, and pushing through that struggle — THAT is strength.
Ultimately SoulCycle, here's the jam: Don't deny yourself the opportunity to thrive, to live and to experience true happiness. Make a CHOICE to show yourself all those things and to NEVER accept anything less, NEVER let anyone treat you less and most importantly to NEVER EVER treat yourself less. You are worthy of all of it and more — please, don't ever forget that. The choice is yours. So much love to all of you. Now let's dance! xoxo
Catch classes with Lisa at Soul Beverly Hills, Soul Malibu and Soul Pasadena! Follow her on Twitter and Instagram at @lisamoloshok. Questions or comments? Email blog@soul-cycle.com!