Daily Soul: Jo
October 21, 2014
Instructor JO RUFFIN — who's prepping to kick off Soul Teen rides in Scarsdale this Friday — shares an inspiring quote and how it motivates her to achieve more than she thought possible…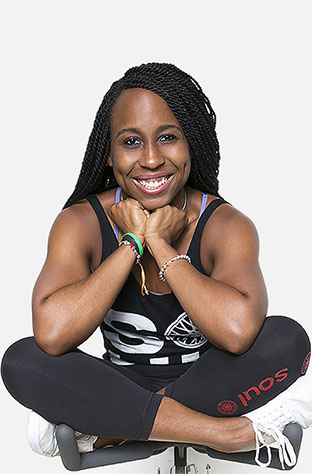 "You are stronger than you will ever know."
Something I love to remind my riders is that we are stronger than we ever will know. At SoulCycle, we stretch ourselves, surprise ourselves and get to find out a little bit more about the power we possess when we clip in.
Anyone who knows me, knows that I love the gym and I love competition! One day my gym was having a plank competition and whoever won would receive free personal training. The goal was to hold the plank for seven minutes. I thought in my head, "There is no way!!"
But once I positioned myself, I committed to not dropping. I wanted to see what I was capable of so I closed my eyes, focused and promised to not let go. People were dropping like flies, and I was sweating buckets...just from holding a plank! My friend Holly cheered me on and in the end I did it and was one of the winners! I was so proud of myself!
I would have never taken that challenge if it hadn't presented itself — NEVER. I like to think this is how it works at SoulCycle too. We get to help our riders see just how strong they are. Then, what happens in that room translates into our everyday lives. We can handle more than we think.
I challenge us all to take more challenges (both on and off the bike) and jump at more opportunities. You never know what you're capable of until you abandon fear and step into the space you've been given.
Remember you are clothed in strength. We can feel encouraged knowing that we have not hit the ceiling of our strength capacity — there is always more!
Catch classes with Jo at Soul Roslyn, Soul Woodbury and Soul Scarsdale, where her new Soul Teen classes kick off this Friday! Questions or comments? Email blog@soul-cycle.com!