Daily Soul: Grace
August 26, 2014
One small shift in mindset can help uncover your strongest, happiest self. Instructor GRACE RAO, who teaches in NYC, Bronxville and Scarsdale, shares an inspiring quote and how it impacted her life...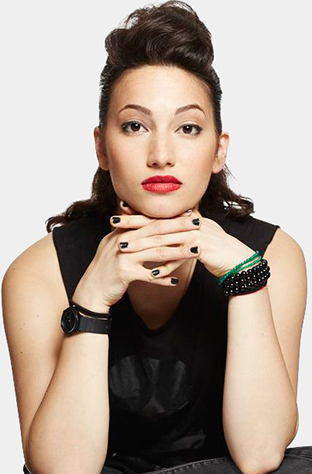 "Being scared is normal. My technique for erasing it is facing it. Be afraid and brave. Be nervous and courageous. The first few minutes of being scared is your test to see if you're really serious about reaching a goal. Push through anxiety and come out victorious. Fear is just a test. Honor the feeling. Know it's there. Know it's temporary. Face it to erase it."
— Chrisette Michele
If you asked my friends around this time last year what my favorite thing in the whole wide world to do was they likely would have answered, "She loves to get it right."
It was really anything I could get my hands on. As a friend, a daughter, an actress and a roommate, every little chance to prove myself worthy and successful gave me a quick rush. I'd just come off of graduating from Carnegie Mellon's BFA program and threw myself into city living only to realize all too quickly: life doesn't give you As.
Lesson 1 of a type-A individual: Just because you followed the "rules" doesn't mean you "win" happiness. Here in Manhattan I had no grade book to validate my successes. I had no group of peers to reference. I had no idea who I was in terms of simply MYSELF. I was forced to confront something I had pushed aside over and over: I was unhappy. I was successful and unhappy… and it made NO sense to me. I'd done what I had set out to do since I was 8 years-old. I graduated with honors, I moved to NYC, I found a team to help me on my way…so why, after totally accomplishing my plan thus far was I so lost?
I struggled with feelings of anxiety and ungratefulness. I could not solve my restlessness, and it was driving me CRAZY. But here's the thing. When I began to ride at SoulCycle, I started feeling something… a rush that didn't fade. A happiness that built more and more! The instructors and the pack motivated me to push past the voice in my head that, when challenged, said things like "you're not strong enough" "you can't" "why would you be able to do this?" and showed me that to really, truly cultivate your best self you have reach inward.
SoulCycle allowed me to see me that when you work from a place of authenticity, joy and strength, the limits you put on yourself simply vanish. "I can't" becomes "I'll try." Getting it "right" becomes setting new and endless goals. So now, I don't wait for the report card, or the compliment or the stamp of approval. SoulCycle doesn't care about "perfect" or "right;" it asks only for honesty, compassion and openness. It cares about exactly who you are right now. Right where you're at. Here's what I'm rocking with now: "My destination is no longer a place. Rather a new way of seeing." - Marcel Proust
Catch classes with Grace at East 63rd Street, Bronxville and Scarsdale! Questions or comments? Email blog@soul-cycle.com!