Daily Soul: Allie Fell
January 7, 2014
It's officially 2014, a brand-new year to zero in on your goals and make them a reality. SoulCycle instructor ALLIE FELL shares a quote that motivated her to follow her dreams. Her mantra just might inspire you, too.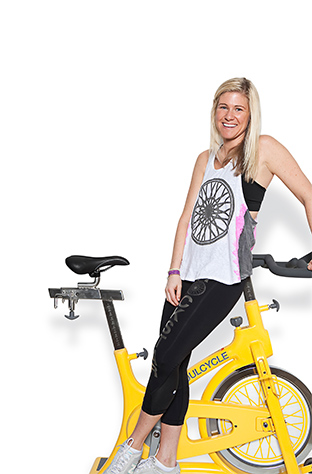 "Your biggest dream, wish, prayer — it's right in front of you. It's up to you to reach out and grab it."

I'm not sure if I had heard this quote somewhere along the way in life or if it was just something that came out of my mouth in class one day. It all starts to blur together after a while. Anyway, it's something that usually ends up crossing my mind once a day.
After college, in 2008, I started working in New York City at a finance firm. I had just turned 23 and wanted to move into the city so I took the first job I was offered. I had my first corporate job and my first apartment — I felt like a real adult. As the year passed and I went into this job day in and day out, I realized how unhappy I actually was. I had no idea what I wanted to do with my life but I knew this wasn't it. I spent so much time trying to do what the "norm" was that I had no clue what my dreams were anymore. I was completely lost.
In September 2011, a friend of mine, Emily Cassaro, worked at the front desk of SoulCycle's Union Square studio. After much convincing, she got me to try a SoulCycle class with her. We rode with Danny in UNSQ on a Saturday afternoon. I was immediately hooked and soon I was spending all day on the SoulCycle website while sitting on my desk at work. I started riding three or four times a week.

After taking class for a few months, I started to realize what life was really about or, should I say, what I wanted my life to be about. I started to remember what my dreams were: I wanted to make other people happy, I wanted to show other people that life doesn't come in this perfectly-wrapped box. It's messy. It's going to change more times than you know. And that's okay!

Once I came to this realization, I left my finance job. From there, I knew exactly where to go: SOULCYCLE. So I interviewed, was hired as an assistant studio manager and I loved every second of it. Seven months later I knew how I was going to make my dreams a reality: I auditioned to be an instructor and went through training. Now, I have been teaching for 10 months.

My path was not just one straight line. It took me some time to realize what my life was going to be all about. SoulCycle was in my life for a year and a half before I realized it was my dream. But it was there all along, and once I reached out for it, a whole new world opened up for me.

Catch Allie's classes at Soul Marin, Soul Palo Alto and Soul San Francisco. Questions or comments? Email blog@soul-cycle.com!