Confessions of a Yoga Instructor Who Rides at SoulCycle
September 7, 2016
oga instructor AJ ZAVODNICK likes rock 'n' roll with her vinyasas. So when she stepped into SoulCycle, she felt like she'd met the SOUL to her yang. She shares what SOUL and yoga have in common, what keeps her clipping in and more…

I've always been a little rebel and a lot of rock 'n' roll when it comes to my yoga practice. While some favor wind chimes and Sanskrit chants along with their sun salutations (which I totally respect), I personally prefer Pink and Guns N' Roses. Students new to my class often comment that they never heard Justin Timberlake paired with vinyasas before and that somehow, savasana and Rihanna totally work together. My practice philosophy is that any song that allows us to forget that we feel like we're dying in a posture is a perfectly good one.
Music is a powerful weapon that helps us to escape our desire to give in and empowers us to muscle through until the end, leaving us feeling triumphant. It motivates and energizes, in all variations and in any location. We lose ourselves in the pulse or the words and it's like fuel for our internal fire.
I don't really know why, then, I was so surprised to fall head over heels in love with SoulCycle. Before I clipped in at SOUL, I had been indoor cycling for seven years, always favoring the classes that focused on pedal strokes, still upper bodies and miles. Hills and climbs made my legs burn for hours after dismounting, and that achy power kept me clipping in for more. I felt like it was the closest I would ever get to hitting the road like my triathlon friends. And in cycling as in yoga, the music kept me focused.
My relationship with cycling became complicated the minute my SoulCycle class began. My first time was with
Nick Turk
at the
Ardmore studio
. He instantly stole my cycling heart. I was captivated by his energy, rhythm and DJ skills. I can't explain why, but I felt guilty enjoying his class. I was not supposed to feel anything for SOUL. But we've all heard it said before: You can't fight true love.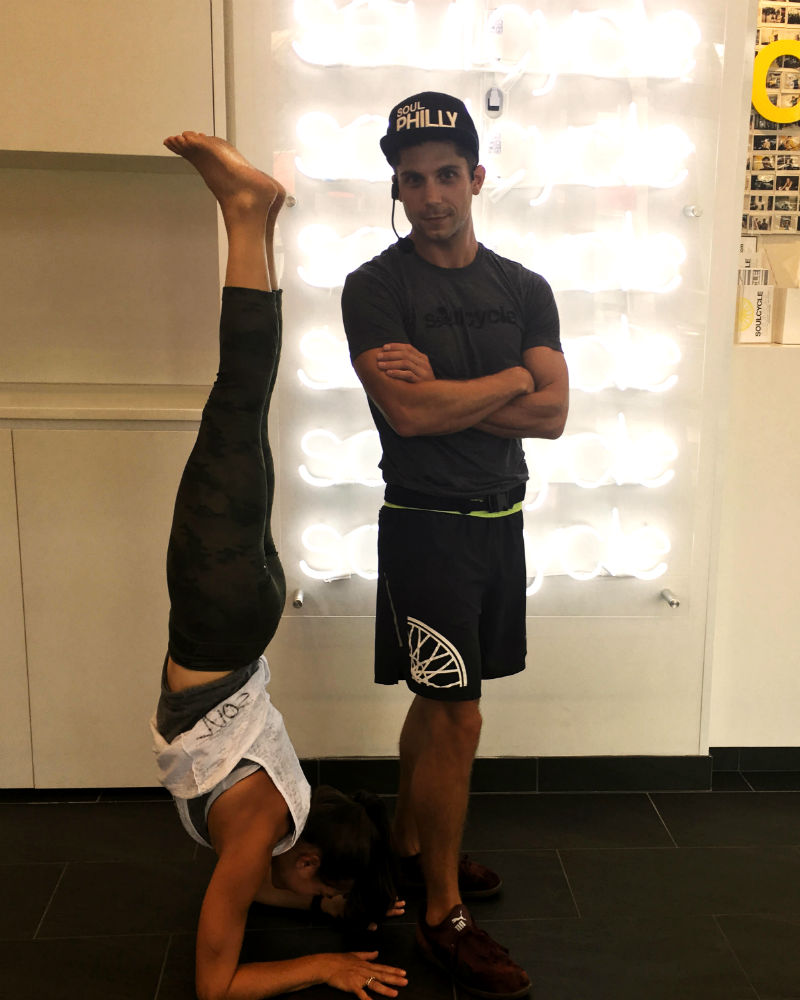 When the lights turned down and the music turned up, it was like I was my young, party-going, free-from-tired self again. As I tapped it back, I was reminded of the days when my nights started at 11:00 PM at a trendy club, ready to conquer the world via the dance floor. With every sway, I somehow forgot all about the laundry that needed folding, the school lunches that needed making and the Netflix evenings that ended at 9:45 PM with a multi-vitamin and a wrinkle cream facial. I was reborn into a hot, 15-years-younger, not exhausted and ready to "go out" sexy warrior.
There was no way I could stay away even if I tried. I'd been branded with the yellow skull — my scarlet letter. I wear it proudly because to me, it represents the strong, athletic and brave souls inside of each and every one of us.
I must acknowledge that Philadelphians have a bit of a 'middle child' complex; we know we aren't NYC, (or at least I know that we aren't, having lived in both places), but we're pretty awesome and hardcore and we often get overlooked in comparisons between Boston, New York and Philadelphia. For years, I have heard my best friends in other cities obsess over their SoulCycle rides, feeling that familiar Philadelphia sting of not being worthy. I walked into the Ardmore studio and knew we'd arrived.
At SoulCycle, I've found the same energy I embrace in my yoga classes. Everyone is collectively on a journey of self-improvement and discovery, with little interest in competition and more on collective success. This yoga instructor has finally found the SOUL to her Yang.
Namaste,
AJ Zavodnick
Do you have a SOUL Story to share? Email SOULlife@soul-cycle.com! Want to ride at SOUL? Grab a series HERE then book a bike!
Photography by
AJ Zavodnick