Chanelle's Tips for Pregnant Riders
March 2, 2015
Riding while expecting? That's something Soul Greenwich instructor CHANELLE LAGACE knows about first-hand. With her first lil' rockstar due this spring, she shared a few tips for tapping it back with a bump…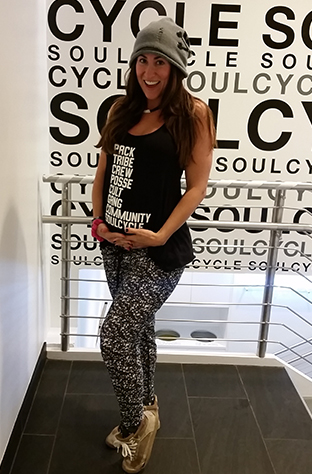 For the time being, I'm not riding the podium during my classes — I bring so much energy when I teach that I'll accidentally overdo it! I used to be able to run out of the saddle for DAYS, but now I can only handle about 30 seconds before I get completely winded.
Teaching off-the-bike allows me to better instruct and motivate, plus I get to dance more on the floor (and, as I'm sure all the riders will attest, this mama can still get down)! Even though I am not riding in my own classes, I'm supporting my Soul fam by taking their classes. (As always, you should check in with your doctor about your workouts while pregnant.) Here are my top tips before, during, and after class:
1) HYDRATE!
I drink one bottle before, two during, and another one after class. Water is important all the time, but especially when carrying a baby. Drinking enough fluid helps prevent overheating, headaches, and other pregnancy symptoms that come with the bundle of joy. It also aids in getting nutrients to the baby. So drink up, moms-to-be!
2) CATCH SOME AIR.
When I ride, I make sure to stay cool and sit by a fan. I might even take a cue from some of my riders and get my own personal fan to clip onto the handle bars! There's no shame in that!
3) TRUST YOUR INSTINCTS.
If I feel I can't do something or feel a little dizzy, I make sure to sit down and back off. I'm not getting a medal at the end of class if I do every single thing, so I do what's right for me. It's just not worth it. Listen to your body.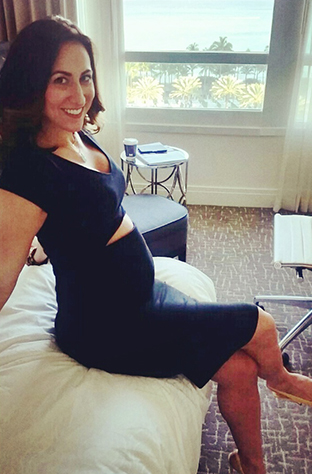 4) MODIFY YOUR SETTINGS.
It felt like FOREVER before I started to pop. All I wanted was a cute little baby bump, and now I'm getting a pretty big one! Pre-pregnancy I would ride on #8 for the saddle and no holes showing for the handlebars. Now I can't bend forward nearly as much, so I moved my saddle to #6 and raised my handlebars to 2 holes. This works for me for the time being. So ask the front desk or an instructor to take time with you before class for adjustment. This way the two of you can really cater the bike to fit your needs.
5) EAT SMART.
I never had a problem eating, and I still don't! I make sure to get in as many nutrients as possible during the day to fuel my body and my growing baby. I eat small meals and each meal includes lean protein, low-glycemic carbohydrates and vegetables. My snacks include Greek yogurt, nuts, fruit, and avocado. I find when I do my workouts it helps me to eat about an hour before class, and within 30 minutes after my workout. This way, I never get to the starving point where I become dizzy, mean and cranky!
6.) LOVE YOUR BODY.
The past few months have definitely been a rollercoaster. I was used to having six-pack abs and long lean muscles, but now I have to cope with my changing and growing body. I'm not going to lie: It was hard for a few weeks. I cried and I wasn't happy with what I looked like in the mirror. It took some meditation and my wonderful husband to cheer me up and help me enjoy my new curves. I have a little bigger booty, a bigger chest (YES!) and, what's even better, a bigger belly with our little baby girl.
Catch classes with Chanelle at SoulCycle Greenwich! Questions or comments? Email blog@soul-cycle.com!