Bringing the SOUL Magic to the Armed Forces
November 15, 2016
his week, instructors TOMAS MIKUZIS and KAILI STEVENS are bringing SOUL to the armed forces at the Ramstein Air Force Base in Germany. They shared what inspired them to head overseas with the pack, why this USO Tour is important to them, what is influencing their playlists and more…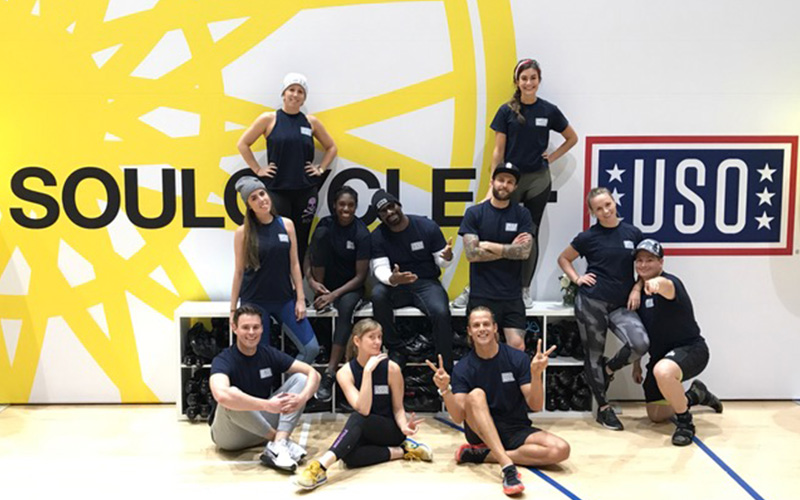 How did you discover SOUL?
Tomas: I discovered SoulCycle over four years ago through co-founder Julie Rice. She brought me to SoulCycle and I have never looked back.
Kaili: I have worked at SOUL since October 2008 — so, eight years! I was a medical student taking a pause in my studies, and I applied to work at the front desk part-time. Soon, my part-time job became a full-time passion.
That's amazing! What inspired each of you to head to Germany with SOUL and lead the pack with USO?
Tomas: Being able to bring SoulCycle to the troops in Germany is a very unique way of giving back to the service members and their families who dedicate their time and lives to protecting us back in the States.
Kaili: I am so passionate about building joy and inspiration through movement, which is the experience we create at SoulCycle. We are more than an exercise; we find what makes us united as humans both physically and emotionally in rhythm on our bikes.
We love that you're able to come with us, too! Do either of you have any personal connections to the armed forces?
Tomas: My husband Orlan was a Navy brat and my father-in-law served his country proudly. I want to be able to give back to the people that protect us day in and day out.
Kaili: One of my grandfathers served in the Army and my other grandfather served in the Navy. One of my oldest and best friends is currently serving in the Army. He is Sergeant First Class, and a Military Career Counselor
Tomas, you've gone with SOUL on USO tours before. Why are these projects important to you?
Tomas: These projects are important to me because SoulCycle has changed my life in so many ways. I want to share the special experience with people that would not normally get the chance to ride in our US studios. This year will be different from last year's trip to Fort Hood, Texas because it's bringing a piece of home to troops stationed overseas.
What does it mean to you to have SOUL traveling overseas with USO?
Tomas: Being able to spread SOUL overseas is the opportunity of a lifetime. I have seen what SOUL has done for people every day. To bring SOUL to someone who would not normally participate or even get the chance to ride is an amazing feeling.
Kaili: The USO is an organization that provides the highest standard of support to service people and SoulCycle is a brand committed to supporting community. It means a lot for the USO to recognize our SOUL purpose and community as having a similar spirit and that we can partner to uplift and motivate for a powerful purpose.
Let's talk about your classes. Has anything in particular inspired your playlists?
Tomas: LOVE and ENERGY all the way!
Kaili: I am thinking of the feelings of appreciation, empowerment, heroism, fearlessness, bravery, courage and honor for service of men and women sacrificing their safety for the greater benefit of the world.
What are you looking forward to most this week?
Tomas: Meeting and engaging with the troops and their families and spreading SOUL!
Kaili: I am honored to be able to participate in a first-time experience with service men and women who have never had the opportunity to do what we do on our bikes! I'm looking forward to showing my personal gratitude for the service our troops are dedicating to make the world a better place and I'm excited to witness strength, courage, transformation, smiles, excitement, surprise, sweat, celebration and joy.
Questions or comments? Email SOULlife@soul-cycle.com! Want to ride? Grab a series HERE and book a bike!