After Fighting Cancer, This Rider Is Regaining His Strength at SOUL
April 19, 2017
TEPHEN SHANAHAN endured four rounds of chemotherapy and two surgeries after being diagnosed with cancer in 2015. Once in remission, he began riding at SOUL and found himself getting stronger physically and emotionally with every class. Here's his inspiring SOUL story…
In December 2015, I was diagnosed with Stage 2B Testicular cancer. From December 2015 to July 2016, I would undergo intense cancer treatment. Two surgeries and four rounds of chemotherapy, during which I was hospitalized for an entire week for each round of chemo.
It was the hardest thing I've ever went through in my life. As you can imagine, cancer treatment takes a heavy toll on the body. But in late July 2016, I was told I finally was in remission!
My body was way out of shape, though, haggard from the extreme atrophy of chemotherapy and recovery of two major surgeries. (The second surgery lasted 12 hours and took two months to recover from). Not only was my body in need of physical rehabilitation, my mind was in need of something and I wasn't sure what it was.
The doctors told me I shouldn't run, but that I could cycle. I didn't want to join a gym and SoulCycle came to mind immediately. I wanted something I could feel a part of.
When I think about my first ride, I have to laugh because I remember I had lost the muscles in my quads. I could barely stand up off of the saddle. Even though I was doing something completely new, I didn't feel out of place. I actually knew during my first ride — as hard as it was — that I was going to keep coming back to SoulCycle.
After my third ride, I started to really get the hang of things. Most people build a routine to keep going, but I kept going because I want to better myself physically and emotionally. I wanted every class to be as hard as my first class — that's how I know I am getting stronger. As I continued to go, I met people and I felt a sense of community. The class atmosphere is one of family and camaraderie, and it's helped my body physically rehabilitate.
And along with a proper diet, SoulCycle is helping me lose weight. I actually get home after the 6:00 AM class and I am ready for my day, full of energy. Mentally, it is incredible — after every class I feel like I've accomplished something. And the release of endorphins after an intense workout is an incredible feeling. The positive mental impact has reduced my stress level at work and in my private life.
I am not where I want to be yet, as it will take a long time to fully recover physically. I go Monday, Wednesday, Friday at 6:00 AM for
James J.
's class at the
West 92nd street studio
. The way James J. motivates us, the way he speaks to us, the way he makes us laugh, the way he comforts us, the way he reminds us that WE ARE STRONGER, it is without parallel. His class not only has changed how I feel physically (and it will only continue to do so) but it literally has changed the way I feel spiritually and emotionally.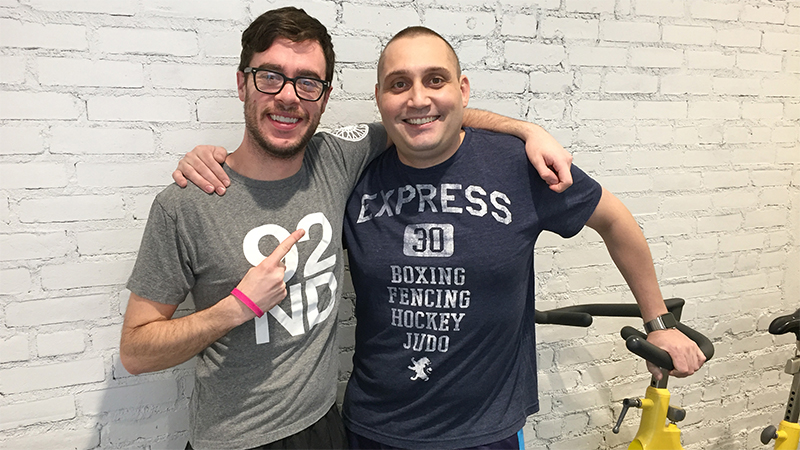 And the staff at West 92nd street is amazing. When I knew I was making a long-term commitment to SoulCycle post-cancer, I purchased a pair of SoulCycle shoes. When I received them in the mail, I was clueless how to put them together. I called the studio and they told me to come in so they could put them together for me. My experience with SoulCycle has been incredible. Thank you for all you have done for me! I cannot wait to see where this journey takes my body and soul.
Do you have a SOUL Story to share? Email SOULlife@soul-cycle.com. Want to ride? Click HERE to grab a series and book a bike.