A Place Where I'm Like Everyone Else: Ronna Benjamin's Soul Story
February 4, 2016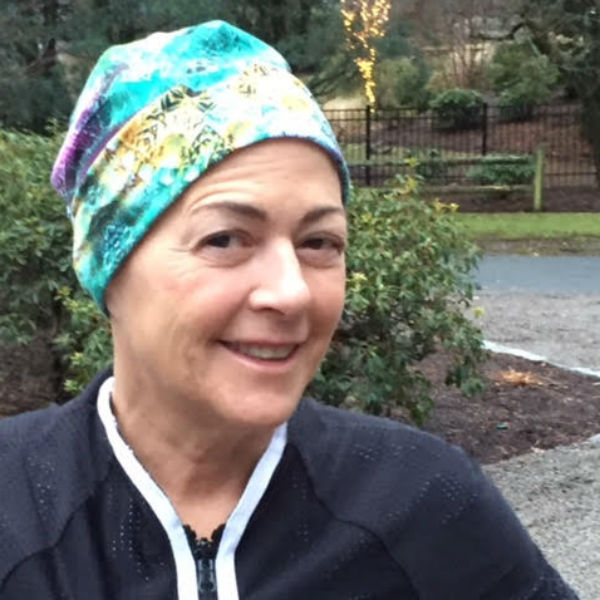 I was intimidated at first. Intimidated by the crazy loud music; the up and down push-ups; the young, gorgeous bodies with their flat, six-pack bellies showing unashamedly. I am nothing like most of the clientele at
SoulCycle
. They are thin, young, hip, able to sing along to songs that I have never heard before and yell out "whooop!" at all the right times.
I am a midlife cancer patient going through chemo, an oddity at a cycling class—but no one seems to notice here. I was never a huge SoulCycle fan before I got cancer. Heck, it wasn't until recently that it actually dawned on me that their logo was a wheel, not a slice of lemon. Come on, who can blame me?
But against all odds at this crazy time, I have become a bit of an addict. At my lowest possible point, I am bald, a little out of shape and a lot tired. And I love the anonymity of the darkness of the
Chestnut Hill studio
that allows me to be alone in a crowd, bald, working at my own pace, while still being a member of the group. Together, we push hard to the end a song, part of something, evidenced by the whirl of the wheels.
I seek energy and power in these weeks of chemo, loving the pulse, beat and motion of these classes. It makes me smile when the teacher calls us "Boston" or "Friday" as a group (as in, "How we doing this morning, Boston?") Despite the loud music, there is a zen to the class that reaches me in the back row, that pushes me to do my best, to face what I have to face with courage and determination. I am not often into this mushy-gushy mind stuff, but somehow, in this class, at this time, it works. A class at SoulCycle has become a "good luck" ritual before I head down to Dana Farber every third Friday for an afternoon of getting pink poison shot through my veins.
Last Friday morning, my earplugs were snuggly in my ears. I had wiped my bike off with antibacterial wipes and velcroed my Fitbit to the strap on my bike shoe. I had heard
here
(thanks, BA50) that in order to get Fitbit "credit" for cycling, one should wear the Fitbit on one's bike shoe instead of the wrist where it normally lives. And these days, I needed credit for all the steps I could get.
Around five songs in, during a period of cycling hard and self -reflection, I noticed the teacher walking purposely down the aisle toward where my bike was located in the back, Bike 53 out of 55 bikes—you get the picture. It was odd to see her venture so far back, and she was heading directly toward me.
While I didn't seek attention, I started smiling in pride with the anticipation that she was going to give me special, private kudos for my special circumstances. "I see that you are bald." I imagined her saying. "Are you going through chemo? You're unbelievable! Keep up the good work!"
She finally reached my bike. She bent down close and said something in my left ear. I couldn't hear a thing. I held up my finger for her to wait as I took out my earplug.
"What's with the light?" she said coldly, pointing to my left shoe.
"Huh?"
"The light? Coming from your shoe?"
I hadn't realized that my Fitbit was flashing. Two tiny, bright, florescent green dots radiated from it's backside, the part of the mechanism that is usually hidden by the underside of one's wrist, where the pulse is being monitored. As I spun, it reflected brightly in the mirrors at the front of the room.
"Oh, it's just my Fitbit." I said.
"Well, get rid of it," she said, "It's distracting."
And then she walked back and continued class. I reached down, un-velcroed my Fitbit, and stuck it in my sports bra.
That's why I really love SoulCycle.
Do you have a Soul Story to share? Email blog@soul-cycle.com! Want to ride at SOUL? Grab a series
HERE
then book a bike!
MORE FROM SOUL