100 Rides to the 'Boyfriend Bike': LEO MULLEN'S SOUL Story
March 30, 2016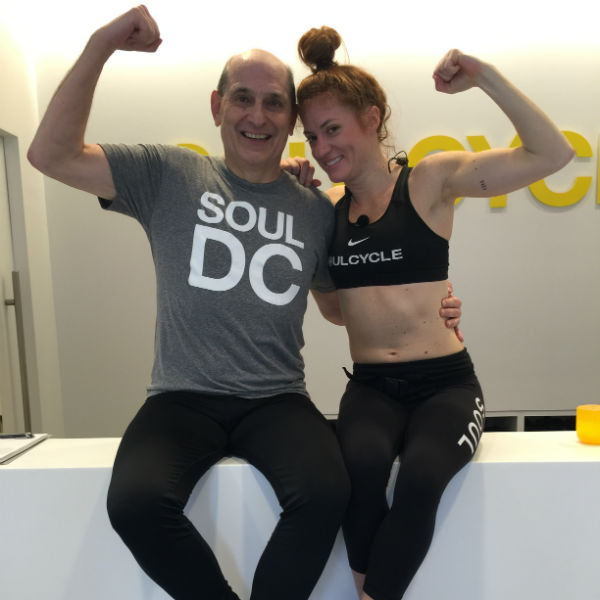 Today was my 100th ride at SOULCYCLE. The first one my daughter convinced me to take nearly killed me, but this one, like many others, binds me even tighter to the spirit of an amazing community. Still, after 45 minutes, I'm pretty much a wreck. Slumped on a white bench, covered in sweat, I look like I just got dipped in a dunk tank. The neurons are still firing erratically in my arms and legs. My breathing is almost back to normal, but I've mostly lost touch with my abdomen. And then somehow, magically I start to think, this actually feels pretty nice.
My endorphins are raging and that unfocused sense of wellbeing wraps me like cellophane. Control over my limbs resumes slowly. The buzz slips away and cognition returns. EVERYTHING is sore and will likely stay that way, at least until I ride again tomorrow.
The long white locker room is filled with my band of sisters (and a brother or two) all pretty much in the same state. I love these people I hardly know. I love how they put their bodies and minds on the line every day and then push over the line. Without saying a word, we share a core belief: Hard is good. Easy is a waste of time. How can I feel so connected to these people without knowing most of their names? Why do I understand them so well?
Every morning, I learn something new from watching this group -- my Alpha Soul Mates. Carly's on my right again. She's long, lean, focused like a laser and rides like she's dancing Swan Lake. Stephanie's two bikes away on the left. She packs so much intensity into every downbeat that you think at any moment, she might explode like a bottle rocket. Mike's riding side bar, straight ahead of me. Mike looks like a middle linebacker and rides like a fawn. Krysten's in that group, and so's Lisa. These are my anchors. These are the Oxford dons of BSDA, and together, they choreograph a pre-dawn experience that fuels my ambitions for the rest of the day. Thank you, one and all!
It takes a lot of horsepower to own this room, especially before the sun comes up. Nobody does it like
Sunny Mae
doesn't so much lead the studio as challenge the rest of us to follow along. I've ridden with Sunny Mae a lot. I love her red hair, big smile and easy laugh. But don't let that face of an angel stuff fool you. She's tougher than a three-dollar steak. As she stirs this cauldron of muscular musical madness, Sunny Mae channels the beat and visualizes the moment for all of us. Her easy banter and graceful prance can't quite hide the epic intensity that burns inside her core. Remember Morpheus in The Matrix Reloaded? His big concept was that human beings could be harvested as an energy source. Ol' Morph might want to start with Sunny Mae…
At home that night, I start to think about tomorrow's ride. I've had some good rides here at BSDA. A few B+ level, maybe even an A- once, but I haven't earned the Boyfriend Bike – the one directly in front of the instructor. Not yet.
I log into Soul-Cycle.com. Bike #8 – the boyfriend bike at BSDA – is open, and I click the button. It's a lot of pressure for me to be up front because I'll be flanked by many of my Alpha Mates, all of whom can ride circles around me. But at this point in life I want to go all in. Let's see if I can ride to the standards of the Front Row tomorrow. Let's see if I can really become as good as those amazing BSDA riders. Like the poet Robert Browning said, "Ah, that a man's reach should exceed his grasp, or what's a heaven for?"
Many, many thanks to all the wonderful staff and instructors at BSDA. I'm humbled by the unqualified love and support you give me every single day, and proud to call each one of you my friend!
Photo: Sunny Mae and SOUL Survivors from March 26, 2016 SOUL Survivor ride
About the author: Leo Mullen is a technology entrepreneur living in Washington, DC. He and his beautiful wife, who is an artist, have two amazing grown daughters, one of whom introduced him to SOULCYCLE. He also has a wonderful pug who sleeps most of the day, allowing even more time for riding. When he's not traveling Leo gets rolling at SOULCYCLE about six days a week.
Do you have a Soul Story to share? Email blog@soul-cycle.com! Want to ride at SOUL? Grab a series
HERE
then book a bike!
MORE FROM SOUL