Stacey Griffith Shares 10 Years of SOUL
October 25, 2016
enior Master Instructor STACEY GRIFFITH has been rocking the podium at SoulCycle for 10 amazing years! To celebrate her SOULiversary, she shares how she discovered SoulCycle, where she finds inspiration, her favorite memories with the pack and more…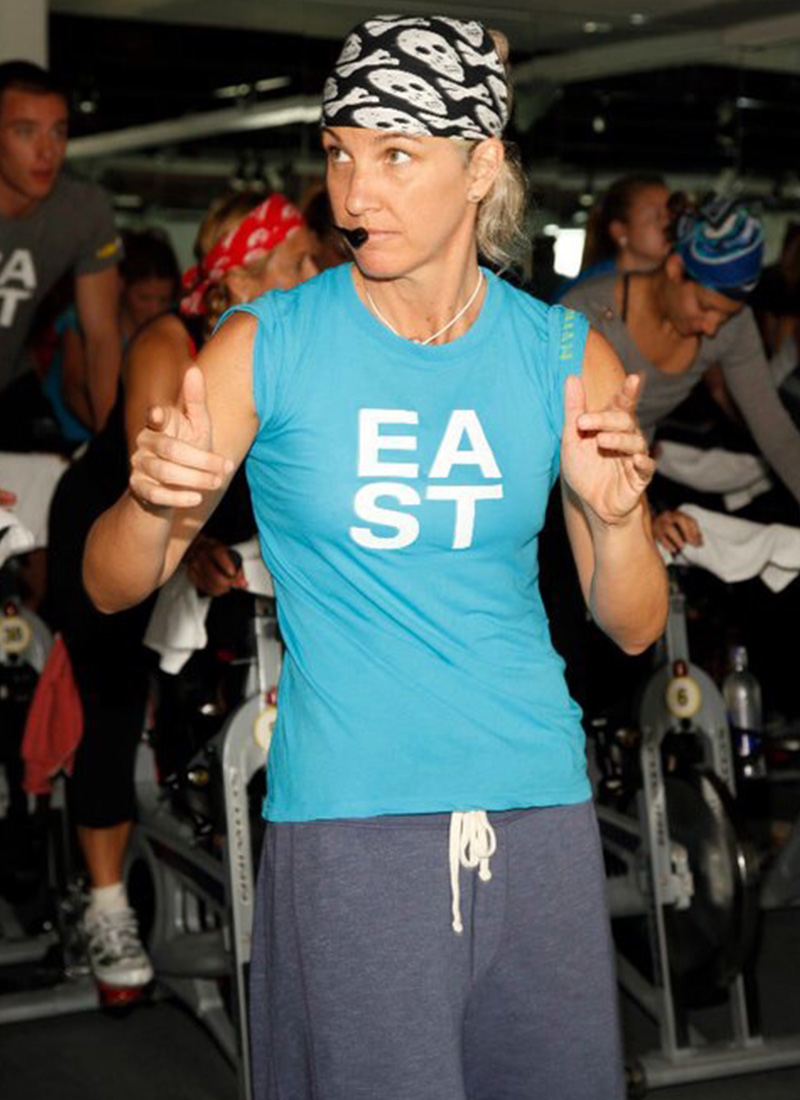 You've been at SOUL for 10 years now — that's amazing! What has it been like to see the company grow and evolve?
I don't think any of us every thought we would have more than three studios MAX — West side, East side and
Bridgehampton
. But after
TriBeCa
opened, and then
Union Square
, I was like,
OMG this is gonna become the Starbucks of fitness. We should be everywhere and this is a movement, a revolution, a total new way to change a community.
Well, you were spot-on. What drew you to SoulCycle, and what's kept you leading the pack?
I don't think anyone knows this, but co-founder Elizabeth Cutler discovered me. She came up to me after a class I had taught in
East Hampton
where she rode, and said, "You are exactly the type of instructor I want at my studio. It's not open yet, but when we open, will you come audition?" The rest is history... I was the fourth instructor hired at that time and the last one remaining out of those four originals.
You give so much to the SOUL community and the riders who take your class. Where do you get your inspiration?
My students all inspire me to get out of bed in the morning. I don't think they realize how much they mean to me. Over the last decade we have all become a super tribe. We laugh together, cry together, push together and win together... they are my #SQUAD.
What has been your favorite memories with the SOUL family so far?
There are too many to count and I would never want to leave any of them out. From the many charity rides I teach to Oprah to co-teaching with my life partner for an entire decade to watching the company grow to having SOUL in other States — and soon other countries — I feel like I was at the right place at the right time with the right people... and it has only just begun! As we grow, our team grows, our technology changes and we are ready to roll out some incredible things in the next few years!
What advice would you have given yourself 10 years ago? Is this where you saw yourself back then?
When I first started here, I almost quit. It was a very slow-moving growth and took a lot of work. I had already built a following in LA, and that took a decade to build, but I left it all behind to move to NYC. If I hadn't stayed and worked as hard as I did, I don't think we would be where we are today. I literally used to mop the floor at night, I cleaned the bathrooms as if they were my own, sometimes we even washed the towels in our basement in the Hamptons. If Debby hadn't told me to stay, work really hard and just keep believing, I don't know where I would be. Today, I owe most of my patience to her; she is really the glue of West 72nd Street's original following. I knew no one when I moved here, and Debby and all of her friends held W72 solid. She was one of the original #ambassadorsofsoul!
What advice or tips do you have for new instructors?
If you want to succeed in a career in fitness, you have to live it, eat it, breathe it, love it. Make sure you get to know your regulars and make everyone that's new feel welcome. Teach the class like you're having a conversation with people that you love, not reprimanding children you don't want to babysit. Everyone wants to feel appreciated, acknowledged and respected. Be that person. And play sexy, exhilarating, chill, fun, vibe-y tracks.
Mantra that motivates you?
Failing to prepare is preparing to fail.
Anything else to add?
The
East 83rd Street studio
is a product of complete visualization, meditation, faith and timing. We took over the original corner piece which was an old GameStop store where Deb's kids would buy their "cooking mamma" Nintendo games, so when SoulCycle took it over, it felt like I was already connected to the space itself.
Amazing.
One day after class, I went to get quarters for the meter at Back Page sports bar when the bartender told me this would be the last day he would see me because they were closing. My mind started spinning, literally... all I could think about was taking over that space and turning East 83rd Street into a MECCA. It took almost signing in my own blood to get Julie and Elizabeth to actually sign that lease, but they did it. They believed. I believed. Now East 83rd Street is the largest solely-indoor cycling facility in the country.
It's a very special place.
Every SOUL studio is its own family tree. It is a branch, it's a spoke, it's an extension of our original West 72nd Street location. Within those extensions is your ability to experience a fitness family that embraces change, accepts resistance and celebrates diversity. We are all one. I hope every instructor who teaches at SOUL dreams big, loves large and teaches the best indoor cycling class in the world! IT'S WHO WE ARE!
Catch classes with STACEY GRIFFITH at SoulCycle East 83rd Street and TriBeCa! Questions or comments? Email SOULlife@soul-cycle.com! Want to ride? Grab a series HERE and book a bike!