Meet RUDY VOLCY, the Most Decorated Rockstar at SOUL HQ
August 9, 2016
UDY VOLCY is a legend around the SOUL office. When he's not whipping the office into shape as Corporate Cleaning Lead, he's a recognized ATHLETE in office ping pong tournaments and on the basketball court; a ROCKSTAR at SOUL holiday party karaoke; and inspiring us all with his grilling skills on "
Good Morning America
" alongside his son. He embodies so much of what we love about our SOUL fam. But don't take our word for it: You can see it from a mile away from the pins he wears — given to him by fellow members of the SOUL team who SOUL it forward when they want to recognize when a colleague is doing a rockstar job. We caught up with Rudy to share his story and explain the story behind the SOUL pins…
What are SOUL pins, anyway?
Each pin stands for one of SOUL's core values:
• We are a culture of yes
• Embrace change
• Are happy and have fun
• Get dirty
• Care
• Move fast and are on it
• Communicate well
• Show gratitude
• Recharge
• Are a community.
Every employee gets a set of these 10 pins at the beginning of the year. Then we can then give pins to one another as a way to say "thanks."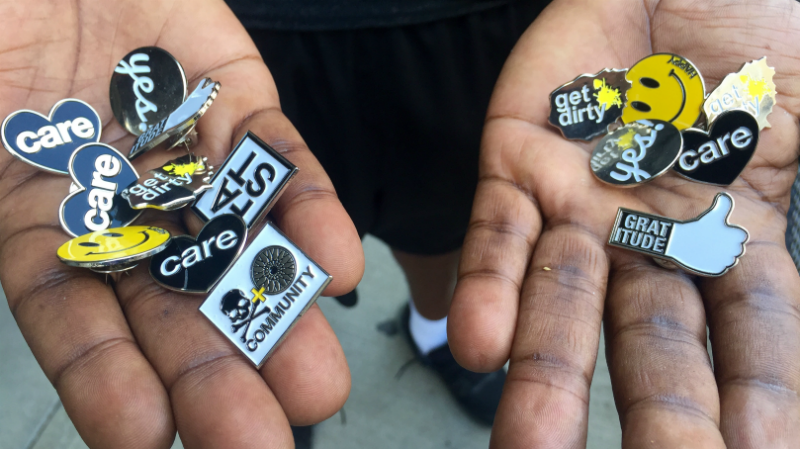 What's your favorite pin?
"Get dirty." I'm not afraid to get my hands dirty. Whatever it takes to get the job done is what I'm willing to do.
Who gave you your first pin?
My first pin was From Maria Enriquez in our legal department. It was a "Get dirty" pin. She wanted me to know that she noticed and appreciated the hard work that goes into keeping this office looking its best. It was rewarding to know that what you do everyday is appreciated by your peers — especially when it was completely unexpected. Thanks, Maria!
Since that first one, you've really been wracking up the pin swag.
I've received quite a few pins and each one is a big deal to me. Each one of those pins keeps me motivated and wanting to work harder. It says to me people are taking notice of your hard work, so always go hard!
Your pins are a fixture on your SOUL gear. Why do you pin them on each morning?
I wear my pins in the office to motivate others to do their best at whatever they're doing, but mainly for myself. I wear those pins to remind myself of what I've accomplished since my time here and what I will accomplish in my time to come. These pins just tell me that we all play a crucial part in keeping the machine moving, regardless of title. We all have an impact on this brand and how people view our brand, so LET'S represent with integrity.
Have you given away any pins yourself?
I have given away three of my pins so far.
What does it take for you to give someone a pin?
I have to be beyond impressed with your performance here at SOUL HQ. Just joking! I have given my pins to those who touched and impacted my life both at SOUL and outside of the office. I have a few more to give out.
Awesome. Anything else you'd like to add?
I love the culture here. It's empowering, it's positive, its SOULful. I have never felt such love and genuine energy anywhere else I've worked. I've met a few people I call my extended family here.
SOUL would not be SOUL without you, Rudy!
There is no other place like SoulCycle. You start as just a regular employee at an office with strangers. Then one day you realize the person who you've sat next to you in this office is now your best friend and somewhat of a family member. This is more then just a company you work for; this is where you come and help others change their lives while you're changing your own. That's powerful.
WATCH: Rudy Volcy Grills With His Son on "Good Morning America"
Photography by
Jessica Rotondi