Why You Should Massage Your Kale
June 15, 2016
ou've heard that a massage is good for your muscles, but did you know it's also good for that kale in the fridge? Instructors DREW BEREZOWITZ, founder of the food blog Disco Kitchen, and STRING, chef and graduate of the Institute of Culinary Education in NYC, sat down with SOUL to explain what exactly massaging kale means, how to do it and more…
Why does kale need to me massaged?
DREW B.: First of all, kale has been super stressed and had a really long week and she doesn't need your judgment about why she deserves a massage.
Kidding. Kale is a little different from your average lettuce. It's a little tougher because it is extremely fibrous. It's not a question of massaging the kale to be edible; it's about the ease with which you can eat it. If you want to really go to town on your kale and don't mind gnawing on the leaves, then you don't have to take the extra steps. Massaging kale just makes the eating experience a little easier.


How does massaging kale improve the texture?
STRING: The more you massage it, the softer, almost creamy-like texture you'll get. It can be tough to eat it, so you want to massage it for about two to three minutes — or longer, depending on how you like it.


How do you do it?
DREW B.: It's super simple to do! Just rinse the leaves and find a bowl big enough to hold the whole salad. You can rip the leaves off the stiff ribs if the texture bothers you, but the whole leaf is edible. Also, since you're looking to break down the cellular structure of the leaves, it helps to add lemon juice and olive oil. Combined, these two ingredients help break the cells down so the kale is more available to take on dressing later. Then just take handfuls of the leaves and bunch them up in your hands — enough pressure to squeeze the leaves, but not enough to tear them. Keep going until the leaves are noticeably limp and then let them stand for a few minutes to soak.


STRING: Once I make my dressing, I'll take what I'm going to eat — like two handfuls of kale — and massage it in the dressing. The best way to think of it is that you're massaging the kale just like you would massage your calf muscle with both hands. You can also use olive oil or canola oil while you massage.


What healthy oils or dressings compliment kale the best?
STRING: A simple dressing to make is a few tablespoons of canola oil, the juice of one lemon and salt to taste. If you want to make a Caesar dressing, use the same ingredients but also add egg yolks and some minced garlic.


DREW B.: Kale is super versatile and works with a variety of dressings, but stay away from super watery vinaigrettes. Kale is sturdy enough to handle heavier dressings, so my favorite is combining Greek yogurt with olive oil and salt to coat the leaves.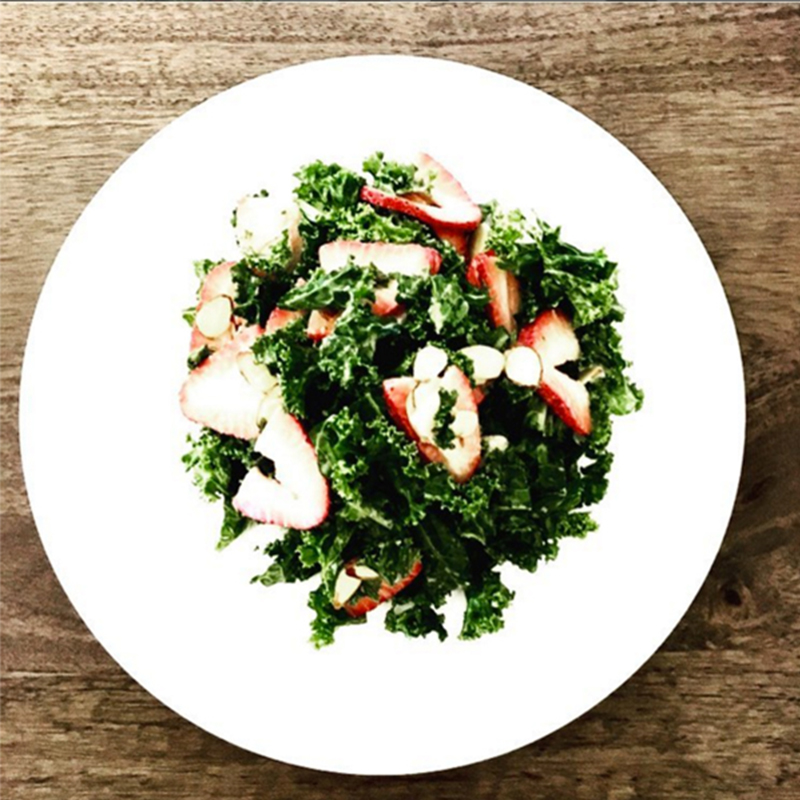 What's your favorite quick and easy kale salad recipe?
STRING: If you're in NYC, one of my favorite places to eat a kale salad is Barbuto in the West Village. A quick recipe to make is kale and strawberries with sliced almonds. You can also add chicken if you like and pan or oven-roast the nuts. Pair with the dressing recipe above then salt and pepper to taste. Done!


Questions or comments? Email blog@soul-cycle.com! Want to ride? Grab a series HERE and book a bike!