Where to Eat Near East 54th Street
December 19, 2015
Need some ideas for pre- and post-workout meals? Grab some easy solutions to what to eat from our team at East 54th Street.
CONOR (manager)
Brooklyn Diamond Coffee opened two doors down from us and their coffee is the BEST in the area. They serve their own cold brew, but I love the La Colombe hot coffee. Plus, they have amazing croissants and the best almond butter muffin I never knew I needed.
DREW BEREZOWITZ
If you look at my schedule, you'll notice that I do not teach in the morning very often. When I do, I need all the king's horses and all the king's men to get me prepped for class. My favorite place to stop for a pick-me-up before teaching at 54th is Ground Central on 52nd St. They've got great coffee, quick & healthy snacks to go, Liquiteria juices, AND they are nothing if not efficient at moving the line along so you can get to class on time and warm up before SoulCycle!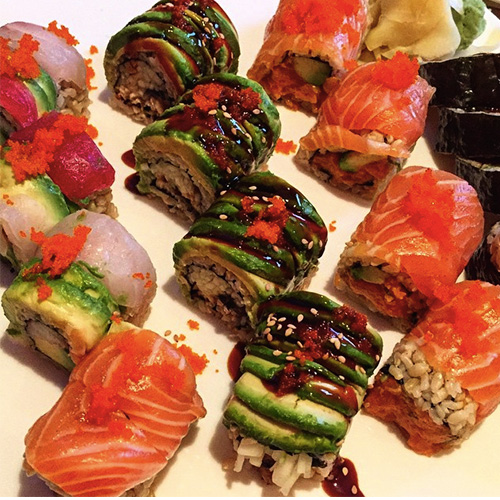 SAM SCAFFIDI
Tenzan is my go-to neighborhood sushi spot! Cool atmosphere, great service and even better sushi; I always order the lunch roll special, spicy tuna and spicy salmon with brown rice.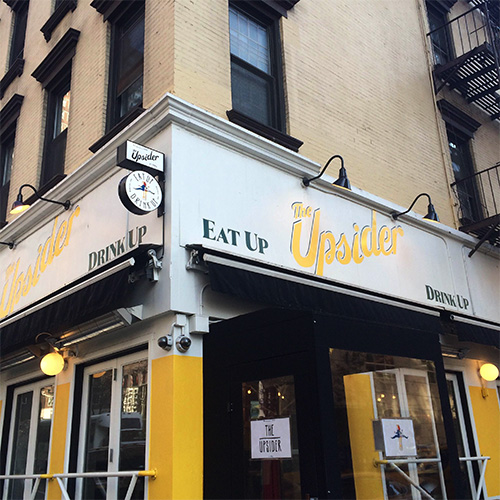 GUNNER
My personal favorite spot close to #STUDIO54 is The Upsider. It's an intimate gastropub run by Danny Volk who is always on hand, delivering a personal touch that so many restaurants in New York City have lost. There is a large bar area and great outdoor seating for those perfect New York City days. There are so many delicious items on the menu! My personal favorite is the buttermilk fried chicken entrée.
SUNNY WALTERS
Atwood is the perfect afternoon after-class hang out on Saturdays! Everything is done in wood so it has a cabin cozy vibe, and the food is hearty and flavorful. Any and every time I go the home fries (and mimosas) are a MUST!
BRIDGET (front desk)
I stumbled upon Eclair Bakery while exploring the Studio 54 neighborhood. I was immediately drawn into this quaint French cafe and it's been my favorite place to unwind before work or grab a pick me up between classes! The staff treats you with such kindness and warmth, you'll leave happier than when you came in! Their delicious French pastries (try the chocolate almond croissant) pair wonderfully with a soy vanilla latte.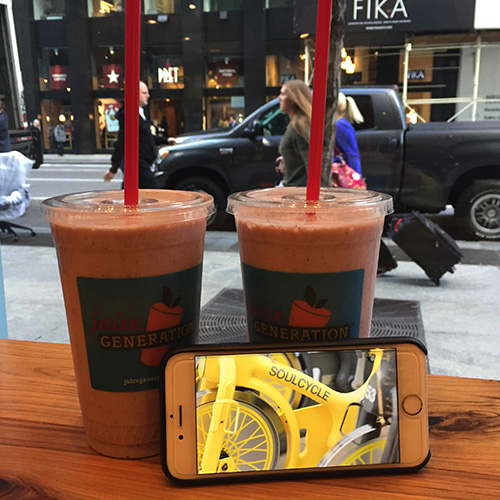 KATIE/SAVANNAH (front desk)
For an after class pick-me-up, Savannah and I love to go to Juice Generation on 53rd and Lex. They have acai bowls, juices, smoothies, to-go salads, and sweet treats. Not only has the staff there memorized our order (PKO with vanilla protein and almond butter), but they always give us extra smoothie in a little to-go-cup, which we love them for.
AMANDA (manager)
Hudson Malone is a fantastic place to grab a great cocktail with a fantastic vibe. The classic cocktail menu pairs well with the old school jazz and American standards playing softly in the background. And if music if your thing check out the upstairs with the live piano player after 8. I suggest Cameron on Thursday nights who plays not only standards but covers most top 40's and takes request!
Swing by SoulCycle East 54th Street (240 East 54th Street) to see these well-fueled rockstars in action! Want to ride at SOUL? Click HERE and book a bike! Questions or comments? Email blog@soul-cycle.com!
MORE FROM SOUL