What to Eat If You Work Out Twice a Day (or More!)
July 7, 2016
apping it back in the morning and at night? The pros at Tovita Nutrition, Leah Silberman and Molly Rieger, share their tips for what to eat and drink when you work out more than once a day…
Tell it to us straight: How important is proper nutrition to a good workout?
What you eat can make or break your workout. If you don't eat enough, you won't have the energy to put in 100 PERCENT effort and burn maximum calories. If you eat the wrong foods or don't leave enough time to digest, you may feel some stomach discomfort during your workout.

Understood. So I need to fuel up right before I tap it back?
Well, this doesn't solely pertain to what you eat right before your workout, but rather applies to your entire day! If you had very heavy dinner or overdid dessert the night before, you may feel a bit sluggish the next morning in class. Or if you refuel with the wrong food post-class, your muscles aren't going to heal and build optimally.
Got it. So, what should you eat for breakfast on a day you're riding twice at SOUL?
Your breakfast should combine complex carbohydrates with lean protein to keep you energized throughout your workout. If you're the "coffee is my breakfast" type, consider addition some real nutrition to that first meal. Some of our top recommendations are:
•
Plain Greek yogurt with berries and a tablespoon of chopped walnuts
If you're an early bird and you opt for those rooster classes, it's understandable if you can't stomach a full meal. A banana or piece of Ezekiel toast with a tablespoon of natural nut butter are easy-to-digest options that offer the right macronutrients to get you through. The most important thing is to eat something that will increase your blood sugar to energize you for class, and of course prevent you from feeling faint (or actually fainting). And if you feel a little light-headed while working out, you definitely want to adequately refuel after class.
Is it safe to snack between classes?
Absolutely! As long as your
snacks are the right portion size
. We recommend a handful of nuts or a piece of fruit to give you that boost of energy to get you through the next class.
How much should you hydrate when you're working out more than once in a day?
Hydration is crucial when you are participating in an intense cardiovascular workout, especially if it's over 60 minutes. If you're doing a SOULCHALLENGE or doubling at SOUL (both 90 minutes), we recommend at least 2.5 liters of water throughout the day. We recommend buying a 1-liter water bottle and filling it up three times to make sure you are accountable. You want to avoid dehydration at all costs because it can cause dizziness, fatigue, sugar cravings, moodiness and even increase your appetite.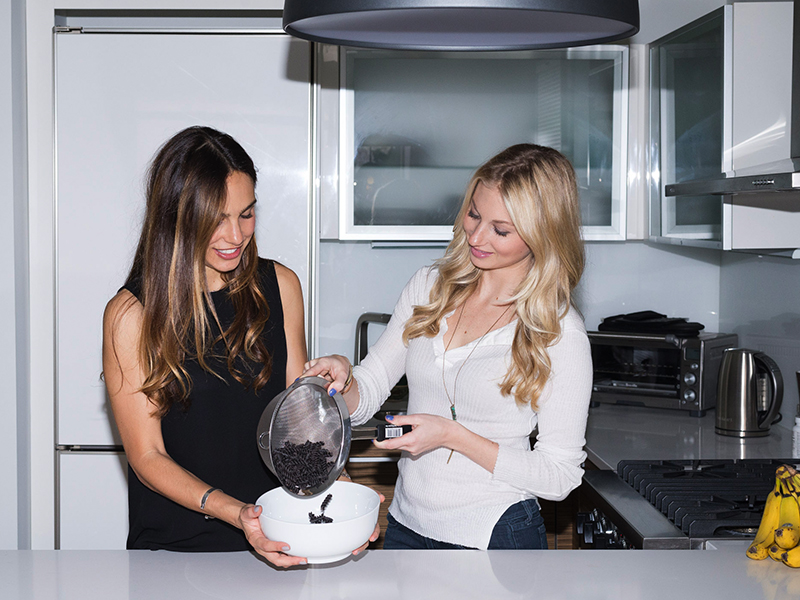 Are there any foods or drinks to avoid when working out twice in one day?
After you complete an intense workout, you will undoubtedly be hungrier than usual throughout the day. However, you want to avoid the mindset of "I did a double, I can eat whatever I want!" Instead, reward yourself by replenishing your body with nutrient-dense foods that will allow for best overall recovery. Avoid refined carbohydrates such as white bread, sugary bars and sweets. This also means you should avoid sugary "electrolyte replenishing" drinks. Stick to plain old H20 and foods that are naturally high in electrolytes like bananas, avocados or leafy greens.
Are there any post-workout foods you recommend for replenishing lost nutrients after a double workout?
The
best post-workout meals
combine protein, fiber and healthy fats — and no, you don't have to turn to protein shakes or powdered drinks. Instead, try an omelet with vegetables and avocado, a salad with grilled chicken, a Greek yogurt with berries and nut butter or a quinoa, veggie and chickpea bowl.
Is there a certain amount of time you should wait before or after riding to eat?
We recommend giving yourself about 20 minutes between eating and working out to avoid any digestive discomfort. About 30-40 minutes post workout, we recommend eating a protein-containing meal or snack for basic muscle wear-and-tear recovery.
The information presented is intended to be of general informational use and is not intended to constitute medical advice, probable diagnosis or recommended treatments. Please take an individual approach and consult your physician on which dietary choice is best for you.
Do you have a SOUL Story or recipe to share? Email SOULlife@soul-cycle.com! Want to ride at SOUL? Grab a series HERE then book a bike!