What Madeleine Ate Today
February 20, 2015
Which foods keep MADELEINE STARKEY fueled up and ready to rock out on the bike? The NYC instructor shared a day's worth of her healthy meals…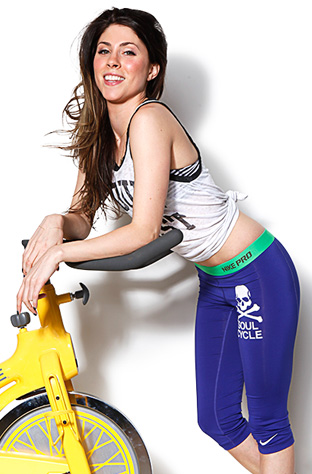 PRE-BREAKFAST HYDRATION
Every morning I wake up and make myself a drink that is so simple and so refreshing that it's hard for me to get going without it: the juice of one lemon mixed with warm water. Everyone should drink water immediately upon waking since the body just went for anywhere from six to eight hours without hydrating. I like to take it one step further by adding the lemon juice because it not only adds a little flavor, but also makes me feel awake, clear headed, and less weighed down than coffee makes me feel. I followed it up with some iced green tea, which I always drink — even in the winter!
BREAKFAST
Breakfast was another simple yet satisfying option: two pieces of avocado toast topped with eggs over medium. I usually wake up ravenous, and this combination quiets my hunger pangs and keeps them quiet for several hours. I always sprinkle and drizzle big juicy sea salt flakes and Sriracha on the avocado before crowning each piece of toast with an egg.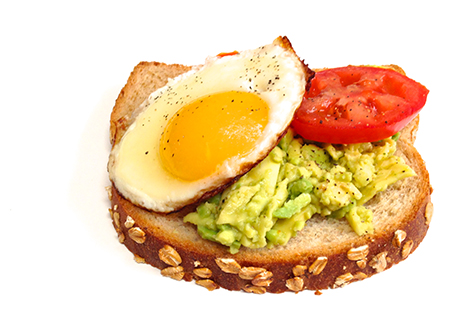 LUNCH
Several hours later, I made myself a hefty lunch of brown rice pasta, sautéed zucchini and broccoli, and vegan pesto. I chopped up my favorite sprouted tofu (made by an awesome company called Wildwood — I've been hooked ever since fellow instructor and longtime best friend Eve Kessner introduced me to it years back) to top it all off. The tofu not only adds an interesting textural element to the "dish," if we can even call it that, but also adds more much needed protein; gotta feed these muscles!
SNACK
I often teach later in the evening, so between lunch and teaching I made a quick smoothie before heading to Union Square to teach. I included hemp milk, frozen raspberries, maca powder, powdered peanut butter, bee pollen, one banana, chia seeds, and some vegan protein powder. Before leaving the house, I threw a few Quest bars in my bag in case I needed one immediately after teaching, which I did. I'm really loving the Cookies and Cream flavor right now, and I always love the 20 grams of protein in every bar!

DINNER
Understandably still ravenous after only a Quest bar for dinner, another best friend of mine and I decided to pop into Casa Mono on the other side of Union Square from the studio for a quick bite to make sure we nourished our bodies after a super-hard class. I won't go into detail about the food there because this isn't a restaurant review, but I will tell you this: I love vegetables and I love fish, and Casa Mono is beyond adept at both. So much so that I never want to stop eating when I'm there; creamy eggs with sea urchin? Stop it.
Food is meant to nourish us, and to me nourishment is a figurative and literal pursuit. Technically speaking, I need food that will provide my crazy-active lifestyle with the nutrients it needs to not only survive but thrive. I believe food is not just fuel, but a way for people to come together and connect. We need both to be truly cared for; to be truly nourished. So eat up! And remember: it's always better when you do it with a friend.
Catch classes with Madeleine at SoulCycle 19th Street and SoulCycle Union Square! Questions or comments? Email blog@soul-cycle.com!