What Charlotte's Cooking for the Fourth
July 4, 2015
Chestnut Hill instructor CHARLOTTE HITCH shares one of her go-to Fourth of July recipes, complete with red, white and Brie!
MERICA! This is a great summer dish, SUPER easy to make and you can add pretty much anything to it. The other night I used spaghetti squash instead of pasta and it was delish. Here's how I make it…
Pasta with Marinated Heirloom Tomatoes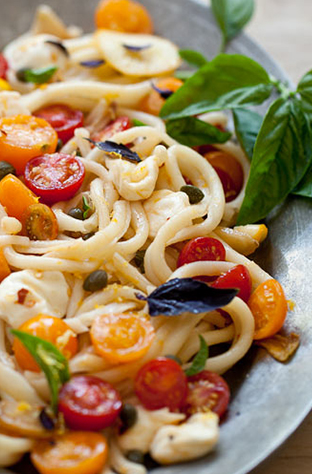 Ingredients
* 5 cloves of garlic, peeled and thinly sliced
* ½ cup extra-virgin olive oil
* 2 pounds heirloom tomatoes, sliced into ½ inch wedges
* ¾ cup torn fresh basil
* 3 tablespoons salt-packed capers, drained, rinsed and chopped if large
* 2 teaspoons finely grated lemon zest, plus more for sprinkling
* ¼ teaspoon crushed red-pepper flakes
* Coarse salt and freshly ground pepper
* ¼ to ½ pound of Brie (optional) white skin removed (cut Brie into small pieces.)
* 1 pound flat pasta, such as pappardelle cooked until al dente
Directions
1. Heat garlic in oil in a saucepan over low heat until pale gold, about 10 minutes. Reserve oil and garlic. Let cool.
2. Combine tomatoes, brie, ¼ cup basil, the capers, lemon zest, red pepper flakes, and ½ teaspoon salt in a large bowl. Pour garlic oil and chips over tomato mixture.
3. Marinate, covered, tossing occasionally, for 30 minutes.
4. Add warm pasta to bowl, and toss gently. Top with remaining ½ cup basil. Season with pepper. Sprinkle with lemon zest.
HAPPY FOURTH OF JULY!
Catch classes with Charlotte at SoulCycle Chestnut Hill! Questions or comments? Email blog@soul-cycle.com!