The Perfect Cold-Weather Cast Iron Skillet Recipe
October 13, 2016
ooking for a little culinary inspiration? NYC instructor ANANDAH CARTER shared her favorite skillet cornbread recipe that's perfect to pair with any main dish…
This is a great recipe! I find that it tastes even better when cooked in a cast iron skillet and served hot at the table.
Ingredients
1 1/4 cups coarsely ground cornmeal
3/4 cup all-purpose flour
1/4 cup granulated sugar
1 teaspoon kosher salt
2 teaspoons baking powder
1/2 teaspoon baking soda
1/3 cup whole milk
1 cup buttermilk
2 eggs, lightly beaten
8 tablespoons unsalted butter, melted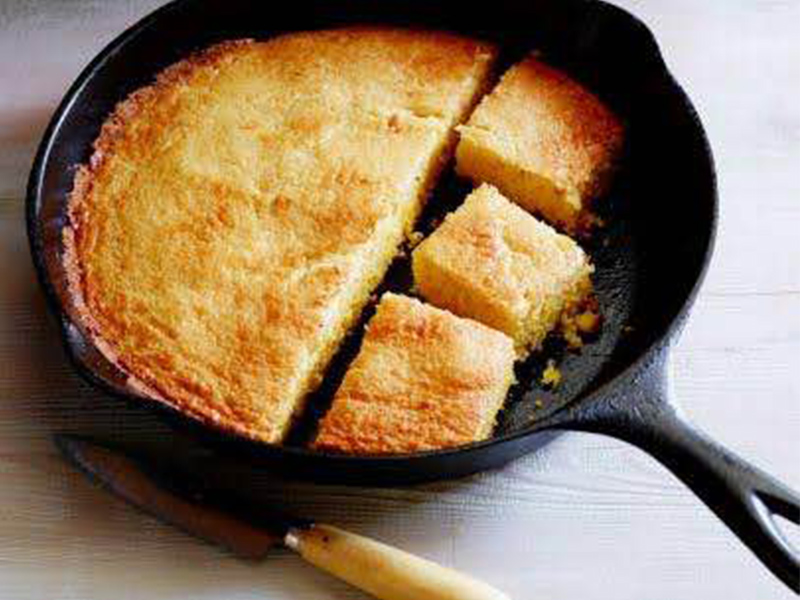 Directions
1. Preheat the oven to 425 degrees F and place a 9-inch cast iron skillet inside to heat while you make the batter.
2. In a large bowl, whisk together the cornmeal, flour, sugar, salt, baking powder and baking soda. Then mix in the milk, buttermilk and eggs.
3. Whisk in almost all of the melted butter, reserving about 1 tablespoon for the skillet later on.
4. Carefully remove the hot skillet from the oven. Reduce oven temperature to 375 degrees F. Coat the bottom and sides of the hot skillet with the remaining butter.
5. Pour the batter into the skillet and place it in the center of the oven. Bake until the center is firm and a cake tester or toothpick inserted into the center comes out clean, 20 to 25 minutes. Allow to cool for 10 to 15 minutes and serve.