Soul Instructors' Healthy Takeout Orders
January 22, 2016
VEGETARIAN + VEGAN FOOD
EVE KESSNER
LOOK FOR: Fresh veggies! I believe a rounded vegan diet is the healthiest diet for a long, full life. That said, there are many vegans who do not eat healthfully. A good vegan diet is filled with fresh veggies, whole grains, and organic beans (ideally sprouted ones!).
SKIP: Faux meats. Most of these are super-processed and hard to digest among other negatives. Stay toward what is most reminiscent of how it grew out of the earth. Avoid that which is unrecognizable to it's origins.
MAJOR NO-NO: Too many fried and starchy foods! Don't be a French fry vegan! Or a vegan grilled cheese kinda vegan. Save these "treats" for special occasions. Or better yet, get yourself to the robustly healthy place where your body no longer craves these things! Wouldn't that be lovely?!
ANGELA DAVIS
My favorite take out order is the Kale, Qunioa, and Yam salad from Erewhon.
LEXI BRAWER
I always love a good Greek salad. Fresh and filling!
JOYCE FRANCO
GO-TO ORDER: A power bowl from a local vegan restaurant called Scared Chow. The bowl consists of brown rice, steamed kale, collard greens, and black olive seitan.
AVOID: I try to avoid anything particularly greasy/heavy, options that I know I wont feel good about afterward.
MADELEINE STARKEY
GO-TO ORDER: Vegan pad see ew with a hijiki salad.
AVOID: I avoid anything that's fried and/or overly starchy. Just because I'm asking someone else to prepare my food doesn't mean I don't care what I'm eating!
JAPANESE FOOD
HALLIE WILSON
Look for: Dishes with an emphasis on fish and vegetables, not meats and fats.
Skip: Mayo-based sauces.
Major no-no: Fried appetizers. Start with a salad, miso soup or some edamame!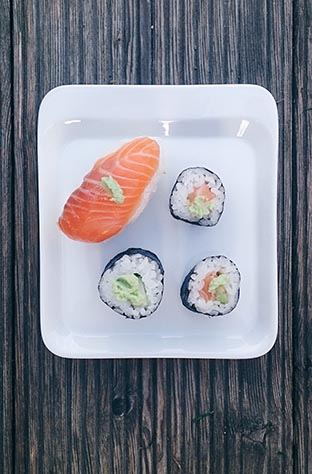 JULIANNE MULVEY
Sushi Naruto rolls are my go-to. I'm obsessed. No rice and wrapped in cucumber. I get them with spicy tuna and avocado. Almost any sushi restaurant will make them for you. Paleo HEAVEN.
LEAH LIFE
My healthy takeout order is generally sushi - I try to stick to brown rice and raw fish and avoid anything fried.
ISAAC CALPITO
GO-TO ORDER: Brown rice sushi from Mottsu in Soho. So good.
AVOID: I avoid anything fried ever. Much to my chagrin.
MANDY BROOKS
GO-TO: Yellowtail jalapeño appetizer and a Spicy crunchy tuna hand roll is my favorite take out order. It is healthy and delicious.
AVOID: I avoid fast foods.
ELEYNA GOMEZ
I never get sick of Japanese food. I usually take-out a combo with a mini udon soup, a spicy tuna roll and a salad. I usually avoid very heavy or super flavorful food (I know, that might sound weird) around when I teach so everything feels light and fresh in my body.
NAZ SANDERS
Sushi! The basic sushi rolls are my favorite. Cucumber avocado rolls or a good Salmon Avocado roll.
TIFF CHEN
The tiger roll from Nara sushi!
ALEX KANTER
I am all about a good spicy tuna roll with brown rice and a salad with ginger dressing.
MATTHEW CAROLAN
Salmon salad no dressing. I avoid most salad dressings and use salsa as a healthier alternative to dressings
NABILA VALENTIN
Healthy order in is sushi, sashimi with a side salad or miso soup.
AVOID: I avoid ordering in heavy/greasy food. Besides they never deliver well anyway. Usually soggy and never really hot! (Except for pizza!)
CHINESE
STRING
My to go-to place for takeout Chinese in NYC is New Shun Wei.
LOOK FOR: Fresh veggies
MAJOR NO-NO: Any spot that uses MSG. Bad Chinese is not cute!
SABINE GERDTS
I love Chinese food! But a lot times there's a lot of sodium and sugar in the sauces. So I usually get General Tso's tofu with rice. But instead of having the sauce on the tofu, I get it on the side and dip it. I use WAY less sauce. And brown rice instead of white or fried! I LOVE fried rice, but I avoid it as much as possible.
AMERICAN and OTHER CUISINES
MIKKI HOMMEL
MEATBALL SHOP is my favorite restaurant ever! I love their sides and their portions are just right. I love to get their steamed broccoli and veggie balls with their mushroom gravy! Depending on how hungry I am, I might get their simple salad as well. And if I'm feeling naughty their veggies balls with parmesan cream sauce over mashed potatoes. Yummmm!
MOLLI SULLIVAN
I love ordering chicken vegetable soup from Nopalito in San Francisco! Brothy soups packed with veggies and protein are always a great choice if you're eating out and trying to keep healthy.
LIAH MALLEY
I am currently obsessed with the acai bowls from the Equinox juice bar. Such a great post-class snack!
ALEJANDRA SERRET
My go-to take out order is a piece of grilled salmon and a small order of the tomato eggplant salad from Tabouli Grill in Southport, CT.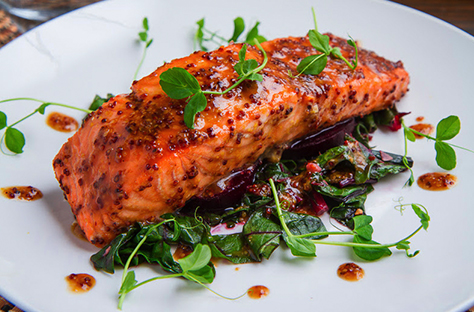 ANANDAH CARTER
I love miso baked salmon and steamed veggies but I avoid mac and cheese (even though I love it!)
HEATHER ANDERSON
My healthy takeout has to be an Asian Chicken salad from Rustic Bakery in Marin. I get one every Tuesday and Thursday after I teach a double and it's got all the good greens and protein that I need. I try to stay away from fried foods for the most part, but I do love sweet potato fries!
ALEXA OSSIPOFF
GO-TO ORDER: Bearflag's Salmon Poke with Seaweed Salad or Steamed Veggies and Brown Rice.
AVOID: I stay away from all fast foods, I truly don't even like them, except for the occasional In 'N Out burger.
LINDSEY SIMCIK
I love breakfast for dinner. The Omega Bowl at "Kreation" is EGG-cellent.
OLIVIA AMATO
Healthy takeout order would be Sweet Green. I get the Rad Thai or one of the seasonal options they offer. It is always so healthy and fresh. I try to avoid processed food.
LOUISE GASSMAN
The vegetable couscous from Hummus Place. I try to avoid lo mein, even though I love it.
ASHLEY ROE
My go-to order is Greecologies traditional unstrained greek yogurt topped with thyme and flower honey. It's filling and always a post workout treat while benefiting from its high protein content!
JUSTINE SCHWARTZ
I LOVE acai bowls with fruit and PB or Baked Falafel gyro sandwiches! I try to avoid pasta and rice as much as possible!
GUNNER
I love Juice press. Every single day. I love, love, love the raw oatmeal with berry jam and the raw hummus wraps. Everything is amaze! But these are my favorites.
DANIELA DIB
I order jalapeno Hush Puppies. Black Radish Spaghetti, horseradish, mint and lemon lebneh with radish noodles
NINA RUTSCH
My favorite healthy takeout is from EVA'S health food in Greenwich Village. The South American burrito or the chicken and sweet potato power plate. Simple clean and delish
J.LEE
I always look at the sides menu, side if chicken, side of veggies since they're usually normal portion sizes. And always avoid French fries!
RICH MARTINO
ANYTHING from DIG INN Market! Beets, avocado, brown rice and spinach!
PAIGE HOWELL
Breakfast bowl from Blossom du jour
LORI ABELES
Anything at sweetgreen! Just opened on UWS near W77 studio and I'm OBSESSED.
MEXICAN
JULIA BAGGISH
LOOK FOR: I really love the sofritas burrito bowl from Chipotle. I get brown rice, sofritas (tofu), hot salsa, cheese, guacamole.
AVOID: Lab created foods (foods with trans fats, protein powders, highly processed vegan "meats."
ANDREW STINGER
Burritos all day: Black Beans, Pollo Asado, Avocado, Pico de Gallo (and that's it; no rice, etc.). And it's worth paying extra for extra protein or avocado to optimize towards the good stuff.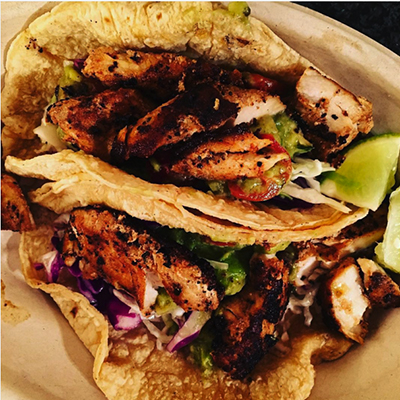 BRENT LOCEY
My go to take out is tacos from Buzz Bait Taqueria. Chicken or fish that's either grilled or blackened (stay away from anything breaded or fried) all topped with avocado and veggie packed salsas. Can't go wrong.
THAI + SOUTHEAST ASIAN
SARA SILK
Pad Thai? Is it healthy... not sure, but I feel like I could do a lot worse.
I avoid doing pizza more than once a week.
MICHAEL HENZE
NY has the BEST Thai takeout (let's be honest delivery). I'll order a papaya salad and a chicken panang curry (extra chicken). I mistakenly discovered that the curry tastes awesome on top of the stringy papaya salad. Now I mix the two on purpose; it's like a carb-free noodle dish!
STEPH STOKES
My absolute favorite place to order take-out from is this Burmese place called Rangoon Ruby. I LOVE their Tea Leaf Salad and Fiery Chicken Tofu with Coconut Rice (I'm not a big tofu fan, so I have them add extra veggies). Protein, veggies, carbs, and good fat. SO yummy!
Top photo credit: Tara Crawford on Instagram @dietditcher. Questions or comments? Email blog@soul-cycle.com! Want to ride at SOUL? To book a bike, grab a series HERE then book a bike!
MORE FROM SOUL