Smart Snacks Before and After SOUL!
July 24, 2015
Want to energize your ride? Get fresh ideas for how to fuel up before and after class from SoulCycle rider and registered dietician MIRANDA HAMMER…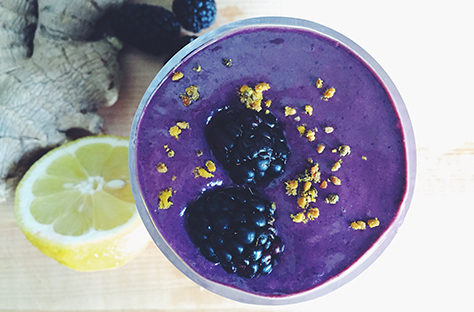 Picking a snack to adequately fuel your workout and recovery is essential to getting the most mileage out of your ride. Trying to tap it back on an empty tank is likely to result in low energy and poor performance. Alternatively, gobbling down whatever you can grab while heading to class may leave your stomach in knots. Why go down either of those paths? You've invested the time and money, so make it worth your while.
BEFORE SOUL
An ideal pre-SOUL snack should provide you with carbohydrates for energy and be easily digested, preventing any uncomfortable stomach pains or nausea. Drinking water is also essential to avoid feeling sluggish and to maintain your hydration status. Try and stick to real whole foods that are not packaged or processed for optimal fuel. (If you ate a meal an hour or two before class, you likely do not need extra sustenance. Listen to your body and determine if you really require a pick-me-up.) Here are some simple and delicious snacks to power you through your ride at SOUL:
* 1 slice whole grain toast, brown rice cake, or gluten-free cracker with 2 tablespoons mashed avocado, chili flakes, lime juice, and sliced radish.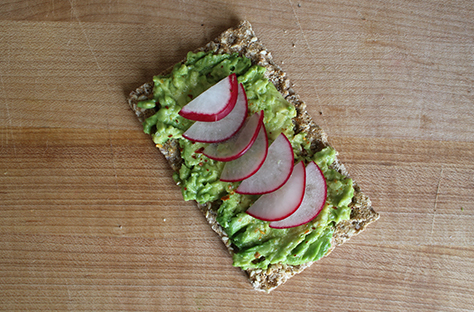 * Two dates stuffed with 1 tbsp peanut butter and a sprinkle of bee pollen
* 1 small banana with 1 tbsp almond butter, cinnamon, and a sprinkle of unsweetened cacao nibs
* Berry zinger smoothie (above)
Blend the following ingredients together in a high speed blender and enjoy:
1 small ripe banana
1 tablespoon all natural almond or peanut butter
1 cup hemp milk, rice, almond or 2% milk
2 cups organic dark leafy greens (kale or chard)
1/2 cup organic blackberries or blueberries (fresh or frozen)
Juice of 1/2 lemon
1 tbsp chopped and peeled ginger root
Bee pollen (optional garnish)
AFTER SOUL
Following a workout, you want to focus on hydration from water to replete losses from sweat. Additionally, fueling your body within 30 minutes to an hour post-workout is essential to replenish used glycogen (stored carbohydrates used for energy), restore strained muscles, and level out blood sugar. Carbohydrates, which get absorbed by the muscles first, and protein, which prevents muscle breakdown, are the ideal post-workout nutrient combo.
Opting for real, clean sources of protein and carbohydrates is also important to keep in mind as opposed to immediately jumping to processed protein powders or 20-ingredient energy bars.
One great option for a meal after a rigorous AM ride: Overnight oats, a grab and go breakfast that can be prepared the night before. (For a snack size version, portion out into two servings for an additional pick-me-up later in the week.) Here's my recipe: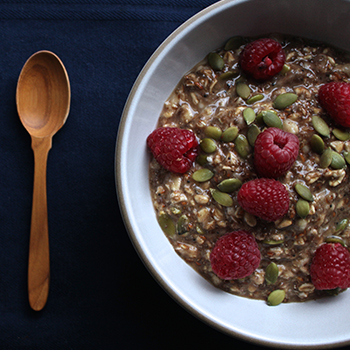 Powerhouse Overnight Oats
1 small ripe banana
1/3 cup rolled oats (gluten-free if needed)
3/4 cups nut milk, rice milk, 2% milk, or water
1/2 tsp ground vanilla bean powder or alcohol-free vanilla extract
1/2 tsp cinnamon
1 tbsp chia seeds
1 tbsp ground flax seeds
1 tsp pure maple syrup
1/2 tbsp raw pepitas + additional for garnish
1/4 cup raspberries or blueberries
In a bowl or a sealable container, mash the banana with the back of a fork. Mix in the oats, milk or water, vanilla, cinnamon, chia, flax, maple syrup, and pepitas. Stir the mixture vigorously for about a minute until well combined. Cover and leave in the refrigerator overnight. In the morning the mixture should be firm but slightly jiggly from the gelatinized chia seeds. Top with fresh fruit and additional nuts or seeds, if you wish.
MORE POST-SOUL SNACK OPTIONS
* Make your own trail mix: 1 tablespoon cashews, 1 tablespoon almonds, 1 tablespoon unsweetened cherries, and 1 tablespoon unsweetened toasted coconut flakes.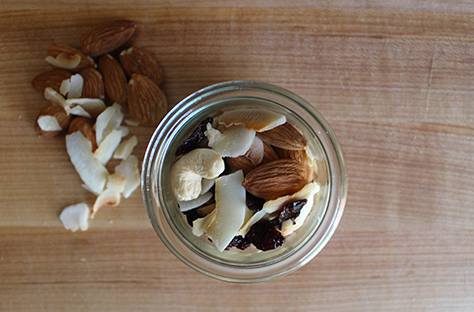 * Whole grain or gluten-free cracker with 1 tablespoon full fat ricotta, 1/2 teaspoon honey, cinnamon, and 5 sliced cherries
* 6 ounces Icelandic or Greek yogurt with 2 tablespoons hemp seeds and ¼ cup blueberries.
* 1 hard boiled egg with two high fiber crackers top with za'atar
Don't sideline your success by overeating and making poor food choices. Listen to your body, hydrate, and eat empowering and nourishing foods that will continue to make you feel and look your best!
For more of Miranda's eat-healthy advice, check out her website crunchyradish.com or follow her on Instagram.
Questions or comments? Email blog@soul-cycle.com!