Reed's Peanut Butter Chicken Recipe
September 24, 2015
Looking for a quick and easy supper? Instructor REED shares a protein-packed recipe made with just 8 ingredients you probably have on hand…

First and foremost we all have our addictions, and I'm addicted to peanut butter. I actually got this peanut butter chicken idea from my mother. One time she came to visit my "typical" NYC apartment and my refrigerator was basically empty. From the scarce ingredients I had in my apartment, she threw together a FEAST I didn't know I had from leftover chicken we had from takeout, plus peanut butter, soy sauce, rice, and other things she found in my apartment. around my kitchen.
Anyways, from that I remember asking her what the heck she'd put in the chicken because it tasted so amazing. From her base, I included my own additions to accentuate the taste. Be warned though — for me, what I eat HAS to taste good, so I'm (ironically) not too crazy about nutritional value. Here it is!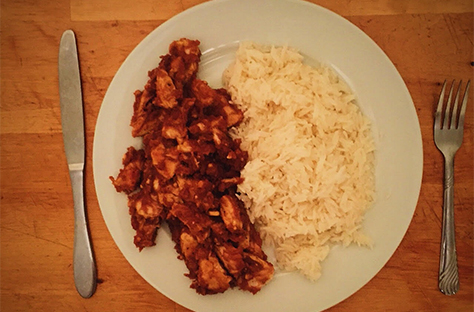 Ingredients for One Serving of "Reed's Peanut Butter Chicken" (Is this happening?)
5 Trader Joe's grilled chicken breast tenders lightly seasoned with sea salt and pepper
1 cup of white jasmine rice cooked with 2 tablespoons of butter and 1/2 teaspoon of salt
Peanut Butter Sauce
4 tablespoons of crunchy salted peanut butter
5 tablespoons of Trader Joe's Sesame Soy Dressing
2 tablespoons of brown sugar
1/2 cup of water
Directions:
1. First, prep the peanut butter sauce and combine in a small bowl. Stir until all is blended and set to the side.
2. Bring 2 cups of water to a boil in a small pot for the rice. Add 1 cup of rice, lower heat to medium, and allow rice to cook for 10 minutes covered. Lightly season 5 Trader Joe's chicken breasts with salt and pepper.
3. Grill the chicken in olive oil on a skillet at medium to high heat for about 7 minutes until tenders are golden brown, flip and cook until other side is brown.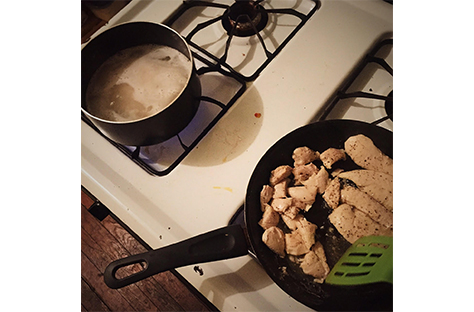 4. Chop tenders into about 5 small pieces with Spatula, and lower heat to low. Add 2 tablespoons and 1/2 teaspoons to the rice, reduce heat to low.
5. Move the chopped chicken tenders to one side of the skillet and pour the peanut butter sauce on the other side. After about 2 minutes start to mix the peanut butter sauce with the chopped chicken tenders. Mix thoroughly, allow to sit for 3 minutes.
6. Fluff rice and drain whatever water is left. Place the rice and peanut butter chicken on a plate beside each other. Let cool for 3 minutes, then serve!
Questions or comments? Email blog@soul-cycle.com, and catch classes with Reed at SoulCycle TriBeCa and Short Hills! Want to ride? Grab a series HERE and book a bike!
MORE FROM SOUL