Naz's Healthy Recipe
December 9, 2014
ungry for a healthy supper? Instructor NAZ SANDERS shares a recipe she swears by…
Almond Parsley Pesto with Zucchini Noodles is one of my favorite recipes. Zucchini is full of health benefits: Only 20 calories in a cup and full of fiber potassium and electrolytes! So good for a SoulCycle rider! Plus it's gluten-free and can be vegan if you omit the cheese. Either way, delicious!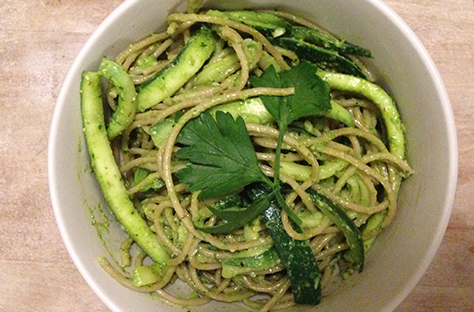 The sauce is light and zesty with a kick. I always blend up a big batch of this pesto and store it in Mason jars to give to friends (*hint hint* for the holidays!) or keep in the fridge to use it again later. All of my friends are crazy about this easy and delicious pesto!
A
lmond Parsley Pesto with Zucchini Noodles
INGREDIENTS
1 bunch of parsley
6 cloves garlic
1 teaspoon salt
1/2 teaspoon pepper
1/2 tablespoon red pepper chili flakes
1 lemon
1/4 cup almonds
3 to 4 green zucchinis
Freshly grated Parmesan cheese
DIRECTIONS
1. Slice zucchini paper thin with mandolin or by hand. Then cut sheets into individual strands.
2. Line a colander with a paper towel, then place zucchini noodles on top and sprinkle with salt to get rid of excess water. Set aside and sit for about 20 to 30 minutes.
3. Rinse and remove parsley leaves from stems and roughly chop.
4. In a blender, combine parsley, the juice from one lemon, almonds (roughly chopped/ sliced), garlic, chili flakes, salt, pepper and freshly grated Parmesan cheese.
5. Blend ingredients together on medium-low while slowly adding in the olive oil. Add oil until you've reached a desired consistency.
6. Lightly coat a sauté pan with olive oil on medium heat.
7. Add zucchini strands into pan (I like to also add cherry tomatoes, but that's optional!) and sauté zucchini for approximately 3 to 4 minutes.
8. Add sauce a little at a time, then turn off heat and top with fresh parsley and cheese. Enjoy!