Molli's Favorite Protein-Packed Breakfast
September 16, 2015
Start your day strong with this healthy, on-the-go breakfast recipe from instructor MOLLI SULLIVAN. (Pssst: It's also Paleo plus gluten-free and dairy-free!)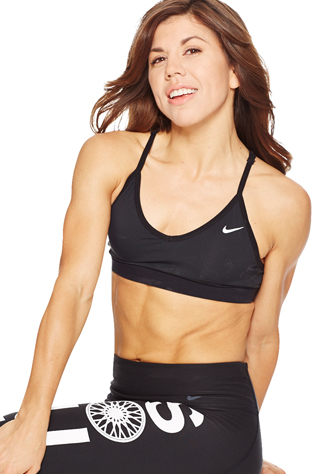 Eggs — an excellent source of protein and chock-full of minerals — are perfect SoulCycle fuel, pre-or-post class! And this super-delicious, super-versatile ROASTED VEGGIE EGG PROTEIN MUFFIN recipe is made extra delicious with roasted veggies. You should probably make it/take it for brunch in your near future.
Other perfectly acceptable times to nosh: Breakfast (pair with fruit!), snack, or dinner (pair with a big salad!).
It's also Paleo-friendly as well as gluten-free, and dairy-free. (Don't fret, cheese lovers: I've got a modification for you at the end!) Most important, it's real food, and the more you can incorporate that into your life, the better.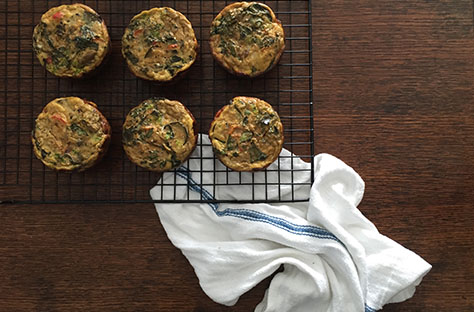 INGREDIENTS
Any veggies will do here! These are some of my favorites, but you can get creative with whatever you have on-hand.
1 red bell pepper
2 large carrots
4 zucchini (I used a mix of green and yellow)
1 large red onion
1 small jalapeño, seeds removed
1/4 cup (or 1 big handful) of chopped basil
10 eggs (if you have +/- an egg or two, that's totally fine! It works with a little less or a little extra).
DIRECTIONS
1. Pre-heat oven to 425. Grab a large muffin baking sheet, and spray it with olive oil (or just give it a quick coat using olive oil and a paper towel). Set aside.
2. Roughly chop all veggies — don't worry about being exact! Place them all in a 9" x 13" baking dish, or use two cast iron skillets (like I do!). Coat with 1 to 2 tablespoons of olive oil, or give it a good spray with an olive oil spray. Add a generous pinch of sea salt and pepper (and a little garlic powder, too, if you have it on hand!).
3. Place in the oven for 25 to 30 minutes, stirring once at the halfway mark. Pull veggies out, taste for doneness (and deliciousness!). Adjust salt and pepper, if needed.
4. TURN OVEN DOWN TO 350! Don't forget that step because you don't want to burn the eggs!
4. In a mixing bowl, crack the eggs, give 'em a good scramble. Add the vegetables to the eggs, and then divide mixture among muffin cups, making sure to fill to the top.
5. Place in the oven for 25 to 30 minutes, remove, cool, enjoy. For a few notes, see below!
NOTES
1. One word: LEFTOVERS. Think about doubling the veggies in this so you can save half for a lunch or dinner. Making extra is my go-to strategy to ensure healthy eating throughout the week. You'll save money, time, and you'll have something delicious waiting for you after you get home from class.
2. If you don't have jumbo muffin tins, you can use an 8" x 8" or even a 9" x 13". Whatever you have on hand, you can pretty much make it work!
3. Cheese lovers, even though I don't dig dairy, I still dig you: Goat cheese or fontina would be good in this!
MORE FROM SOUL