Megan Kelly's Favorite Winter Soup Recipe
January 21, 2016
Whether you're gearing up to hunker down for some snow or just looking for a healthy winter dinner, instructor MEGAN KELLY has a favorite soup recipe that's as simple as it is satisfying...

I've always been a pretty healthy eater, but recently, I've been feeling the sensitivity from a hormonal disorder I was diagnosed with seven years ago. So I took on the help of my dear friend/health coach extraordinaire, Meredith Santora.
She has given me invaluable tips, ideas and recipes that I try to play with and adapt. One of the greatest tips has been meal-prepping for the whole week ahead, which pretty much always includes a soup. It has especially been a lifesaver in these coldest of days (#frozen)! Here is the latest one I made…
Winter Soup Recipe
1/2 red onion
2 tablespoons unsalted organic grass-fed butter
16 ounces vegetable stock
10 bay leaves
2 organic lemons
4 medium-size sweet potatoes
4 medium-size whole carrots
1 cup quinoa
4 cups water
Dried kombu (I like the Raw Seaweed Iceland because the strips are smaller)
Sea salt to taste
2 teaspoons cumin
2 teaspoons fenugreek powder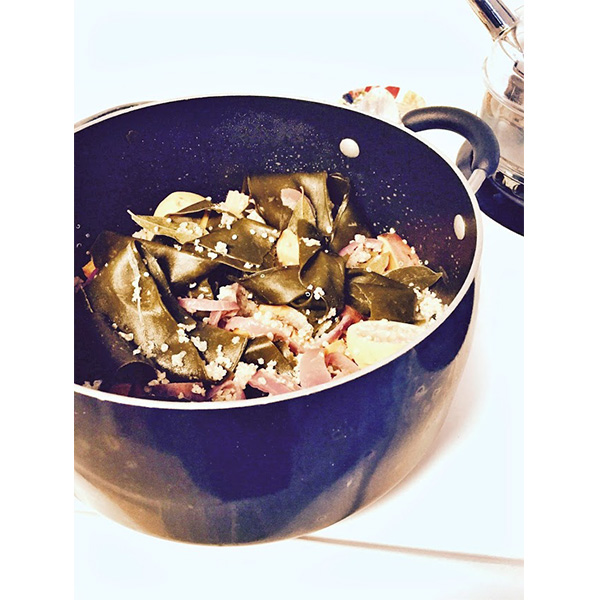 Directions
1. In a large pot, melt butter. Add in red onion, diced. Let onion heat until cooked through.
2. Add vegetable stock, bay leaves, and two halved lemons that have been squeezed into the mixture.
3. Bake sweet potato and carrots until slightly soft (about 15 minutes at 350 degrees).
4. Dice the carrots and potatoes into small cubes and add to pot. Add uncooked quinoa and 4 cups water, sea salt, cumin, fenugreek.
5. Reduce heat to low for about 20 minutes.
6. Add dried kombu in strips, which will start to expand and become like noodles! Reduce to simmer for a couple hours.
7. Remove bay leaves and lemon halves before serving. Stores perfectly for the whole week! ENJOY!
Catch classes with MEGAN at SoulCycle West End and 14th Street! Questions or comments? Email blog@soul-cycle.com! Want to ride? Grab a series HERE and book a bike!
MORE FROM SOUL