How Instructor Bevin Prince Transformed Her Diet
December 4, 2014
efore SoulCycle, I didn't really think about what I ate. Always on the go, I grabbed whatever I could, whenever I could. A typical day consisted of a muffin the size of my head for breakfast, a bagel with cream cheese for lunch, and some fish and rice for dinner.
One day I was on the bike and I got extremely light-headed and had to stop. Although I was consuming calories, they were not calories that were sustaining me and I simply was not eating often enough. I had to get serious about how I was fueling my body.
Change, of any kind, can feel overwhelming. So, I decided to break it down. First, I made a list of what I wanted to accomplish: I wanted to feel strong, light, energized, full, all without sacrificing taste. Then I made a list of small things I could do in order to get closer to my big goal: research food, try different combinations of food and times that I was eating, and eat more often.
Compartmentalizing is the key. I knew that this goal was not going to be achieved overnight; it was going to take a lot of trial and error, patience, preparation, forgiveness, and kindness. Above all, I knew I had to take it one day at a time.
My best piece of advice when making changes is to remember that big change comes from making small choices. Never try to fix past "mistakes;" it will send you down a shame spiral and never get you where you want to go. Make small choices in the present moment and move forward.
Here is what works for me today:
Breakfast
One piece of whole grain toast, a piece of cheese, 1/4 of an avocado, and two eggs. I like to eat and sleep a lot. Knowing that I am going to wake up to a hearty, delicious meal in the morning helps me get out of bed. Don't judge.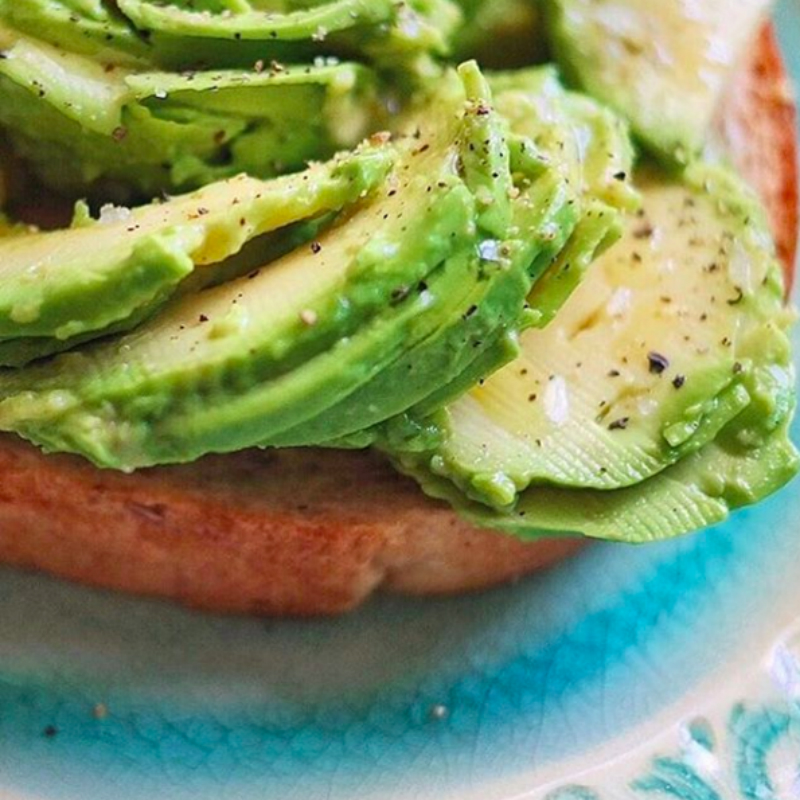 Snack
Justin's Almond Butter and a Fuji apple. My name is Bevin and I am addicted to almond butter. I had to find the perfect apple to complement the elegant and smooth almond butter, and the Fuji apple came in like a white knight: crisp, reliable and perfectly sweet. What a lad.
I've learned that in order to keep our bodies working efficiently, we should eat a carb and a protein within 30 minutes of riding. This snack requires zero preparation and is a perfect on-the-go, post-ride snack.
Lunch
Dig Inn in the West Village is my go-to lunch spot with farm-fresh, local and delicious ingredients. I usually get arugula topped with wild salmon, a seasonal quinoa salad, Sicilian roasted cauliflower with chickpeas, and ginger black tea. It is so good, quick and around $10 a meal. Can't beat it.
Dinner
More salmon and farro with charred broccoli, dried cranberries and pecans. This is a dish an old roommate of mine showed me and it is quick and easy to make, filling and, above all, delicious.
Do I sometimes still eat muffins the size of my head? Heck, yes.
Catch classes with Bevin at Soul East 63rd Street, Soul East 83rd Street, Soul FIDI and Soul TriBeCa! Questions or comments? Email blog@soul-cycle.com!