Healthy Dinner Recipes To Make Tonight
February 10, 2016
Do you dread making dinner? Constantly searching for something easy yet healthy to cook? Holistic health coach TARA CRAWFORD has three yummy recipes to share — plus a few tips to simplify your supper prep…
Before we get to the good stuff, I've got a few little philosophies that help keep my sanity in the crazy pants sea of diets (even as a health coach).
1. Cook once. Eat twice. No one has time to cook all day, every day so make something you love that you can bring for a packed lunch the next day.
2. Just eat real food. Seriously. It's a simple as that. Life changes with the seasons and so should your diet.
3. Don't put yourself in a diet box. If you give yourself too many rules about food, you'll feel bad when you waver from them. There is no food police.
4. Learn about the glycemic index and glycemic load — it's one of the most helpful tools I've found in the world of nutrition. Balancing your blood sugar levels is key to feeling your best.
5. Pick simple things to make. Don't go crazy trying to make complicated meals during the week. It causes stress and helps no one. Keep in clean and easy.
And without further adieu, here are some of my latest recipes. You can easily add in additional sources of protein to any of the dishes. No real chef skills required. Enjoy!
SLOW COOKER WHITE BEAN + KALE MINESTRONE SOUP (above)
What you need
•
1 tablespoon olive oil

•
1 zucchini diced (wash skin well)

•
3 celery stalks (diced)

•
3 large carrots or 12-14 baby carrots (diced)

•
One 28 ounce can of diced tomatoes (look for PBA free lining, do not drain)

•
One 15-ounce can of white cannellini beans (look for BPA free lining, drain and rinse)

•
2 teaspoons of dried Italian herbs (I like to mix my own using 1 tablespoon of oregano, basil, and thyme)

•
3 garlic cloves (minced)

•
1 medium onion (finely diced)

•
40-45 ounces of vegetable broth

•
3 cups of finely chopped kale

•
Shredded Parmesan cheese
How to do it

•
Heat olive oil in a skillet; sauté onion for 3 to 5 minutes; add garlic in for the last minute. Add to a slow cooker.

•
Dump all your chopped veggies, broth, canned tomatoes plus juice, beans, and dried herbs into the slow cooker.
•
Cook on high for 6 hours or low for 9 hours. Once your soup is finished turn off the slow cooker and throw in the three cups of chopped kale. The residual heat will cook the kale.

•
Top off with some sprinkled Parmesan and enjoy!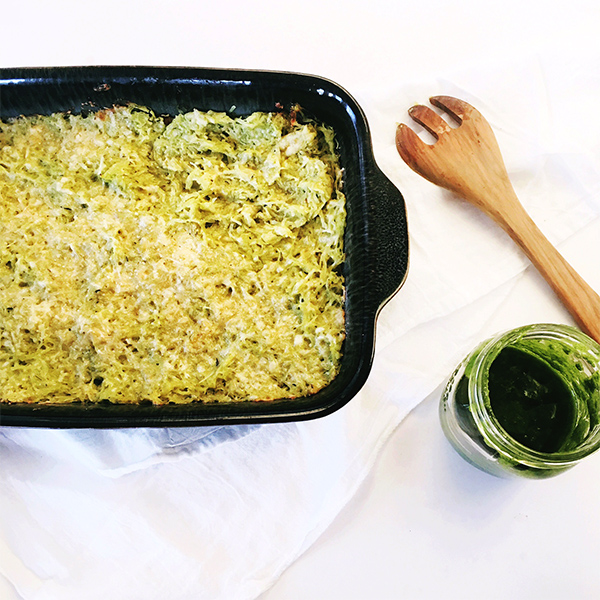 CAULIFLOWER FRIED RICE WITH HEAT
What you need

•
One head of cauliflower

•
1-1.5 cup of broccoli florets

•
1 cup of peas (fresh or frozen
•
1 small onion (diced)

•
1 bell pepper (diced)

•
1 large carrot or 6 baby carrots (diced)

•
2 stalks celery (finely chopped)

•
2 organic eggs (beaten)

•
3 tablespoons coconut oil

•
1 teaspoon red pepper flakes (adjust depending on preference)

•
2 scallions (chopped)

•
3 cloves of garlic (minced)
SAUCE
•
3 to 4 tablespoons soy sauce

•
2 teaspoons sesame oil
How to do it
•
Wash and trim your cauliflower, then cut into smaller sized florets.

•
In a food processor or Vitamix blender add a third of the florets and pulse until they become fine like a rice or couscous texture. (You might need to repeat the process 2 to 3 times depending on how much you have. Do not fill your food processor or Vitamix to the top or you'll be left with large chunks.) Don't worry: I do it 3 times and it takes all of five minutes.

•
Once you've got your rice base set aside in a bowl

•
Heat 1 tablespoon of coconut oil in a deep a skillet

•
Add onion and garlic and sauté for 5 minutes

•
Add in your veggies and sauté until they become a little brown or cooked to your preference (about 5 to7 minutes).

•
Push the veggies to one side of the pan, and add your two eggs into the open area. Scramble.

•
Set aside veggies and scrambled eggs in a bowl while you cook up your cauliflower.

•
Add the remaining 2 tablespoons of coconut oil; heat for 20 seconds then add in your cauliflower rice. Cook for about 5 to 7 minutes and stir occasionally. Then add your bowl of veggies and eggs.

•
Mix everything together evenly and add in your soy sauce, sesame oil, and red pepper flakes.

•
Sprinkle with scallions and EAT!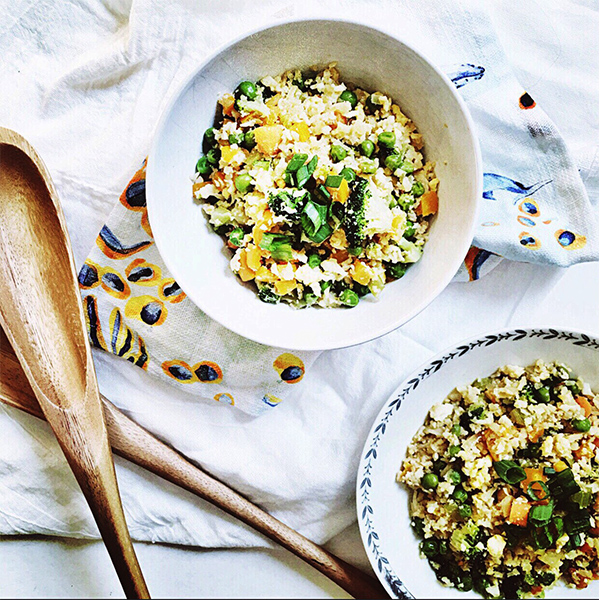 TWICE-BAKED SPAGHETTI SQUASH WITH EASY VITAMIX BASIL WALNUT PESTO
What you need

•
One spaghetti squash

•
1 tablespoon of olive oil

•
2 cups fresh basil leaves

•
¾ cups of raw walnuts

•
1/3 cup of olive oil

•
1 1/2 cups of Parmesan cheese

•
Salt + pepper to taste

•
2 cloves of garlic (finely chopped)

•
1 to 2 tablespoons of mixed dried Italian herbs (oregano, basil, thyme)
How to do it

•
Wash the outside of your squash, then slice it
vertically; clean out the inside portion of each side and discard.

•
Drizzle squash with the olive oil and then sprinkle with Italian dried herbs (oregano, basil, and thyme)

•
Place squash inside down in a 9x11-inch baking dish. I like to fill the bottom with a little water so my squash doesn't dry out.

•
Preheat oven to 400 degrees and bake the squash for 45 minutes. (You'll know its done when you can easily poke a fork through the outside skin.)

•
While squash is cooking, add walnuts and garlic to your food processor or Vitamix and pulse until they become fine, then add in 2 cups of fresh basil leaves and pulse again until you've got a paste texture.

•
Slowly pour in your olive oil and continue to mix until it's a smooth sauce texture. Add salt and pepper to taste. Then finally add in ½ cup of Parmesan cheese and continue to blend until smooth.

•
Once your spaghetti squash is done, let it cool enough so you can scrape out the squash (1-2 minutes but not too long so that the squash cools off)

•
Add the spaghetti squash mixture to a baking dish (I used a 9x9-inch dish)

•
Mix in 3 tablespoons of pesto sauce and 1/2 cup Parmesan cheese

•
Sprinkle the remaining ½ cup Parmesan on top (less if your laying off the dairy)

•
Bake for 20 to 30 more minutes on 400 degrees, until edges become slightly brown.
Check out more healthy eating ideas from certified health coach (and longtime SoulCycle HQ staffer!) Tara Crawford on Instagram and follow her @dietditcher. Questions or comments? Email blog@soul-cycle.com! Want to ride? To book a bike, grab a series HERE then book a bike!
MORE FROM SOUL