Healthy Dinner Recipes for Two
June 2, 2016
ant to make a meal without cooking for a crowd? Check out three healthy dinner recipes for two from nutritionist, dietician and Soul OG rider TALI PINES.
1. TANGY KALE QUINOA BOWL

Ingredients
Kale, shredded
Mesclun lettuce, shredded
1 15-ounce can chickpeas, drained
2 medium sweet potatoes, cooked and cubed
1 apple (of your choice), cubed
1 avocado
½ cup quinoa
Spicy broccoli, cut into small florets (see recipe, below)
1 pint cherry tomatoes, halved
BALSAMIC DRESSING
Ingredients
½ cup balsamic vinegar
¼ cup olive oil
4 Tbsp. Dijon Mustard
1 tsp. salt
1 tsp. garlic powder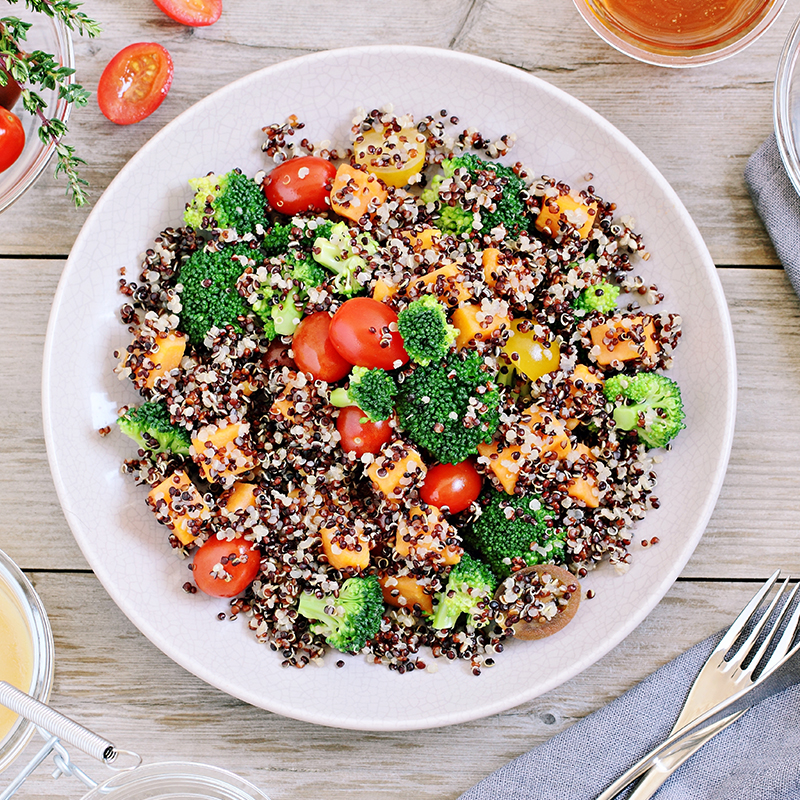 SPICY BROCCOLI

Ingredients
½ head broccoli, cut into florets
½ tsp. Red Pepper Flakes
Salt & Pepper to taste
2 Tbsp. olive oil
Directions
1. Preheat oven to 350 degrees.
2. Peel and cube sweet potatoes, then bake in a pan sprayed with non-stick cooking spray for 1 hour
3. Combine the Spicy Broccoli ingredients in a pan sprayed with non-stick cooking spray and bake for 30 minutes.
3. In a saucepan, combine quinoa and 1 cup of water; bring to boil and cook for 15 to 20 minutes.
4. Combine washed shredded kale and mesclun lettuce, chickpeas, apple, avocado, tomatoes in a bowl.
5. Once cooked, add the sweet potatoes, spicy broccoli and quinoa.
6. Ten minutes before serving, dress with balsamic dressing (see recipe, below)
Serves 2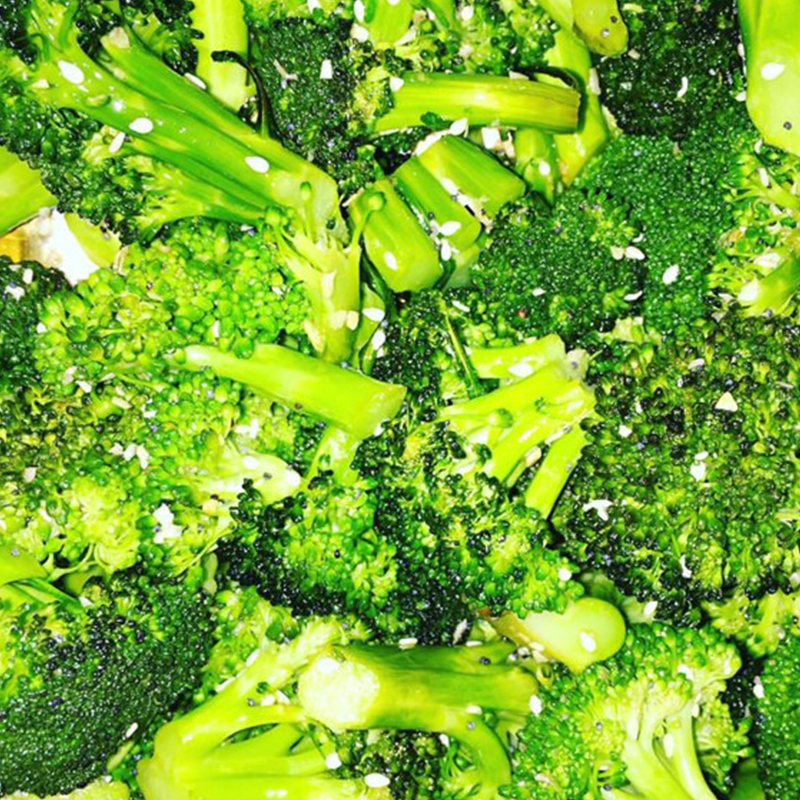 2. SEEDED BROCCOLI TOFU
Ingredients
10 cups washed broccoli florets
2 Tbsp. low sodium soy sauce
2 Tbsp. rice vinegar
1 Tbsp. sesame oil
1 Tbsp. agave
¼ cup Everything seeds
1 ½ cups Tofu, steamed
Directions
1. Preheat oven to 350 degrees.
2. Wash and cut broccoli into florets. Dry well.
3. Place one layer of broccoli in a tin or baking dish (you will need more than 1 tin)
4. Roast broccoli in the oven for five minutes.
5. Steam or grill the tofu in 1 tsp olive oil.
6. Combine soy sauce, rice vinegar, sesame oil and agave in a bowl.
7. Pour dressing on cooked broccoli.
8. Add the grilled tofu to the mix
9. Sprinkle and mix in ¼ cup everything seeds
10. Serve warm or room temperature
Serves 2
3. CAULIFLOWER CHICKEN RICE
Ingredients
2 cups cauliflower florets (one large head)
2 tablespoons coconut or extra-virgin olive oil
1 sliced sweet onion
4 minced cloves garlic
Salt
¼ cup low-sodium vegetable broth
10 baby bella mushrooms, washed, cut sautéed
8 ounce white meat chicken cutlets
Directions
1. Pulse cauliflower florets in a food processor until chopped.
2. Heat coconut oil in a large skillet over medium heat. Add 1/2 sliced sweet white onion, cut mushrooms, and two minced cloves garlic and cook, stirring, until tender. Add cauliflower and season with salt.
3. Stir in vegetable broth and steam, covered, until broth has evaporated and cauliflower is tender. Transfer to a bowl and keep covered.
4. In a pan with 1 tbsp olive oil, grill or bake the chicken cutlets on 350 until cooked through.
5. When cooked, cut the chicken into small cubes.
6. Add the grilled chicken to the cauliflower/mushroom/onion dish. Mix well.
Serve warm, as you would rice; serves two
Tali Pines MS, RD is the founder of Tali Pines Nutrition and a longtime SoulCyclist. You can follow her on Instagram @talipinesnutrition. Questions or comments? Email SOULlife@soul-cycle.com! Want to ride? Click HERE to grab a series then book a bike!